Quick Thai Tofu Fried Rice: a hearty, delicious and flavorful recipe that's a mix of fresh vegetables with tofu, rice and simple Thai spices (easily available in stores).
Makes for a perfect lunch/dinner or work lunch too.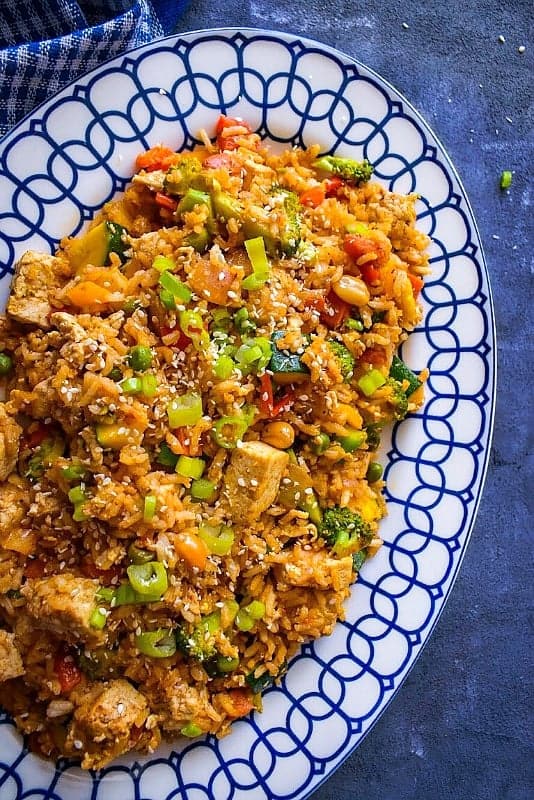 Hey Y'all, hope you had a fun, fabulous and a foodie Christmas !!!
After all the cookies, pies, drinks, meat dishes last night and just before our foodie New Year's party, I quickly wanted to squeeze in a Hearty yet delicious meal and this Quick Thai Tofu Fried Rice is a PERFECT choice!!
I say that with so much conviction as I know the next few days we are still going to eat leftover Christmas delights but at the same time, I want my family to get their veggies fix too.
I do have our regular POST Foodie Event 'Mean Green Juice' but to be honest, it's not going to fill their hungry tummy/souls 😉
So, my favorite solution to any hunger pangs that needs to include healthy ingredients is a light stir fry and this Quick Thai Tofu Fried Rice fits the bill.
As easy as it sounds, it's equally easy to make and extremely flavorful.
I would say it's a great change from all the Festive sugary food we have been having past few days.
You just need some basic ingredients and most can be found in our kitchen easily:
Tofu – I'm using extra firm tofu
Mixed Fresh Vegetables – think carrots, broccoli, peas, zucchini, etc
Rice – Jasmine rice works the BEST or you can use any rice/grain of choice
Thai Spices – I'm using a store-bought Thai paste (easily available in Walmart too)
Light Soy Sauce – you may use Tamari too
———————-
*** Since I wanted to keep it LIGHT & VEGETARIAN ***
I'm NOT using Fish Sauce or Oyster Sauce (as used in traditional Thai recipes).
QUICK TIP (Important)
Always use cooked cold rice for any Stir-Fry as it helps keeps the rice texture and breaks less.
Once the ingredients are ready, you simply start by stir-frying the vegetables first.
Then follow the rest of the instructions below to achieve a Restaurant Style – Quick Thai Tofu Fried Rice.
This makes for a perfect lunch/dinner or meal prep recipe too and you can keep them in the fridge for utpo 3 days.
Remember to add some fresh chopped scallions and sesame seeds on top for that extra flavors 🙂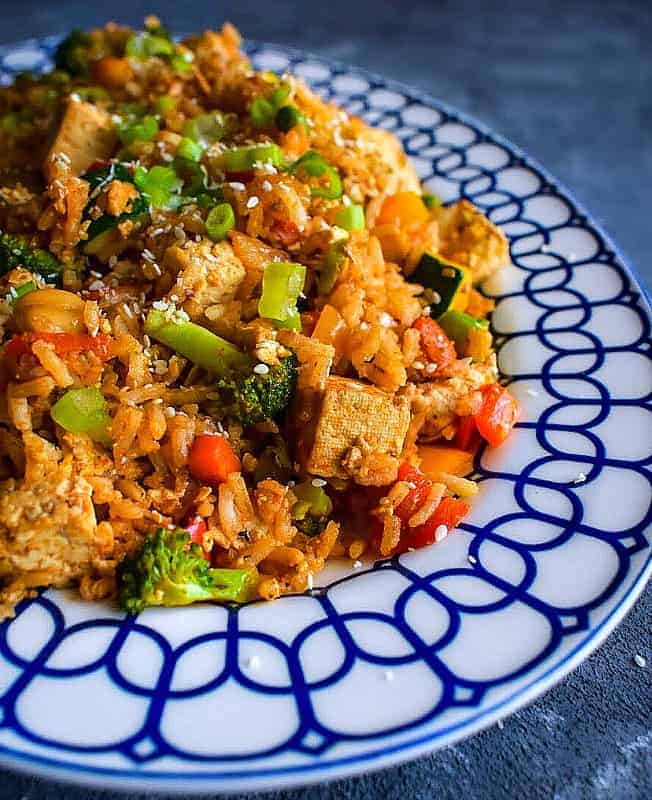 :: You May Also Like ::
---
Tried Our Recipe – AWESOME!!!
Now Quickly SNAP A PICTURE & TAG :
#easycookingwithmolly +  @easycookingwithmolly on Instagram –>
Connect with Me Here:  Facebook / Pinterest / Instagram / Twitter / Subscribe to our Newsletter / Google+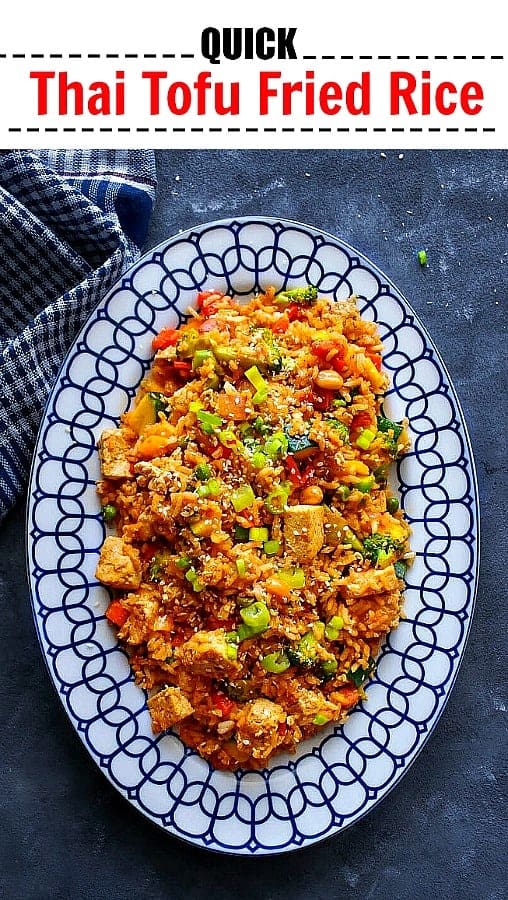 Yield: 5 Pople
Quick Thai Tofu Fried Rice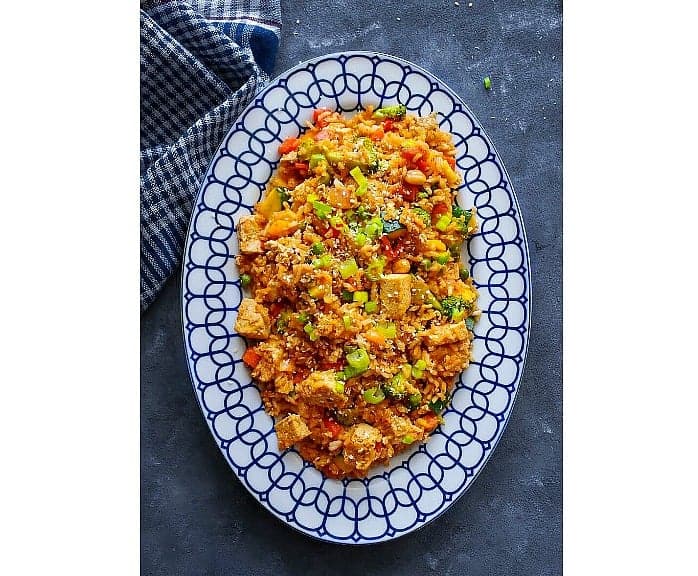 Ingredients
1 Block Extra Firm Tofu - chopped into bite size
3 Cups Jasmine Rice - cooked and cold
3 Tbsp Sesame Oil
1/2 Cup Carrot - chopped into bite size
1/4 Cup Frozen Peas - thawed
1 Medium Zucchini - chopped into bite size
1 Cup Broccoli - chopped into bite size
1/4 Cup Bell Peppers - chopped into bite size
2 Tbsp Roasted Peanuts - optional
1 Egg - optional
Sauce Ingredients:
2 Tbsp Thai Paste - store-bought or homemade
1/4 Cup Soy Sauce
1 Tbsp Sesame Seed
1 Tsp Ginger-Garlic Powder
1/2 teaspoon smoked paprika
TOPPINGS:
Chopped Scallions
Sesame Seed
Instructions
Heat a large pan and add 2tbsp sesame oil.
Add tofu, paprika and stir fry for two minutes or till lightly cooked.
Transfer the cooked tofu to a bowl and keep aside.
Add carrots, peas, broccoli and stir fry for a minute on medium high.
Add zucchini, peppers and stir fry.
Now add the sauce ingredients and saute everything together (medium heat).
Finally add cooked tofu, rice and stir fry everything together.
** (If using an egg)**
Make some space in the pan and add the egg.
Scramble and cook the egg for a minute.
Now stir-fry everything to mix egg with veggies, rice and tofu.
Give it a last stir and turn off the heat.
Transfer to serving dish and top with chopped scallion and sesame seed
Serve Hot.
Nutrition Information
Serving Size
5
Amount Per Serving
Calories

548
Total Fat

13g
Saturated Fat

2g
Cholesterol

1mg
Sodium

983mg
Carbohydrates

94g
Sugar

3g
Protein

12g