Methi Paratha – How to make Indian Fenugreek Flatbread: Learn how to make delicious and warm Methi Paratha/Indian Fenugreek Flatbread.
They make great breakfast or brunch menu.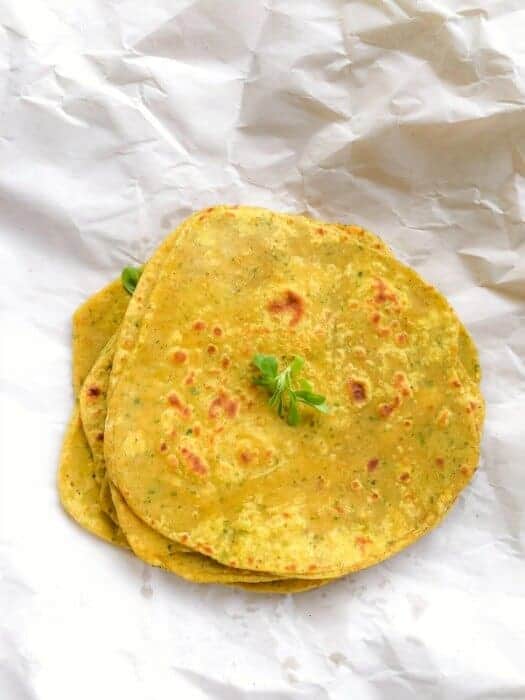 Hi Everyone, Happy Monday!!!
Before we get started with these Methi Parathas – How to make Indian Fenugreek Flatbread recipe, hope you'll (in the USA) had a great July 4th Celebrations which was also a long weekend.
So I can imagine a lot of BBQ's / Backyard party or did you travel with friends and family?
We had a fantastic weekend with cousins (who were visiting us) and seriously, didn't even know how time just flew?
In these 3 days, we visited some fun places from San Francisco to Monterey and the of-course food was a major part of our entire celebratory weekend (homemade yums to last-minute restaurants grabs…we had them all).
After all that eating and running around the city, I wanted to make an easy 'One-Dish' kind of meal.
But was also craving something Indian, so this Methi Paratha – Fenugreek Flatbread was our unanimous decision.
They are easy to make, healthy and fills you up for good 4-5 hours. For those who don't know, 'Fenugreek or Methi' is a leafy vegetable from India (available in many Indian Grocery Stores).
The entire vegetable can be used from its seeds (dry), stem, leaves (fresh/dry) and it's packed with iron, magnesium, and vitamins. Here's a picture of Fresh Methi Leaves: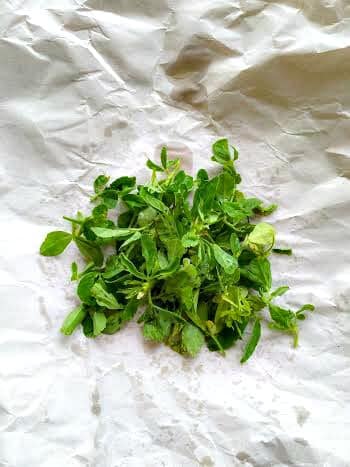 It actually looks very similar to watercress leaves but has a slightly different flavor.
In India, it's used in many recipes from curry, sauteed vegetables, dry snacks or flatbread.
Our favorite way to have them is to use them in a Methi Paratha and serve it with a quick curry or pickle.
The dough is easy to make, just mix flour with turmeric, salt, water and fresh fenugreek leaves and make a smooth pliable dough.
Whenever I make them, I usually make a couple of extra flatbread be used later as a snack with a hot cuppa tea …. you seriously need to try this combination too, it tastes heavenly.
Try this Methi Parantha soon and do let me know How you ate them 🙂
That's it for now, I'll be back soon with another delicious yum by the end of the week.
:: You May Also Like ::
---
As always, I Looove when you try my recipes and send me pictures & feedback. You can tag my recipes tried by you using #easycookingwithmolly on any of the social media below:
Connect with Me Here:  Facebook / Pinterest / Instagram / Twitter / Subscribe to our Newsletter / Google+
Yield: 10
Methi Paratha - How to make Indian Fenugreek Flatbread
Ingredients
1 Cup Whole Wheat Flour
1/4 Cup All Purpose Flour - optional
1 Cup Fresh Fenugreek Leaves - also called 'Methi' leaves
1 Tsp Carom Seeds
1/4 Tsp Turmeric Powder
Salt to Taste
2 Tbsp Olive Oil
1/2 Cup Water - for making the dough
1/4 Cup Flour - for sprinkling while making flatbread
4 Tbsp Olive Oil - for making the flatbread
Instructions
In a food processor or kitchen aid dough maker, add flour, fenugreek leaves, turmeric, carom seeds, salt, oil and give it a good mix.
Now, add water and form a smooth dough.
Transfer the dough to a flat surface, knead by hands for a minute and make 10 balls.
Flaten the balls using a rolling pin (size of your palm) and apply 1/4 tsp of oil and wrap them in a triangle shape (or any shape as per choice).
Sprinkle some flour on the surface + on rolling pin and flatten the triangular flatbread to the size of your palm.
Heat a non-stick pan for a minute.
Place the flatbread on it and cook for 1/2 minute.
Turn on the other side and apply 1/2 tsp oil on the cooked side.
Turn the sides again and apply 1/2 tsp oil on the other side.
Let both the sides evenly cook and transfer to a serving plate.
Complete the steps above till all flatbreads are cooked.
Serve Hot with fav curry or chutney/pickle.
Nutrition Information
Serving Size
1
Amount Per Serving
Calories

1422
Total Fat

85g
Saturated Fat

12g
Sodium

40mg
Carbohydrates

134g
Sugar

3g
Protein

33g