Take the guessing away from weeknight's dinner with this warm and extremely delicious pasta bake.
Skinny Broccoli Kale Pasta Bake
It's filled with green goodness with a surprise kick of spice.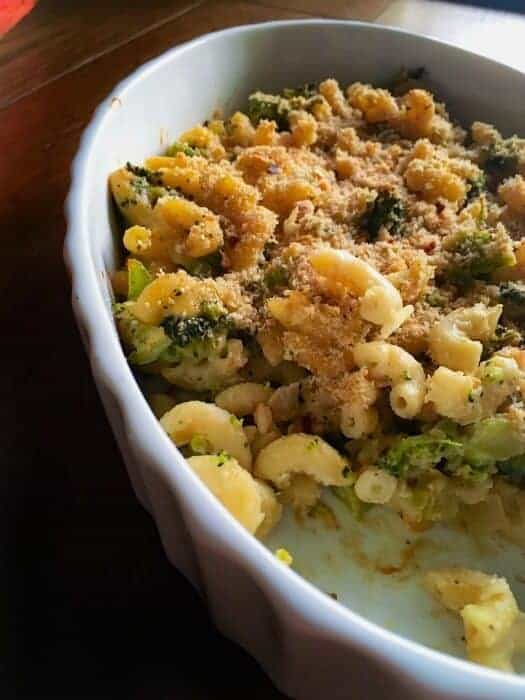 Do you stress about 'Weeknight Dinner'?
Oh, I'm always stressing about it especially after all the weekend binging that we do hence I'm constantly thinking of eating more greens for the next few days.
That's exactly when this Skinny Broccoli Kale Pasta Bake – Weeknight Dinner comes to rescue and we must have made this recipe endless times !!
Now, if you're thinking what's so new about this pasta bake, well first it's a lighter version than our regular cheesy pasta bakes.
Second, the sauce contains cashew powder which gives it a creamy and delicious flavor.
Trust me 'cashew powder' is a magical thing, add it to whatever recipe you want (smoothies/ curry/bakes/).
The cashew powder gives this rich creamy taste without adding many calories.
Which I feel is truly Awesome!
The best part is you can make the cashew powder at home.
Just grind a handful of raw or roasted (saltless) cashews together and here you go.
You are ready with a 100% natural ingredient that is super yum and you can pop it into an air-tight jar for later use too.
For this Skinny Broccoli Kale Pasta Bake, I made a lighter version of white sauce (also known as 'roux' in the culinary world) at home and it's super simple.
All I did was use half vegetable oil and half butter to make the sauce (which cuts down the calorie instead of using all butter).
If you'are not a fan of kale or if it's not easily available, you may use spinach or any other leafy vegetables of choice.
At time's when I know that next day is going to be extremely hectic (you can call crazy too), I usually follow these steps and prep a night before:
1. Boil the pasta, add some olive oil (so they don't stick) and keep in an air-tight container in the fridge.
2. I saute the broccoli-kale mix a night before and keep in an air-tight jar.
3. Also, try making the white sauce beforehand (you can keep it for 2-3 days in the fridge).
Now, if I've followed all the above steps, dinner becomes a breeze as all I've to do is mix everything together.
Sprinkle some homemade or store-bought bread crumbs (for that extra crunch and texture) and bake for 15 minutes at 190F.
In those 15 minutes that the pasta is baking, you can take a quick shower/change or simply unwind.
As your dinner is ready which includes delicious greens, nuts and packed with fantastic flavors.
Give this Skinny Broccoli Kale Pasta Bake a try this week and enjoy with family.
Until next time ~ XoXo
:: You May Also Like ::
---
—————
As always, I Looove when you try my recipes and send me pictures & feedback.
You can tag my recipes tried by you using #easycookingwithmolly on any of the social media below:
Connect with Me Here:  Facebook / Pinterest / Instagram / Twitter / Subscribe to our Newsletter / Google+
Yield: 4 People
Quick and Skinny Broccoli Kale Pasta Bake - Weeknight Dinner
Ingredients
For Boiling Pasta:
2 Cups Macaroni Pasta
5 Cups Water
1/4 Tsp Salt
1 Tbsp Olive Oi
For the Kale-Broccoli Mix:
1 Medium Onion
1 Cup Broccoli - you may use fresh or frozen
1/2 Cup Kale - you may use fresh or frozen
2 Tbsp Olive Oil
3 Tbsp Cashew Powder
1/4 Cup Cheese - I'm using reduced fat parmesan
1/2 Cup Bread Crumbs - homemade or store-bought
1 Tbsp Red Chili Flakes - optional
1 Tbsp Italian Seasoning - optional
--- White Sauce Ingredients ---
4 Tbsp White Flour
2 Tsp Vegetable Oil - you may use any lighter oil
1 Tbsp Butter - unsalted
1/2 Cup Water
Salt - as per taste
Pepper - as per taste
Instructions
Cook pasta as per package directions (I used 5 cups water for 2 cups pasta)
---- Make the White Sauce or Roux ---
In a non-stick pan, heat vegetable oil and butter together.
Add the flour and saute over medium to light flame till the flour turns golden in color (take about 3 minutes).
Add salt, pepper, water and saute everything to form a thick sauce.
Turn off the heat.
Saute Everything:
Heat 2 tbsp olive oil in a large pan.
Add chopped onions and saute till golden in color.
Now add, broccoli and saute for 2 minutes.
Add the kale, salt, seasoning and saute for another minute (kale cooks really fasts).
Now, add the cooked pasta and saute everything to mix the greens with pasta.
Add the white sauce, cheese, chili flakes, cashew powder, saute and cook for 2 minutes.
Transfer the cooked pasta and greens to a buttered baking tray.
Sprinkle with bread crumbs and some cheese.
Bake at 190F for 15 minutes.
Serve Hot.
Nutrition Information
Serving Size
4
Amount Per Serving
Calories

428
Total Fat

17g
Saturated Fat

4g
Cholesterol

8mg
Sodium

276mg
Carbohydrates

57g
Sugar

3g
Protein

10g