Instant Uttapam Recipe using Sooji – Bread (Savory Indian Pancakes): Learn how to make this delicious and instant Indian breakfast pancakes using sooji and bread.
Instant Uttapam Recipe using Sooji – Bread
Breakfast rules at our place and it's probably my Dad's favorite meal.
Although he eats very less but he sure does love variety or that whole buffet kind of breakfast platter with freshly cooked eggs, cereal, juice, fresh fruits and sourdough bread-yep that's his favorite 🙂
So this father's day, I'm planning to surprise him with a whole 'Breakfast Food Galore' including my:
With fresh fruits, and juice.
Apart from the basic sooji and bread in our Instant Uttapam, I've also added lots of mixed veggies along with seasoning.
In short, it's one festive party on a plate that's surely going to bring a smile on your face.
Now, Uttapam (savory Indian pancake) is a popular breakfast item in the southern states of India and made using a fermented lentil+rice mixture.
It's crispier than a pancake because of the use of mixed flour and it's eggless too.
So in many houses in Northern India, we make this fusion recipe which needs no fermenting.
The addition of more than one kind of flour makes the pancakes crispier and fluffier.
You can even add yogurt to make it extra fluffy and give it a tangy hint.
For my vegan friends, this step can be avoided or you can add any fruit soda or baking soda to give them an extra crisp.
Once you have made your pancake/bread uttapam base, the toppings choice is endless!
You can add just about anything from veggies/cheese/ cooked meat to just about whatever you please.
Now, since my dad love South Indian food, I'm going to sprinkle some sambhar powder over the veggies while the pancake is cooking (totally optional step).
Also, the batter can be made a day in advance, just keep it in the fridge and use the next day.
These are Awesome if eaten fresh (think how would you feel eating stale pancakes – that's exactly what happens here) and serve it with your favorite ketchup/chutney or even a ranch dressing.
My Father's Day preparation has already started and hope you're making some great plans too.
That's it for me this time and hey, I hope you'll remember that Father's Day is Sunday – June 19, 2016.
~ Wishing All the Awesome Dad's : A Happy Fathers Day ~
Until next time – XoXo
You Can Also Try:
There's always something special about fresh home cooked meal & if it's filled with love n cooked by kids, trust me your dad's day is made!
---
Tried Our Recipe – AWESOME!!!
Now Quickly SNAP A PICTURE & TAG :
#easycookingwithmolly + @easycookingwithmolly on Instagram –>
Connect with Me Here: Facebook / Pinterest / Instagram
Yield: 8
Instant Uttapam Recipe using Sooji - Bread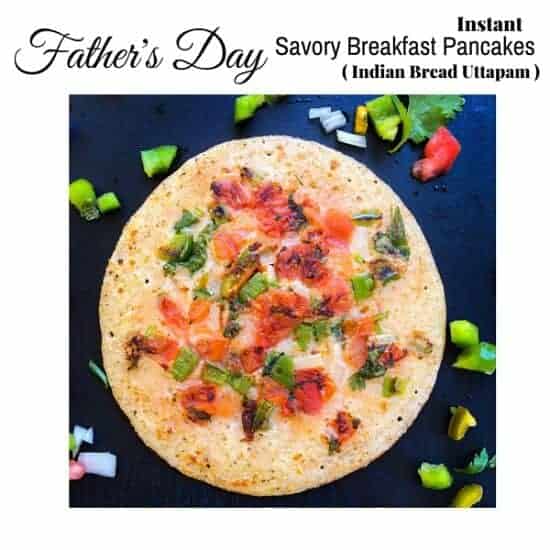 Instant Savory Indian Breakfast Pancakes (Bread Uttapam): Learn how to make this delicious and instant Indian breakfast pancakes using bread.
Ingredients
--- For the Savory Pancake Base ---
4 Bread Slices
1 Cup Semolina (Sooji)
2 Tbsp Flour
1/4 Cup Plain Yogurt * - see notes
1/2 Cup Water
Salt as per taste
1/2 Tsp Red Chilli Powder
1/4 Tsp Black Pepper Powder
4 Tbsp Olive Oil - To make the pancakes/uttapam
--- Toppings ----
1 Medium Onion - chopped
1 Medium Tomato - chopped
1/2 Green Bell Pepper - chopped
1/2 Tsp Grated Ginger - Optional
2 Tbsp Fresh Cilantro - chopped
1/2 Tsp Sambhar Powder - Optional - you can use any curry powder too
Instructions
In a grinder/food processor, add bread, flour, semolina and pulse to form a smooth powder.
Add the yogurt, water to this powder and pulse to form a smooth pancake style batter (It should coat your spoon nicely).
In a large bowl, mix all the topping with salt, pepper, red chili flakes and mix evenly.
Heat a medium non-stick pan and add 1/2 tsp oil.
Pour a 2 medium ladle of the batter into heated pan and make a 4-5 inch circle.
Add 2 Tsp of topping and press it lightly to the pancake.
Flip the pancake after 1 minute and cook evenly.
Check how much brown you want the pancake and accordingly cook each side.
Complete till all the pancakes are cooked.
Serve Hot with a choice of ketchup/chutney.
Notes
* Yogurt - You can use any kind of plain yogurt or add buttermilk (Optional)
- If Vegan, you can use baking soda instead or completely skip this step.
Nutrition Information:
Yield:
8
Serving Size:
2
Amount Per Serving:
Calories:

199
Total Fat:

8g
Saturated Fat:

1g
Trans Fat:

0g
Unsaturated Fat:

6g
Cholesterol:

1mg
Sodium:

158mg
Carbohydrates:

27g
Fiber:

2g
Sugar:

3g
Protein:

5g