Amritsari Fish (Indian style battered fish) is a lightly battered fish in Indian flavors, fried to a golden consistency to attain that perfect crunch and lightness.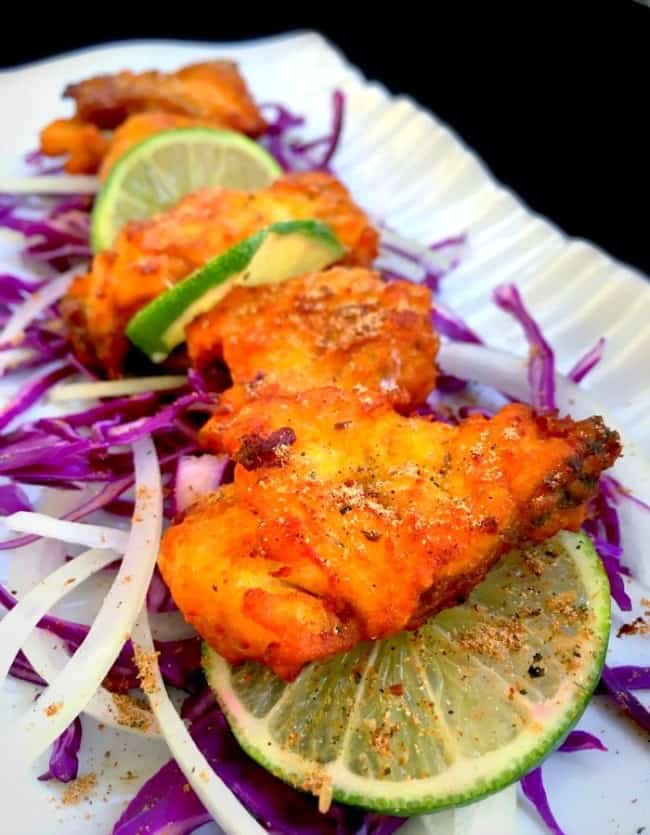 Amritsari fish is an absolute favorite fish recipe from the city of 'Amritsar' in Punjab (Northern India). It's so famous in Punjab, that it can be found in your local street food stall or the best of the hotels.
By now, you must have guessed that since the dish originated from that city, hence it's named 'Amritsari' which literally means mean from Amritsar.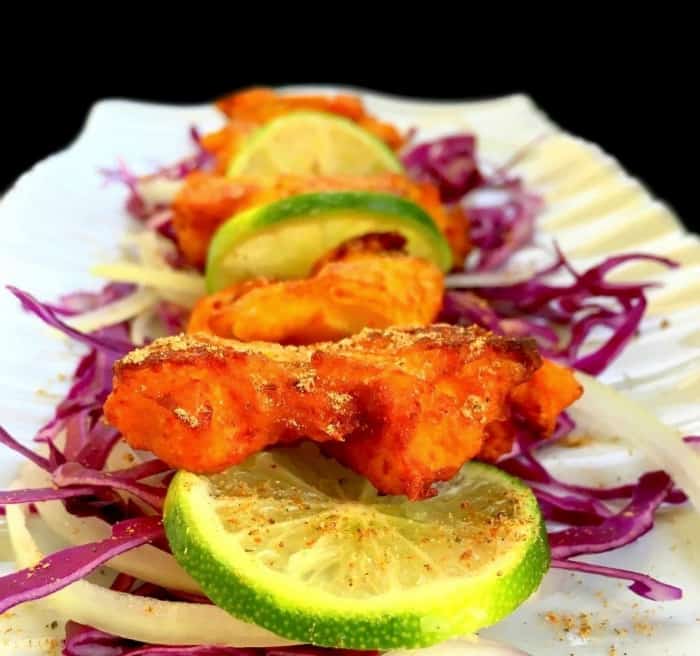 For this particular dish, we use freshwater fish known as 'Singhara' or 'Sole' which are thick/chunky white fishes(boneless fillet).
However, we don't usually get these fish here, so you can use 'Tilapia/Cod/Trout or even Salmon' for this particular variety.
The method is really simple and the recipe takes about 5-6 minutes to prep, 15 minutes to marinate and 10 minutes to fry.
Sounds really simple and some of you might even be thinking 'How is it different from a Beer Battered Fish?'
The answer lies in it's 'marination' which is where are the magic happens 🙂
The Amritsari Fish is usually marinated in a mixture of yogurt, ginger-garlic paste, some spices, carom seeds (ajwain) and chickpea-flour (besan).
The use of 'carom seeds' and 'chickpea flour' is what differentiates it from any other fish recipes that you might have tried.
To make it extra crisp and airy, I'm adding a half can of 'Club Soda' in it…if you want, you can definitely add beer or just use water.
Once the mix is ready, I mix the fish and marinate it for at least 15 minutes, if you have more time in hand then definitely marinate for an hour at the max.
You don't want to marinate for long as the fish and the soda will lose its freshness and you would end up with a not so crunchy fish.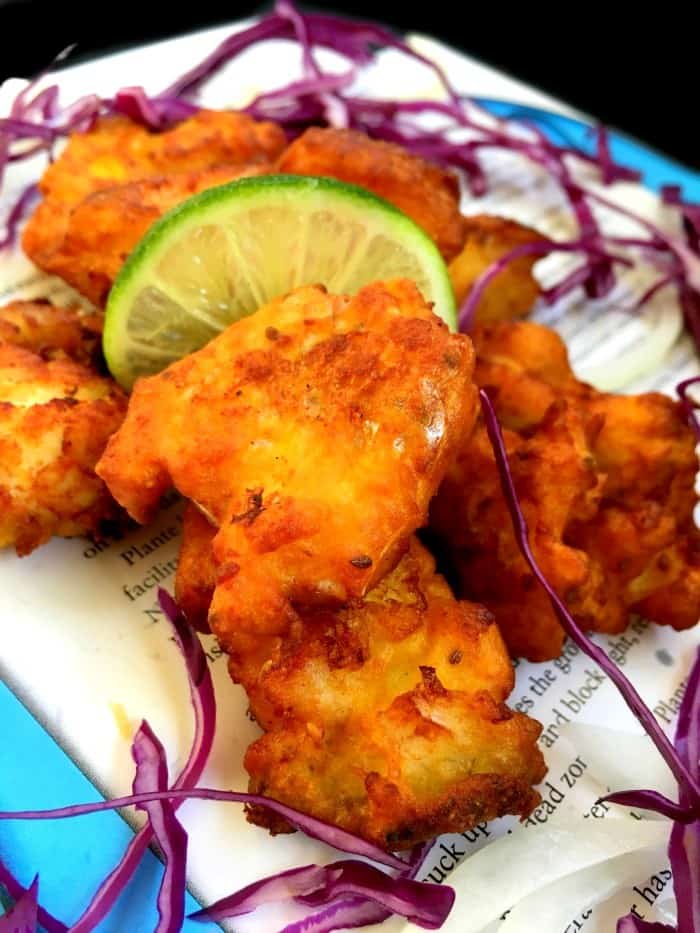 This particular recipe is served as a side or appetizer, just add some freshly cut lime wedges and a sprinkle of 'chat-masala' which is like a salty-tangy spice mix easily found in any local Indian store.
If you don't have chat masala, you may serve with a sprinkle of sea-salt (just remember to add salt in the marinade accordingly).
To get the perfect crispy taste, it's fried in medium heat and for that orange-golden color, you can add food coloring.
I would recommend using fresh fish for this particular recipe however you may use frozen fish as well, just make sure their's no water in it.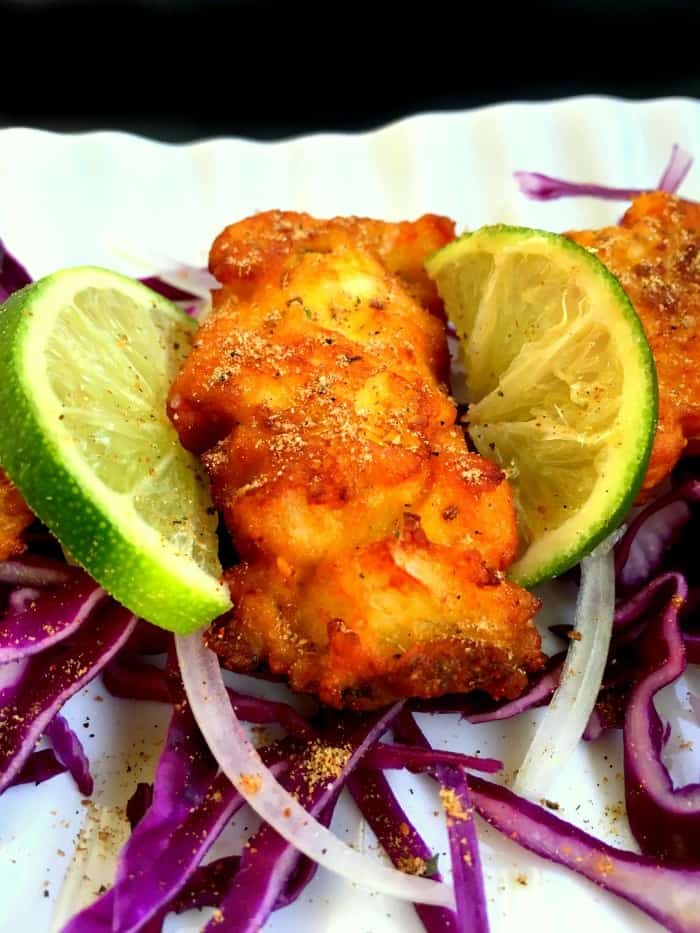 ---
As always, I Looove when you try my recipes and send me pictures & feedback. You can tag my recipes tried by you using #easycookingwithmolly on any of the social media below:
Connect with Me Here:  Facebook / Pinterest / Instagram / Twitter / Subscribe to our Newsletter / Google+
Molly Kumar
Yields 15 Fritters
Amritsari Fish (Indian style battered fish)
Amritsari Fish (Indian style battered fish) : Great for appetizer or side.
15 minPrep Time
10 minCook Time
25 minTotal Time
5 based on 2 review(s)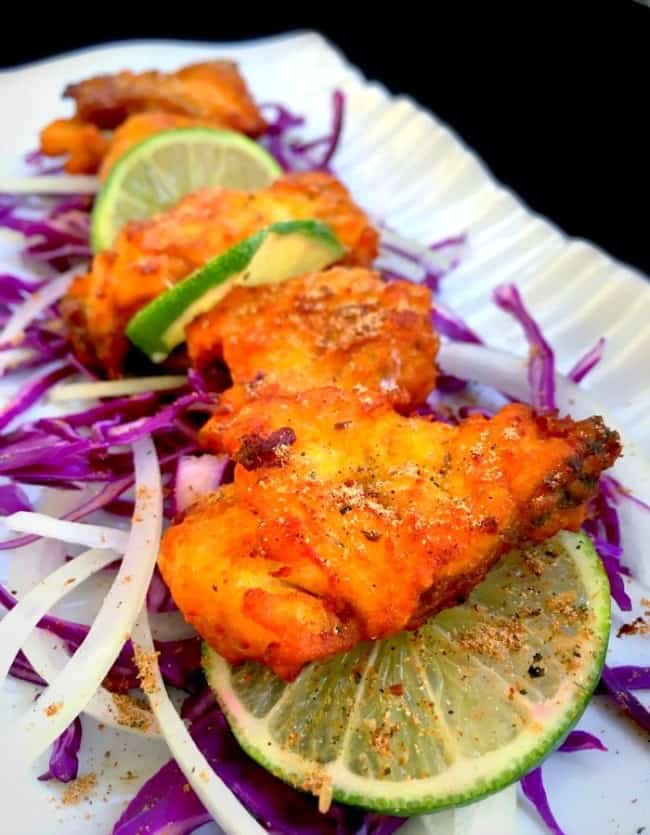 Ingredients
1 lb Fresh Water Fish Fillet * - Cut into bite size pieces
1 Cup Plain Yogurt
5 Tbsp Chickpea Flour (Besan)
1 tsp Ginger Paste
1 Tsp Garlic Paste
1/2 Can Club Soda - (You may use water or beer too, as per choice)
Few Drops of Orange Food Color - Optional
2 Fresh Lime
1 Cup Olive Oil - For Frying (You can use any light oil)
*** Spices ****
1 Tsp Carom seeds (Ajwain)
1 Tsp Red Chili Powder
1-2 Tsp Salt - as per taste
1 Tbsp Chat Masala - Optional
Instructions
In a large bowl, add yogurt, ginger+garlic paste, chickpea flour,color, all the spices.
Using a hand blender, mix everything to form a lump free batter.
Now add the fish fillet in the batter and evenly coat all the sides.
Cover the bowl with cling wrap or plate and place in fridge for 15 minutes (marination).
Heat oil in a wok on high flame for about a minute or till you see fumes coming out (you want the oil to heat evenly).
Now take out the fish from fridge and very carefully, add 2-3 pieces of fishes in the hot oil.
Reduce the flame to medium and fry the fish till they become crisp golden brown (takes about 2 minutes for each fish to cook on both sides).
Continue the process till all the fishes are fried and cooked.
Place the fried fish in a serving bowl, squeeze some fresh lime juice and sprinkle with chat masala.
Serve fresh and hot.
Notes
* This recipe works best with fresh water fish like Tilapia/Trout/Cod
7.6.8
53
http://www.easycookingwithmolly.com/2015/11/amritsari-fish-indian-style-battered-fish/