Warm Soba Noodles Salad: is a delicious blend of healthy, vegan and glutenfree soba noodles with lightly sauteed mixed vegetables, sesame seeds, and crushed peanuts.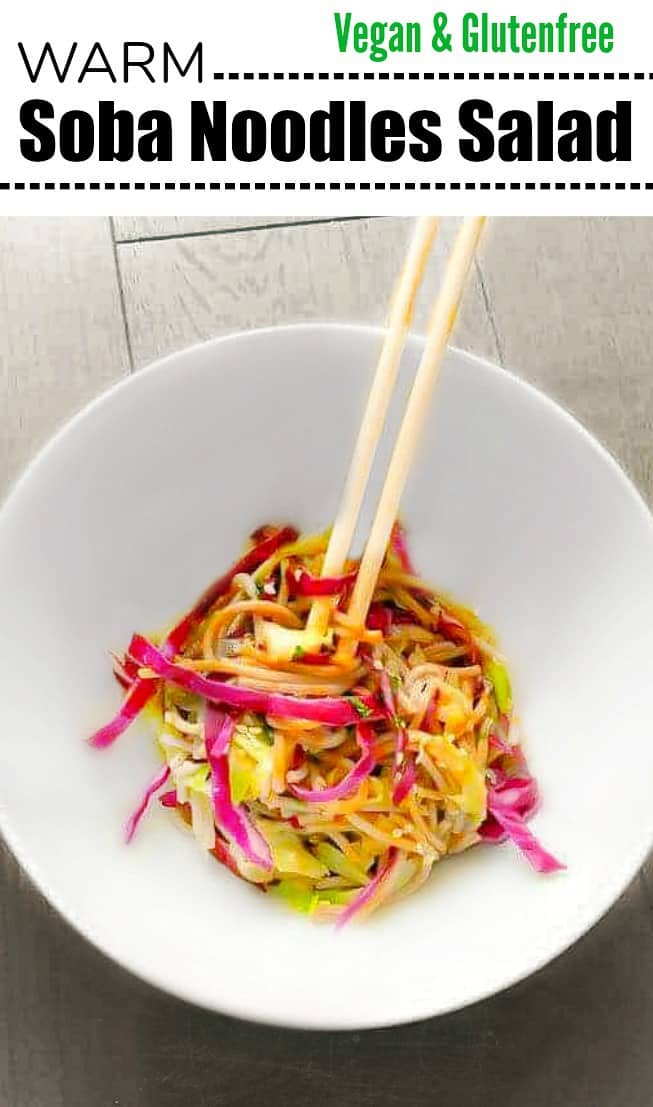 I had been so intrigued by 'Soba Noodles' after a quick stopover in Tokyo while my trip to India.
On my quest to eat a healthy-light meal while traveling, I came across this delicious warm combo of freshly prepared soba noodles with miso soup in the airport lounge.
The bowl looked so cute and gave me an instant home-cooked meal taste (right in the airport, what more could I ask).
The moment I landed back home, my only regret was forgetting to ask the lady where could I grab some of these noodles.
So the quest began and after 2-3 months, I finally laid my hands over some really good variety of soba noodles – Bam!
Oh, I completely forgot, before we go ahead with the recipe, here are some details on what the noodles are all about.
What is Soba Noodles?
Soba Noodles are thin buckwheat noodles from Japan, where 'Soba' means 'buckwheat' (kuttu-as we call it in India).
Since they are made of buckwheat, they have a naturally nutty flavor/taste.
These noodles are a perfect option for you if you're eating Glutenfree/Vegan and the noodles contain eight essential amino acids, making it absolutely healthy. You can find more info here: Soba
The cooking instructions is the same as any noodles, bring water to a boil and add noodles to it.
Let it boil for 5-6 minutes and drain the hot water and they are ready to use.
In Japan, they are eaten cold or hot depending on the season and once the noodles are cooked, you can add any ingredients of choice and eat them as salad/stir fry/soup.
Or anyway you like….the possibilities are endless.
Ingredients for Warm Soba Noodles Salad
Soba Noodles
Water
Cabbage – green and purple
Bokchoy
Green Onion
Soy Sauce
Spicy Sauce – use any hot sauce or chili flakes
Sesame Seeds
Peanuts
For this particular Warm Soba Noodles Salad recipe, we are using mixed vegetables, sauces, sesame, crushed peanuts, chili oil/flakes and noodles off-course 🙂 –
How to Make Warm Soba Noodles Salad
Just lightly saute the veggies with sauce, chili oil and then turn off the heat. Add cooked noodles, mix everything together and serve slightly warm.
If you like them cold, just put them in the fridge for 20 minutes.
:: You May Also Like ::
---
Tried Our Recipe – AWESOME!!!
Now Quickly SNAP A PICTURE & TAG :
#easycookingwithmolly + @easycookingwithmolly on Instagram –>
Connect with Me Here: Facebook / Pinterest / Instagram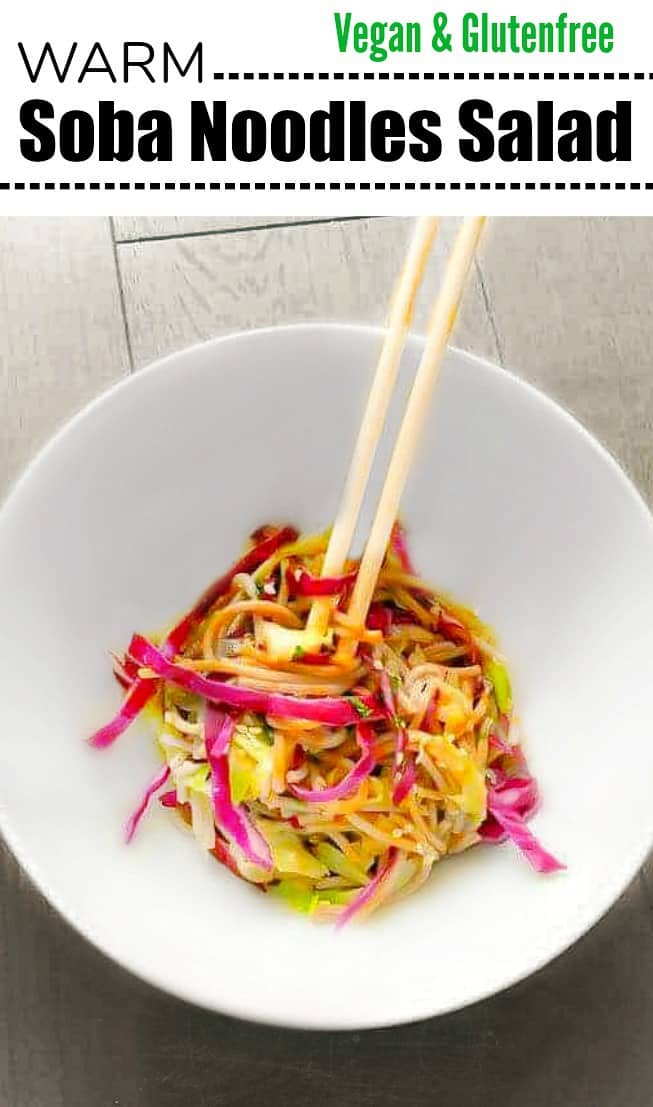 Yield: 4
Warm Soba Noodles Salad
Warm Spicy Soba Noodles is a delicious mix soba noodles with lightly sauteed mixed vegetables, sesame seeds and crushed peanuts. 
Ingredients
1 Packet Soba Noodles - cooked and drained as per instructions
1 Cup Purple Cabbage - thinly sliced
1 Cup Green Cabbage - thinly sliced
1/2 Cup Bok-Choy - thinly sliced
4 Tbsp Green Onions - thinly chopped
4 Tbsp Roasted Peanuts - crushed
2 Tbsp Sesame Seeds
Few Drops of Chili Oil - you may use chili flakes too
Sauce:
3 Tbsp Soy Sauce
2 Tsp Red Chili Sauce
2 Tbsp Sesame Seed Oil
Salt - as per taste
Instructions
How to Make Warm Soba Noodles Salad
In a wok, heat sesame seed oil and add all the vegetables except purple cabbage.
Saute for a minute on high heat.
Add soy sauce, chili sauce, chili oil, peanuts, 1 tbsp sesame seeds, salt, saute everything together and turn off the heat.
Add cooked-drained noodles and lightly toss or stir to mix everything together.
Transfer to a serving bowl, sprinkle with sesame seeds and serve warm or as per choice.
Nutrition Information:
Yield:
3
Serving Size:
1
Amount Per Serving:
Calories:

156
Total Fat:

32g
Saturated Fat:

6g
Trans Fat:

0g
Unsaturated Fat:

15g
Cholesterol:

23mg
Sodium:

356mg
Carbohydrates:

31g
Fiber:

6g
Sugar:

6g
Protein:

22g