Cabbage Soup with Turmeric and Ginger is a light broth with soothing and healing flavors of turmeric and ginger.
Cabbage Soup with Turmeric and Ginger is especially useful for flu/cold or a cough.
Come spring and change in weather, many of us are down with bad cold or fever and that's when this recipe of a warm Cabbage Soup with Turmeric and Ginger comes most handy.
It's Made Using Basic Pantry Ingredients:
Turmeric (natural antiseptic & healer),
Black Pepper
Ginger (both works wonders & soothes throat).
The warm light-golden broth relieves and soothes the itchy throat and also opens up your appetite which many of us lose after consuming medicines.
It literally gets ready in 10 minutes or less.
You can call this one of your Eat-Clean recipes as well cause it's easily digested, pretty low calorie and can be served to any age group.
The Broth Can Be Made Using Either:
Plain Water
Homemade or Storebought Veggie Stock (I prefer low sodium)
Bouillon Cube.
Although I would recommend using plain water or homemade stock as it's more healthy.
This soup is pretty light hence it can be served as sides or you can even add some cooked rice, beans and other vegetables to convert it into a wholesome meal.
So this fall or winter season, give this Cabbage Soup with Turmeric and Ginger a try.
If you are passing through the seasonal flu or even fever with slight throat congestion, this soup is a perfect Healer.
You Can Also Enjoy these Soup Recipes:

———————————–
If you're trying any of my recipes, I'd love to see your pictures or receive your feedback. You can tag my recipes using #easycookingwithmolly on any of the social media below:
Connect with Me Here:  Facebook / Pinterest / Instagram / Twitter / Subscribe to our Newsletter / Google+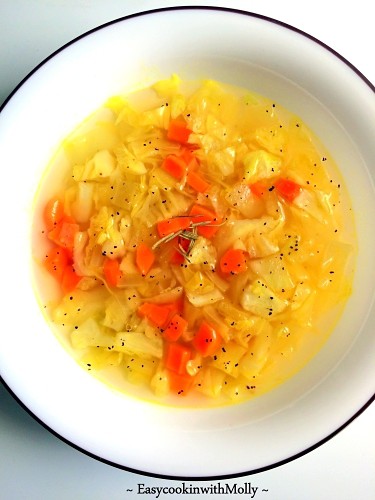 Molly Kumar
Yields 4
Cabbage Soup with Turmeric and Ginger
2 minPrep Time
15 minCook Time
17 minTotal Time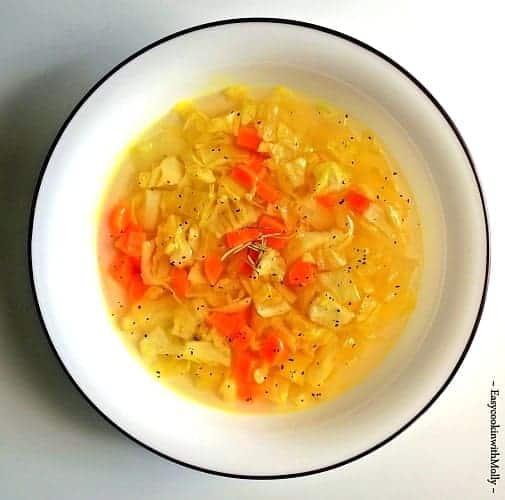 Ingredients
2 Cups Water - you can use mild vegetarian stock too
1/2 Large Onion – Chopped into small cubes
1/2 Medium Cabbage (White) - Chopped into small cubes
1 Cup Carrots - Chopped into small cubes
1 Tbsp Ginger – Thinly Grated (You can increase or decrease this as per taste)
1 Tbsp Olive Oil – You can even use butter or any light oil for this recipe
** Seasoning ***
1/4 Tsp Turmeric
1/4 Tsp Black Pepper Powder
1/4 Tsp Rosemary - OPTIONAL
1 Tsp Salt
Instructions
Heat pan on high and add oil.
Now add onions and sauté till onions turn slightly pink (About 2 minutes).
Add, chopped carrots and cook for 2 minutes.
Now add chopped cabbage, seasoning and sauté everything together.
Add water, ginger, close the lid and let it cook for 5-6 minutes.
If you want the vegetables to be mushy, please cook for another 3 minutes.
Transfer the soup in individual bowls and serve hot.
Nutrition
7.8.1.2
4
http://www.easycookingwithmolly.com/2015/04/cabbage-soup-with-turmeric-and-ginger/