Broccoli Apple Bacon Salad: super easy, crunchy and delicious salad or quick meal.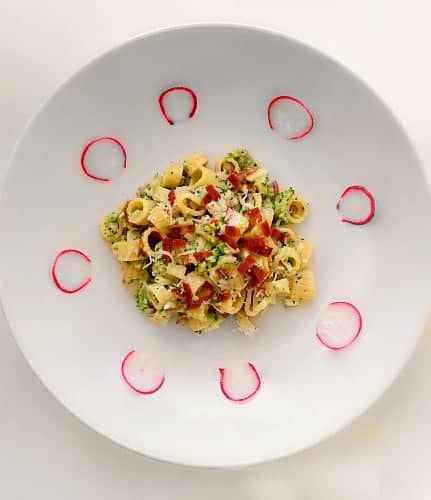 This week just seemed so long with endless work that I'm really looking forward to a lazy and much more relaxed weekend.
And the weather is sunny and beautiful. it's just another excuse for us to hit the beach.
Isn't there something about the initial spring weekends, the lingering nip in the air and beautiful sunshine outside, just makes me feel lazy but at the same time….or maybe it's just me.
Since, it's also a beginning of a lot of party season, I wanted to share a recipe, almost no-cook (except cooking the pasta) Broccoli Apple Bacon Salad.
The mix of broccoli, apple, turnips gives it a great crunch and adding peanuts, bacon, cranberries add to the taste, making it more filling and delicious.
It's also one of those recipes that you can enjoy making with kids (because of no cooking involved) and this gets done in 10 minutes.
I'm using rigatoni pasta that has been chopped into small bite-size pieces and ranch dressing as that's light in taste and blends well with any vegetable or fruit. But you can use any pasta and dressing.
This recipe can be made a day before and can be kept in the fridge or to make it extremely crunchy, just keep the ingredients ready separately in containers and add everything together just before serving.
Just serve chilled and they can be carried easily in an air-tight container for picnics or bbq.

Broccoli Apple Bacon Salad

Serves:  4 People

Serving Suggestion: Serve Hot with favorite Dip / Sauce
Tools:
Deep Large Bowl  – For mixing all the ingredients
Serving Dish
: Ingredients :
2 Cups Rigatoni Pasta – Cooked (I've chopped the pasta into small rings after cooking)
1 Cup Fresh Broccoli – Shredded
1 Cup Green Apple – Shredded
½ Cup Red Turnip – Shredded
¼ Cup Parmesan Cheese – Shredded
½ Cup Ranch Dressing – I'm using fat-free ranch (You can use any dressing as per choice)
1 Cup Turkey Bacon – Cooked and Chopped into small bits (OPTIONAL)
¼ Cup Dried Cranberry – Chopped into small bits (OPTIONAL)
¼ Cup Roasted Peanuts – Chopped into small bits (OPTIONAL)
Seasoning:
¼  Tsp Black Pepper Powder
1 Tsp Salt
Method:
In a large bowl, add broccoli, apple, turnip, cranberry and mix evenly.
Now add dressing, bacon, salt, pepper and mix everything together.
Add Pasta and mix all the ingredients.
Now add cheese, peanuts and mix lightly.
Transfer to an individual bowl or serving dish and decorate with chopped bacon and cheese
Serve Cold.