Protein Cookies Recipe: super easy, delicious, and packed with nutrients, they are made using whey powder, chocolate chip, peanut butter, and flaxseed
What is Protein Cookies Recipe?
It's been 2 weeks past New Year and among all those "health / new me goals", who here is craving sweets or something chocolatey?
I'm raising both my hands but I'm also trying to keep it healthy and nutrients packed, hence this "Protein Cookies Recipe" is one of my goto these days.
It's extremely easy to make (literally 12 cookies in 30 minutes from scratch) and are perfect for breakfast/snack or just pick me up kinda thing.
Ingredients for Whey Protein Cookies:
Seriously can not get easier than this and that also using simple ingredients like:
All-Purpose Flour
Whey Chocolate Protein Powder
Cocoa Powder
Flaxseed powder
Peanut Butter
Sugar **
Chocolate Chips
Baking Soda
Baking Powder
Olive Oil ***
Egg
Most of these ingredients can be found in any home and for 'Whey Protein Powder' you can use any brand/ flavor or even plant protein in this.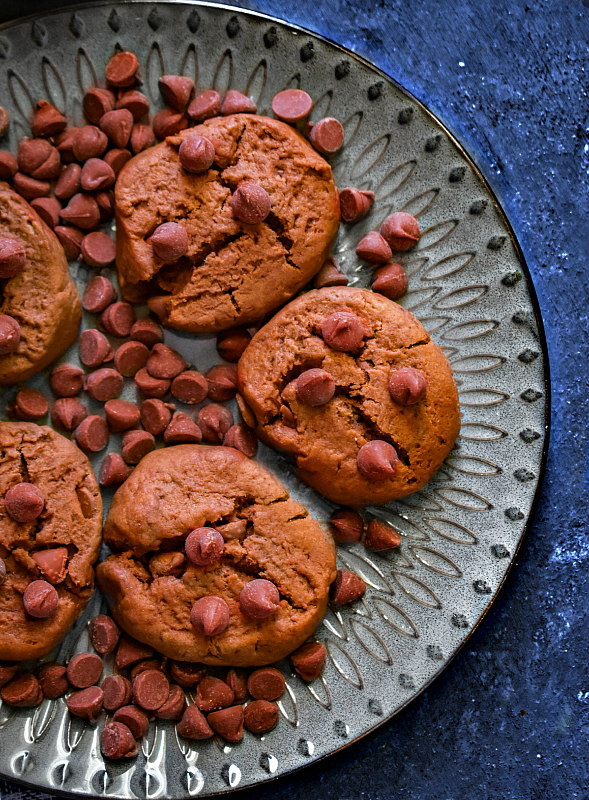 How to Make Chocolate Whey Protein Cookies:
I have divided the recipe ingredients (in the card below) into two main categories "Wet & Dry".
Hence, we start by first mixing all the dry ingredients together and keeping them aside for later use.
Then we whisk the wet ingredients together into a smooth paste.
Then we add and fold the dry ingredients into wet ingredients.
Once the cookie dough consistency is reached, we scoop the dough into cookie size dollop and add on a baking tray.
Then bake for 15 minutes.
Once baked, we cool the cookies for 3-4 minutes (if u can wait 😉
———————————————
Tried Our Recipe – AWESOME!!!
Now Quickly SNAP A PICTURE & TAG :
#easycookingwithmolly + @easycookingwithmolly on Instagram –>
Connect with Me Here: Facebook / Pinterest / Instagram

:: You May Also Like ::
Eggless Chickpea Cookies (Besan Nankhatai Recipe)
Best Ever Chewy Coconut Chocolate Chip Cookies
Yield: 12 Cookies
Chocolate Whey Protein Cookies Recipe (with Peanut Butter)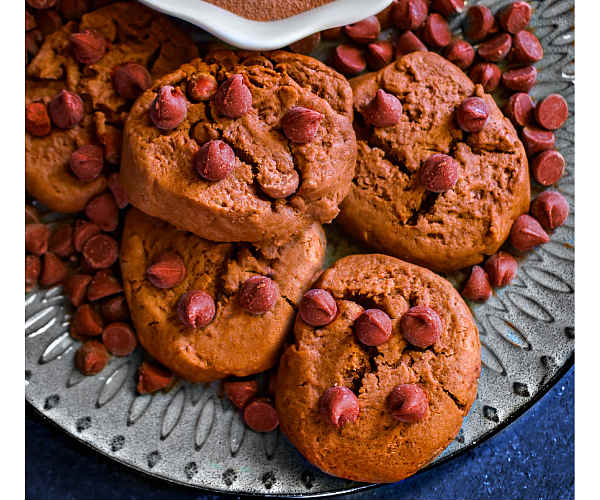 Chocolate Whey Protein Cookies Recipe (with Peanut Butter) : super easy, delicious, and packed with nutrients, they are made using whey powder, chocolate chip, peanut butter, and flaxseed
Additional Time
3 minutes
Ingredients
Dry Ingredients:
1½ Cups All-Purpose Flour
4 Tbsp Whey Chocolate Protein Powder
2 Tbsp Cocoa Powder
2 Tbsp Flaxseed powder
1/2 Cups Chocolate Chips
1/2 Tsp Baking Soda
1/4 Tsp Baking Powder
Pinch of Salt
Wet Ingredients:
3 Tbsp Peanut Butter
1/2 Cup Olive Oil ***
1/2 Cup packed Sugar **
1 Large Egg – Room temperature
1 Tsp Vanilla Essence ****
Instructions
Prep Work:
Preheat oven to 375F (190 C)
Add baking soda, baking powder, whey protein, cocoa powder, flaxseed powder, and all-purpose flour bowl.
Whisk to combine. Keep aside

Mix the Wet Ingredients:
Add the egg to a large bowl and whisk.
Then add olive oil, to the whisked eggs and whisk everything together for 1/2 minute.
Now add sugar, peanut butter, to this mixture and whisk for another 1/2 minute.
Make the Protein Cookies:
Take the wet ingredients mixture and add 1/2 cup flour to it. Gently fold and mix the flour and egg mixture till well combines.
Now add chocolate chip along with the remaining flour.
Fold and mix everything to a cookie consistency. (If the dough feels too hard you can add 2tbsp milk to it).
Take an oiled/buttered or lined cookie sheet and an ice-cream scoop (you can use spoons too).
Scoop the cookie dough using the ice-cream scoop and place it on the cookie sheet.
Similarly, place more cookie dough about 2 inches apart (giving them room to expand when heated).
Bake the cookies for 15 minutes.
Once baked, remove the cooking sheet from the oven and place the cookies on a wire rack to cool (takes about 3 minutes).
Once cooled, serve and enjoy
Notes
Whey Protein Powder: I'm using chocolate whey protein powder, but you can use any flavor or protein you like.
Sugar: you can use sugar-free, stevia, or any other sugar-like date, coconut, etc.
Nutrition Information:
Yield:
6
Serving Size:
1
Amount Per Serving:
Calories:

521
Total Fat:

29g
Saturated Fat:

6g
Trans Fat:

0g
Unsaturated Fat:

21g
Cholesterol:

33mg
Sodium:

217mg
Carbohydrates:

53g
Fiber:

3g
Sugar:

25g
Protein:

16g