Step by step pictures and video on 'How to Make Brown Butter' – the Holiday season most sought after ingredient. You just need unsalted butter and 5 minutes to make this. This can be made ahead of time and lots of tips to store brown butter.
'Brown Butter' is literally the magical ingredient in so many Festive/Holiday recipe, hence I'm here with my quick and easy 'How to make Brown Butter' post for you'll.
Whether it's used in sage gnocchi, fudge, blondies (OMG), salads, breads, cakes, or even sauteed vegetables, this secret ingredient exponentially enhances the taste and aroma of each and every dish.
The nutty and warm aromas of Brown Butter makes it my favorite and must-have for all your kitchen and it's soooooo easy to make it.
What do You Need to Make this Recipe:
You just Need 1 Ingredient to make this recipe and that is 'Unsalted Butter'
Seriously, can it get even easier than this!!! Absolutely Not and You HAVE to try this ASAP as I guarantee, it will blow your mind.
The Process to Make Brown Butter:
So the recipe is so easy and simple that you just cannot go wrong if you follow these easy steps.
We start by heating a heavy bottom pan or skillet.
Then add unsalted butter (chopped) to the hot pan and reduce the heat to low.
Then begin your 3 minutes 'rock that arm' exercise as we need to continuously stir the butter 😉
After the initial 1 minute of stirring the butter, it will begin to bubble/foam and turn light golden.
Keep stirring and soon it will turn slightly orange in color.
After almost 3 minutes (low heat), it will turn brown in color and the foam will subside.
That's when you turn off the heat and move the pan to a cool place (you don't want any more heat as it will burn the butter).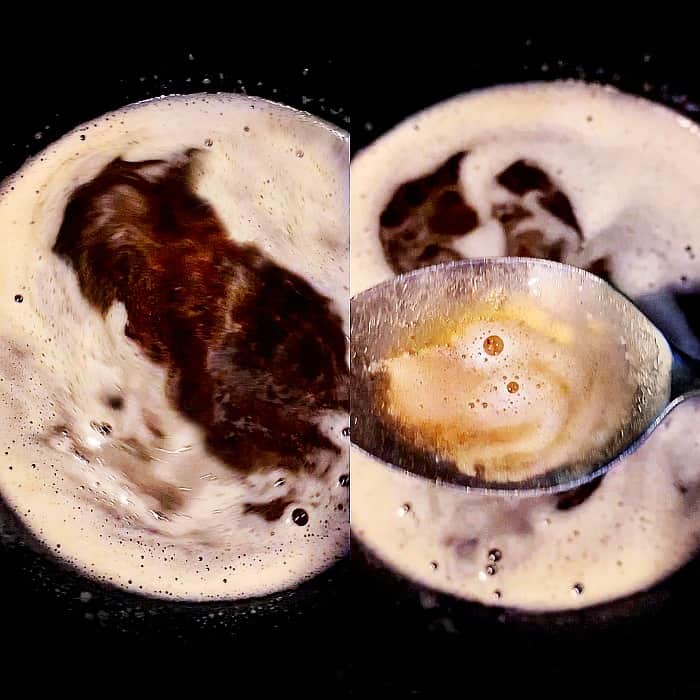 Now, you NEED to use a high-quality unsalted butter to have less milk solid/residue upon heating the butter.
If you are using ordinary butter or even salted butter, you will have more residue left after making this recipe and then you'd need to sieve the butter.
How to Store Brown Butter:
This is equally important as if you don't store the butter properly or use dirty/wet spoons to remove butter, it will get spoiled easily.
You NEED to have a sterilized glass jar with a lid.
I prefer to use a microwaveable jar/bottles, as you can heat the solidifies brown butter in the microwave later.
Once stored in a glass jar, you can keep it outside for a few days but I'd suggest to store it in the fridge for a longer duration.
Yes, Brown Butter Solidifies in cold temperature and you can lightly heat before use.
I hope this Holiday Season, you try this easy recipe to make your own Brown Butter at home and add in your favorite recipes.
I guarantee you'd be blown away from the flavor profile.
Also, keep an eye on the blog or SAVE this Post as I have couple of easy recipes coming up using this as an ingredient.
———————-
Tried Our Recipe – AWESOME!!!
Now Quickly SNAP A PICTURE & TAG :
#easycookingwithmolly + @easycookingwithmolly on Instagram –>
Connect with Me Here: Facebook / Pinterest / Instagram
:: You May Also Like ::
Yield: 1 Large Bowl
How to Make Brown Butter - Step by Step Video
How to Make Brown Butter: step by step pictures and video to make Holiday season most sought after 'brown butter' using 1 ingredient and ready in 5 minutes.  This can be made ahead of time and lots of tips to store brown butter.
Additional Time
2 minutes
Instructions
How to make Brown Butter:
Heat a skillet or heavy bottom pan.
Add 6tsp unsalted butter and reduce the heat to low.
Start melting the butter by continuously stirring it.
It will begin to foam/bubble up.
Keep stirring on low flame and soon the foam will subside and butter will turn from golden to dark brown.
Turn off the heat and remove the pan from a heated stove.
Let this cool for 2 minutes.
Sieve the brown butter if it has any milk solid (if u use premium unsalted butter, you'll have fewer solids).
Store in a dry-sterilized jar for up to a month or two in the fridge.
Notes
Always use Unsalted Butter and the premium butter, the better.
Nutrition Information:
Yield:
10
Serving Size:
1
Amount Per Serving:
Calories:

20
Total Fat:

2g
Saturated Fat:

1g
Trans Fat:

0g
Unsaturated Fat:

1g
Cholesterol:

6mg
Sodium:

0mg
Carbohydrates:

0g
Fiber:

0g
Sugar:

0g
Protein:

0g