Pumpkin Masala Recipe: a sweet-spicy pumpkin recipe made using basic Indian spices, vegan, glutenfree and made using very little oil. Goes with Indian entree like Dal's, Stews, Meats or even Paratha (Indian Flatbread).
Pumpkin Masala Recipe: also known as 'Kaddu ki Sabzi'.
This Pumpkin Masala Recipe is a regular feature on our dinner table and it's what I call a favorite 'UP Wali Sabzi'.
In other words, it's a famous pumpkin vegetable from the state of Uttar Pradesh (UP), India, where it's eaten with poori
(puffed Indian bread).
Growing up, this was a staple once a month or two along with 'Chatpate Aloo / Spicy Cilantro Potatoes' and hot poori's right out of the wok.
Or I can say that's how one Sunday of the month was celebrated and then followed by a chilled Shahi Seviya (Indian Vermicelli Dessert)…. Ahhh, Total Bliss!!
I had already mentioned this in one of my earlier pumpkin posts, that 'Pumpkin' is usually eaten in savory recipes in India or at the max, we may make something called as 'Kaddu ka Halva'.
It would be closer to the American Pumpkin Pie minus the pie crust 🙂
So, I have eaten a ton of savory pumpkin recipes in my life and this Pumpkin Masala Recipe is by far my most favorite of them all.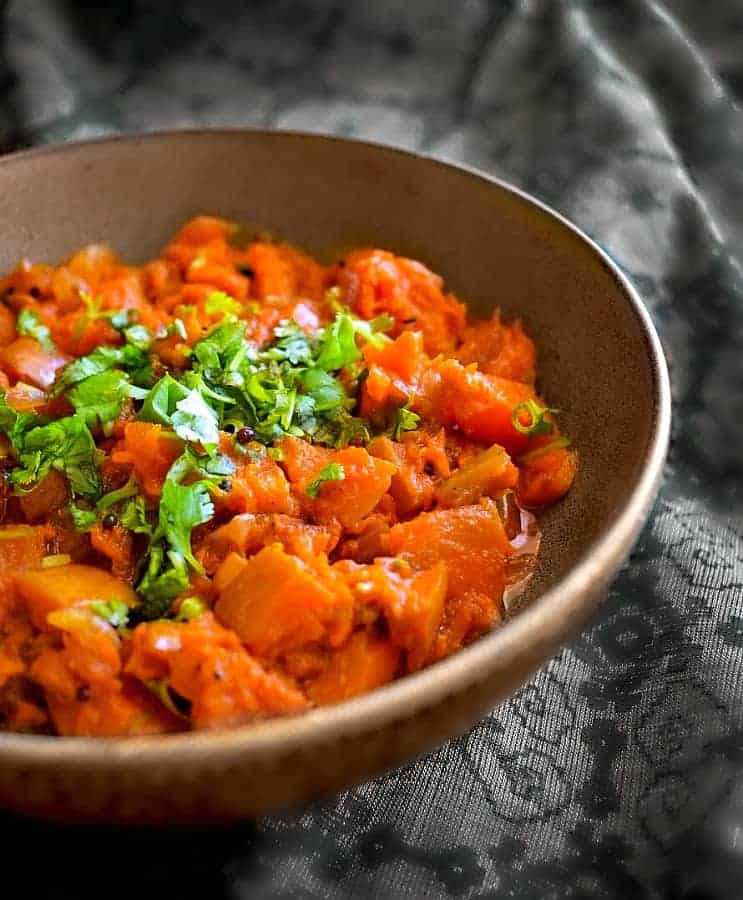 We do get a lot of different varieties of pumpkin in India like white, green, yellow and red.
And all of them are used in making savory recipes but this 'Red Pumpkin' is our favorite.
It has a slight sweet offering and that goes amazingly, literally amazingly with our spices in Pumpkin Masala Recipe.
Don't worry, I'm not adding tons of spices but just enough to give it a perfect sweet-spicy and slightly tangy flavor.
The recipe is extremely easy and you don't even have to peel or do anything much.
Just clean the pumpkin seeds and chop the pumpkin in bite-size pieces.
Then saute it with Indian spices for 10-12 minutes and finish it off with a generous sprinkling of fresh cilantro.
That's it, it's that simple to make this Pumpkin Masala Recipe.
So I really hope that this Pumpkin Season here in USA or otherwise, you try this 'Kaddu ki Sabzi' or Spiced Indian Pumpkin.
Tried Our Recipe – AWESOME!!!
Now Quickly SNAP A PICTURE & TAG :
#easycookingwithmolly + @easycookingwithmolly on Instagram –>
Connect with Me Here: Facebook / Pinterest
:: You May Also Like ::
Yield: 2 Cups
Pumpkin Masala Recipe (Kaddu ki Sabzi) Vegan+GF
A sweet-spicy pumpkin recipe made using basic Indian spices. Also known as 'Kaddu ki Sabzi' from North India
Ingredients
2 Cups Red Pumpkin - clean and cut into bite size pieces
3 Tbsp Olive Oil
1 Tsp Mustard Seeds
1 Dry Red Chili - de-seeded
2 Garlic Cloves - medium size - peeled
1/2 Cup Water
3 Tbsp Fresh Cilantro Leaves
Spices:
1 Tsp Turmeric Powder
¼ tsp mild Chilli Powder
1 Tsp Tsp Coriander Powder
1/2 Tsp Fennel Powder
1 Tsp Mango Powder
Salt to taste
Instructions
Heat the oil in a large pan/wok on a medium flame.
Add the mustard seeds, red chillies, garlic cloves and let them sizzle for a few seconds.
Add the pumpkin and stir for 3-4 minutes over medium heat.
Add all the spices and stir well.
Now cover the pan with a lid and let this cook for 2-3 minutes over low heat.
After 3 minutes, remove the lid and saute the pumpkin (it would have now become soggy)
Add the water and stir everything.
Cover and cook for 5 minutes.
After 5 minutes, remove the cover and saute everything again.
The pumpkin would have cooked leaving a sweet tangy smell.
Turn off the heat and transfer to a serving bowl.
Garnish with fresh coriander and serve hot.
Notes
Red Pumpkin - you can use any pumpkin/kaddu you have like yellow pumpkin, green or even squash.
Nutrition Information:
Serving Size:
4 People
Amount Per Serving:
Calories:

110
Total Fat:

10g
Saturated Fat:

1g
Sodium:

2mg
Carbohydrates:

4g
Sugar:

2g
Protein:

1g