Dahi Vada Recipe: 'melt in your mouth' dahi vada / dahi bhalla recipe (fried Indian lentil dumplings), that's served with whipped yogurt and sweet-spicy chutney. Dahi Vada Recipe is also known as Dahi Bhalla, Dahi Bada or Dahi Bhalla Chaat.
Diwali (Indian festival of lights) is just around the corner and this Dahi Vada Recipe is a MUST!
It's also one of the MOST famous Indian street food that's found in India.
Especially in the Northern states where the 'Dahi Vada / Dahi Bhalla / Dahi Badas are famous for being extremely soft and served with a thick sweetened yogurt with spicy mint+tamarind chutney !!!
I remember, every time we visited Lucknow or other cities in UP (Uttar Pradesh), we would literally hog plates of dahi vada's from the famous restaurants and even at home….yup we LOVE it so much!
Hence, it was very important for us (almost as a mission) to learn 'How to Make the Softest & BEST Dahi Vada'!
This recipe is one of those heirloom recipes that's passed in our family from generations and we always start the festive season recipes prep with this one.
Since it's a festive recipe and everyone eat's 2-3 dahi vada's, we always make double the required quantity (it's easily frozen for later use incase any are left).
Ingredients for Dahi Vada Recipe:
Urad Dal (husked black lentil)
Moong Dal / Mung Dal (petite yellow lentils)
Ginger
Black Peppercorns
Hing (asafetida) optional
Yogurt (Dahi) – for the dunking the vada
Indian Spice Mix – salt, red chili powder, cumin powder
Indian Chutney – Green, Red.
—————-
Now, before discussing the recipe, let's first get some Fact's out of the way:
Traditionally, 'Dahi Vada' is made using ONLY Urad Dal but as it's often consumed in large quantities, it often becomes extremely heavy to digest them due to urad dal (which is a heavier lentil to digest).
Hence, we always mix 'Moong Dal' which is extremely light (easily digested), to give the same delicious flavor and consistency.
The proportion that we have been using is: 1 Cup Urad Dal with 1/4 Cup Moong Dal
—————-
How to Make Dahi Vada Recipe – Dahi Bhalla:
Now that we have these facts cleared, let's get started with the Dahi Vada Process.
Soaking the Lentils:
The lentils are soaked overnight so that they swell up to their maximum size and gives a soft texture.
However, a lot of times, when I'm in a hurry and I haven't soaked the lentils overnight, this tip comes most handy.
TIP # 1:
You can soak the lentils in boiling water for a minimum of 1hour to get a soft texture and increased size.
Making the Dahi Vada Batter:
Once the lentils have puffed up, you simply add the peppercorns, ginger, hing and pulse them with little water as we want an extremely thick batter/dough.
TIP# 2:
1- Before pulsing the lentils, strain the water it's soaked in a separate bowl. Now use this water to make a thick batter.
2- This results in a more flavorful batter than if you use fresh water.
3- Always whisk the batter using a fork or a large whisk to incorporate some air for a lighter and fluffy batter.
4- Whisking the batter results in extra fluffy and softest dahi vada.
Frying the Dahi Vada:
Once you have whisked the batter, you can either use your hand to pour the batter (one vada/dumpling) at a time or use a large spoon (pic above).
TIP# 3
1- Always heat the oil to a high temperature and then reduce it to medium.
2- Always fry the vada in medium to low heat for that extra soft texture.
3- Always leave some space between vada as they will fluff up and need space to cook.
Storing the Dahi Vada / Dahi Bada / Dahi Bhalla:
Once the vada's are made, keep them on a kitchen towel or paper to soak up any excess oil.
Now, if you are consuming all the vada's at once, then you are good to go but if you have made extra for later use, then use this tip.
Tip# 4:
1- Store the vada when they reach room temperature (this guarantees softness).
2- Always store vada's in 2-3 different ziplock as you can easily thaw 1 at a time.
3- You can defrost the vada in a large microwavable bowl too.
Ready the Vada's for the Recipe – (Extremely Important Step)
The number one concern with 'Dahi Bada' recipe is that it's not soft enough or the center is hard or the vada's are not like you get them in the restaurants.
The answer is: Soaking the Fried Vada in Water for a few minutes!
Tip# 5:
1- If you have time, soak the vada in normal water for a good 1-2 hrs.
2- If in a hurry, simply soak the vada's in hot water for 15-20 minutes
3- Then take each vada and press them against your palms (gently) to remove any excess water.
Soaking the vada's in water, not only increases the size of the vada (almost double) but also makes them extremely soft.
The picture below is of the vada's after being soaked in hot water for 20 minutes and then pressed between palms to remove excess water.
Just be careful when you handle soaked vada as they are super soft and might break if moved around too much.
Serving the Dahi Vada:
This is my Family's FAVORITE part in the whole process (lol).
The possibilities are endless but there are 3 basic things without which you CANNOT imagine this recipe:
Thick Yogurt
Chutney
Masala
These basic toppings take these humble fried vada (lentil dumpling) to an infinitely delicious taste.
Thick Yogurt: we use a regular store-bought yogurt that's whisked for 1-2 minute. I also add a hint of sugar to make it slightly sweet (as we like it this way).
Chutney: You have to have 'Green (Cilantro – Dhaniya Chutney)' and 'Tamarind' chutney for this recipe. Use homemade ones or they are easily available in Indian stores.
Masala: now this part is always debatable at our house as some like it with basic salt, pepper, cumin powder and some likes to add a hint of chat masala (store-bought).
Besides these basic toppings mentioned above, you can also add:
Fresh Pomegranate
Mint Leaves
Cilantro Leaves
Thinly Grated Ginger
Lemon Juice
Raisins
I usually like to add more yogurt but bae likes it with less yogurt and more of toppings.
So this recipe is pretty customizable as per your need.
If you follow the tips mentioned above, I can guarantee you'd have the softest vada's or even better than the ones you get at restaurants.
---
Tried Our Recipe – AWESOME!!!
Now Quickly SNAP A PICTURE & TAG :
#easycookingwithmolly + @easycookingwithmolly on Instagram –>
Connect with Me Here: Facebook / Pinterest / Instagram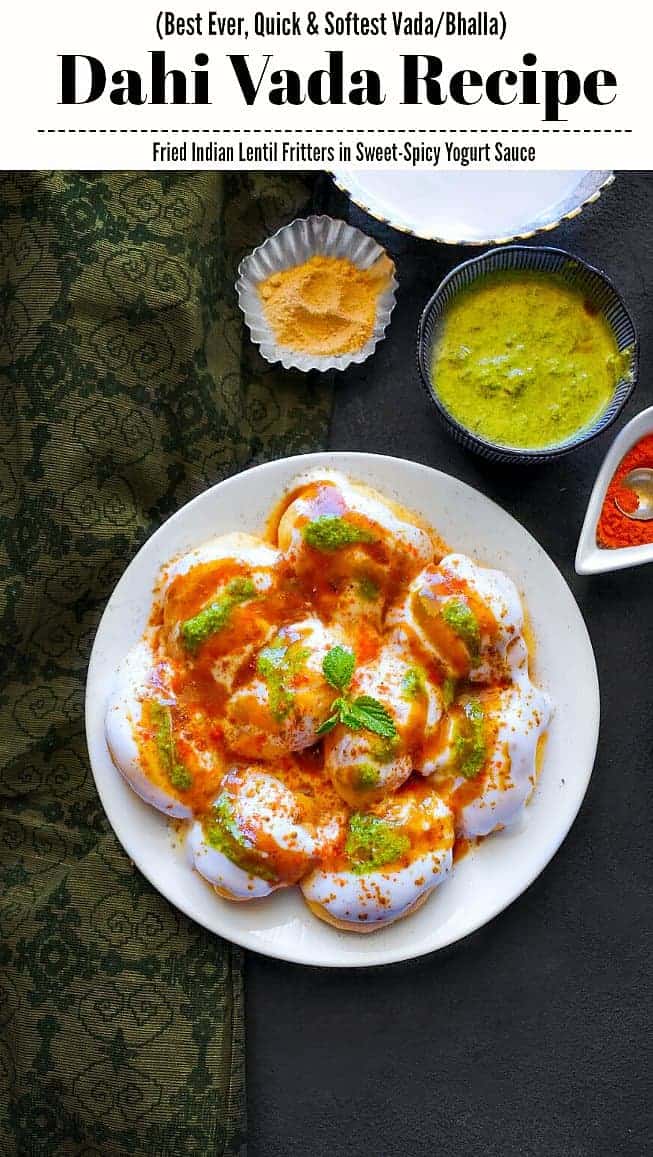 :: You May Also Like ::
Yield: 20 Medium Vadas
Dahi Vada Recipe (Step by Step Video) Dahi Bhalla
Dahi Vada Recipe: 'melt in your mouth' dahi vada / dahi bhalla recipe (fried Indian lentil dumplings), that's served with whipped yogurt and sweet-spicy chutney. Dahi Vada Recipe is also known as Dahi Bhalla, Dahi Bada or Dahi Bhalla Chaat.
Ingredients
2 Cups Urad Dal - husked black lentils
1 Cup Moong Dal - mung dal
1 Tsp Black Pepper Corns
1 Inch Piece of Fresh Ginger
Pinch of Hing - asafetida
4 Cups Water - to soak the lentils
2 Cups of Vegetable Oil - for frying the vada
2 Cups of Hot Water - for soaking fried vada
Toppings:
3 Cups Yogurt - thick & whisked
1/2 Cup Mint Chutney
1/2 Cup Tamarind Chutney
Red Chili Powder
Salt
Cumin Powder
Chat Masala
Fresh Mint Leaves
Instructions
Prep Work:
In a large bowl, add both the dal (lentils) and 4 cups of water.
Soak this overnight or follow Tip#1 in post.
Make the Vada Batter:
Once the lentils are soaked and puffed up, remove the excess water and keep aside (keep the water for later use).
Now, take a big blender or food processor and add the soaked lentils, peppercorn, ginger and hing.
Add 1/4 cup water and pulse to form a smooth and thick batter. (you might need to pulse 4-5 times to get a fine consistency).
Transfer the batter in a large pot and whisk it using a large fork (a whisk is better) for 2 minutes (to make it fluffy).
Frying the Vada:
In a large pan, pour 2 cups of oil and heat on high for 3 minutes.
Reduce the heat to medium.
Now scoop some batter using your hand/large spoon and pour about inch of it in the hot oil. (about 1.5tbsp)
Similarly, pour few more vada batter in the hot oil giving space between each vada to expand while cooking.
Using a flat slotted spatula, fry the vada on both sides until they fluff up and become golden brown.
Remove the cooked vada and keep on kitchen towel to soak excess oil.
Similarly, fry all the vada and let them cool.


How to Make Dahi Vada:
Take 2 cups of hot water and soak 5-6 fried vada till they double in size (takes about 20 minutes).
Now, press each vada with hand and remove excess water.
Place the soaked vada in a serving plate.
Pour thick yogurt on top of the vada (covering each with enough yogurt).
Now, add the chutney's (mint & tamarind) on each vada.
Sprinkle salt, red chili powder, cumin powder and chat masala.
Finally, top with fresh mint and serve immediately.
Notes
always serve with chilled yogurt.
Nutrition Information:
Yield:
20
Serving Size:
4
Amount Per Serving:
Calories:

210
Total Fat:

24g
Saturated Fat:

2g
Trans Fat:

1g
Unsaturated Fat:

21g
Cholesterol:

2mg
Sodium:

235mg
Carbohydrates:

24g
Fiber:

5g
Sugar:

9g
Protein:

7g