Multigrain Porridge Recipe: an extremely healthy and delicious breakfast filled with multigrain, fresh berries, orange, nuts, and cashew milk. It's a perfect way to jump-start your day with energy.
This Multigrain Porridge Recipe is mixed with berry and deliciousness.
It's not only a nutritious way to start your day but also extremely easy to make. It's one of those recipes that you make once and eat for the next 3-4 days.
'Wheat Porridge' is a popular breakfast option in India and has been eaten for centuries.
Some like it savory and some sweet but no matter how you prepare it, it's absolutely filling and keeps fueling your body with energy.
We love eating it for breakfast too and sometimes I even use it as my goto lunch or dinner.
Now, we although we have been eating it for ages, we always made it the same way, boil the porridge, add some milk…maybe some chopped nuts and go on with it.
But I decided to change the monotonous recipe with this Multigrain Porridge Recipe.
I decided to make it much more flavorful by adding multigrains like quinoa, brown rice, steel-cut oats and a secret ingredient 'Flax Seed' 😉
Well, I can go on and on about the benefit of this Multigrain Mix but to keep it simple, let's say :
Great for your digestion, helps keeps your bowel moment regular by adding extra fiber" to your diet.
Keeps you Full for longer while still providing body with energy.
Filled with Multiple sources of nutrients and minerals.
Once the multigrain part was taken care of, I also wanted to add that warm touch of summer in it and added fresh fruits on top along with a blueberry puree.
It also has some sprinkle of 'cinnamon+nutmeg' for its healing power.
Then since I'm going all things 'rose' these days, I added some organic dried rose petals along with chopped mixed nuts and seeds (sunflower seeds, roasted quinoa seeds, chia seeds and black sesame seed).
So this gorgeous bowl was our breakfast last weekend and when everyone asked what is it called, well apart from Multigrain Summer Porridge Recipe, I'm also calling it 'My Ode to Summer'.
It's just as warm, pretty and filled with color as summer makes us feel. Don't you think so?
Go ahead and definitely try this deliciousness and enjoy with your loved ones.
:: You May Also Like ::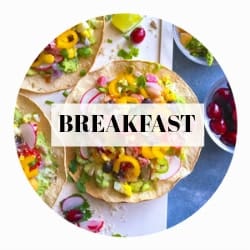 ---
Tried Our Recipe – AWESOME!!!
Now Quickly SNAP A PICTURE & TAG :
#easycookingwithmolly + @easycookingwithmolly on Instagram –>
Connect with Me Here: Facebook / Pinterest / Instagram
Yield: 4 Cups
Multigrain Porridge Recipe #immunity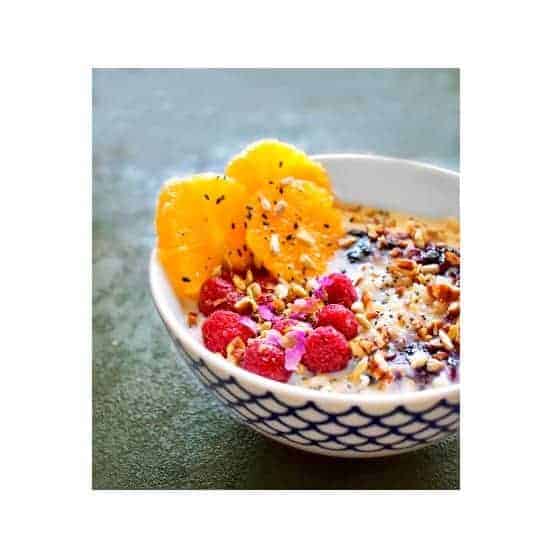 Multigrain Porridge Recipe: Filled with multigrain, fresh summer fruits and cashew milk, it's perfect to Jumpstart your day with energy. Multigrain Porridge Recipe #immunity
Ingredients
1 Cup Mixed Grains (Steel Cut Oats, Broken Brown Rice, Quinoa, Wheat Porridge)*
1/4 Cup Water
2.5 Cups Milk - I'm using Cashew milk, but you may use any kind.
Pinch of Salt
1 Tbsp Flax Seed
Sweetener of Choice
Topping: (use as per choice)
1 Cup Milk - use any as per choice
Orange - peeled and sliced
Raspberries
Blueberry Puree
Roasted Mixed Nuts - please use non-salted variety
Seeds - Sunflower, roasted quinoa, chia, black sesame
Dried Rose Petals
1/8 Tsp Cinnamon + Nutmeg Powder
Instructions
In a large pot, add water, salt, milk and mixed grain.
Heat this mixture in medium to slow heat till everything is cooked (takes about 8-10 minutes)
Once cooked, turn off the heat and give it a good stir.
Let this mixture come to a room temperature.
Now, transfer in serving bowl and add some milk on top (you can make it as thin/thick as per choice).
Add the sweetener and stir everything.
Top with your favorite toppings or as suggested above.
Serve fresh or keep in the fridge to chill for few minutes and then enjoy it cold*
Notes
Multigrain* - you can use any combination of multigrain options you like.
Cold* - if you decide to serve this cold, then add the fresh fruits right before serving.
Nutrition Information:
Yield:
4
Serving Size:
1
Amount Per Serving:
Calories:

230
Total Fat:

14g
Saturated Fat:

4g
Trans Fat:

0g
Unsaturated Fat:

9g
Cholesterol:

17mg
Sodium:

179mg
Carbohydrates:

85g
Fiber:

13g
Sugar:

8g
Protein:

23g