Homemade Watermelon Cucumber Juice: refreshing, delicious and 3 ingredients juice recipe using watermelon, cucumber, and lime. It tastes absolutely delicious and works as a powerful detox too.
Hey Y'all, isn't the next day after a long weekend always so exhaustive and with the kind of food all of us end up eating (unless you follow a strict diet), most of us are in no mood to make anything or even think of eating,
So this fresh
Watermelon Cucumber Juice
serves as our first or even second meal of the day and fills the body with required nutrients without us making too much effort to cook.
Summer is kinda approaching (sometimes it makes a U-turn here in San Francisco Bay Area 😉 )
And we are flooded with these sweet, seedless watermelon that makes this Watermelon Cucumber Detox just as gorgeous to look as it is delicious to drink.
This is not a new recipe on my blog but has been around since 2014 and a lot of you love it already.
So I decided to click some new pictures yesterday while we sipped on this Watermelon Cucumber Juice Detox at almost 90 degrees!!
Homemade Watermelon Cucumber Juice Ingredients
I recommend using fresh ingredients everytime as they are the best for detox or fresh juices. If you donot have fresh, then use canned or frozen.
Watermelon
Cucumber
Lime Juice
The coincidence with this post and new pictures is that the initial post was done in July 2014 just before July 04th holiday and we were in similar food coma situation 😉
So you can guess by now that the recipe is our favorite way to detox.
Also here are some details on this Watermelon Cucumber Juice:
Watermelon
Watermelon is mostly water, that is it consists of 92 % Water + 8% Nutrients.
It has a high amount of Citrulline, which creates a diuretic effect in the body (makes us pee a lot) hence helps in removing toxins from the body.
It's High in dietary fiber, which means more roughage goes in the body, hence keeps your colon clean – so perfect for Colon Diet.
It's Low in Sodium and High in Potassium, so great for kidney cleanse.
Contains Glutathione which is good for liver cleansing.
Cucumber
High in Water content, Nutrients & low in calories.
Is an Antioxidants, hence help the body fight free radicals.
High in Vitamin C
High in Magnesium
High in Beta-Carotenes for Healthy Skin and Eyes.
Mint
Mint helps to further reduce inflammation and works as a natural diuretic.
Many of it's benefits are the same as above.
So, here goes the old article ————————————————————————————
Here comes the "Long Weekend" and this surely is a huge one being 4th of July (Independence Day in the USA)…..
All we can think about is Partying with friends n family, Lots of Food, Tons of Drinks and off-course our Fav – BBQ's 🙂
After planning all the above, I realized that by the end of the week just like every year, we would start having the feeling of over-eating/drinking, feeling bloated n much more such stuff.
That's when this Watermelon Cucumber Detox recipe comes in handy.
But this time, I'm going to be a little different by having lots of "Detox" juice or water.
I've tried this detox many times(1-2days in a row) for past few months and everytime it works.
It does make me feel lighter and energetic, also helps in losing a couple of weight (If followed in the right interval) and the best of it…..ladies especially for us – it helps DEBLOAT !!!
All the ingredients mentioned are organic, easily available in any local grocery/vegetable stores and you don't need a fancy or any juicer to make this.

Did you Know:
Watermelon and Cucumber: Come from the same melon family and are mostly (about 90%) water.
They both are natural diuretic hence helps in flushing excess water and toxins out of our system.
Also, I feel it's a great n natural way to keep our-self hydrated and energetic.
Here are some other Detox & Watermelon Recipes from my Blog:
Tried Our Recipe – AWESOME!!!
Now Quickly SNAP A PICTURE & TAG :
#easycookingwithmolly + @easycookingwithmolly on Instagram –>
Connect with Me Here: Facebook / Pinterest / Instagram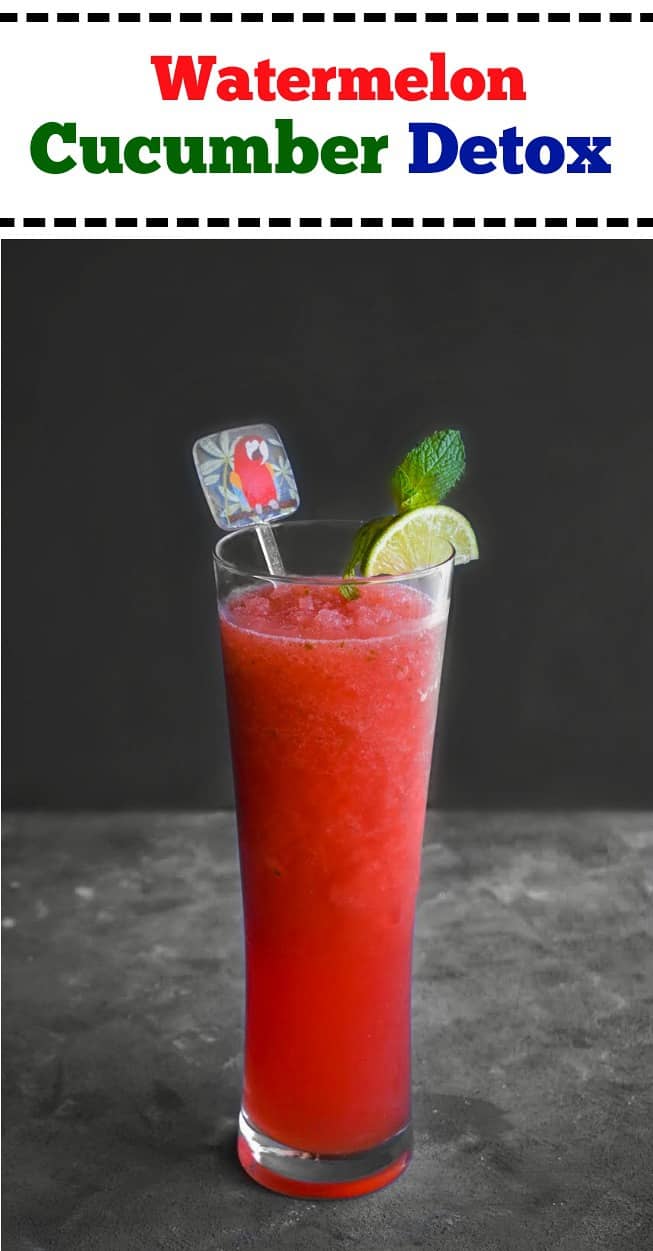 :: You May Also Like ::
Yield: 4 Glasses
Homemade Watermelon Cucumber Juice (Powerful Detox)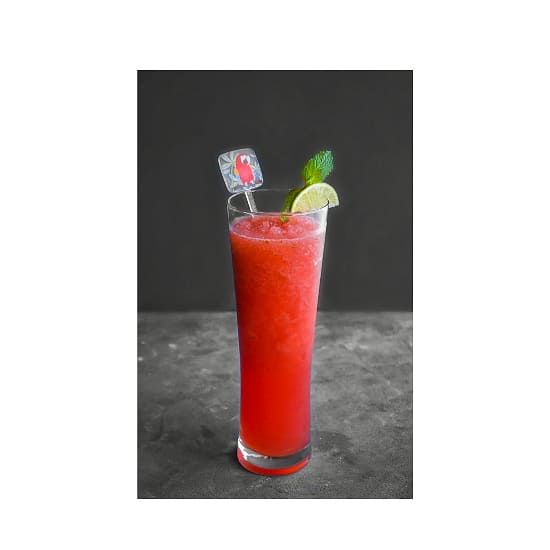 Watermelon Cucumber Juice Detox: refreshing, delicious and 3 ingredients juice recipe using watermelon, cucumber, and lime. It tastes absolutely delicious and works as a powerful detox too.
Ingredients
2 Cup Watermelon - peeled, chopped *
1 Cup Cucumber – Peeled or unpeeled as per choice
1 Tbsp Lime Juice
6-7 Fresh Mint Leaves (optional)
1 Cup Ice
Instructions
How to Make Watermelon Cucumber Juice:
Add all the ingredient in a blender and pulse to a smooth consistency.
Optional - Sieve this mixture into a big bowl incase you want to remove any mint leave/cucumber peel from the detox smoothie.
Pour in tall glasses and garnish with a slice of lime and mint.
Serve Enjoy.
Notes
* Watermelon - can be fresh or frozen.
Nutrition Information:
Yield:
4
Serving Size:
1
Amount Per Serving:
Calories:

37
Total Fat:

0g
Saturated Fat:

0g
Trans Fat:

0g
Unsaturated Fat:

0g
Cholesterol:

0mg
Sodium:

8mg
Carbohydrates:

9g
Fiber:

2g
Sugar:

5g
Protein:

1g