Mushroom Baingan Masala (Indian Style Mushrooms-Eggplant Stir Fry): It's a mix of mushrooms, baingan (eggplants), peas and spicy-tangy Indian masala that leaves you wanting more of it. It's a perfect entree or side to an Indian meal.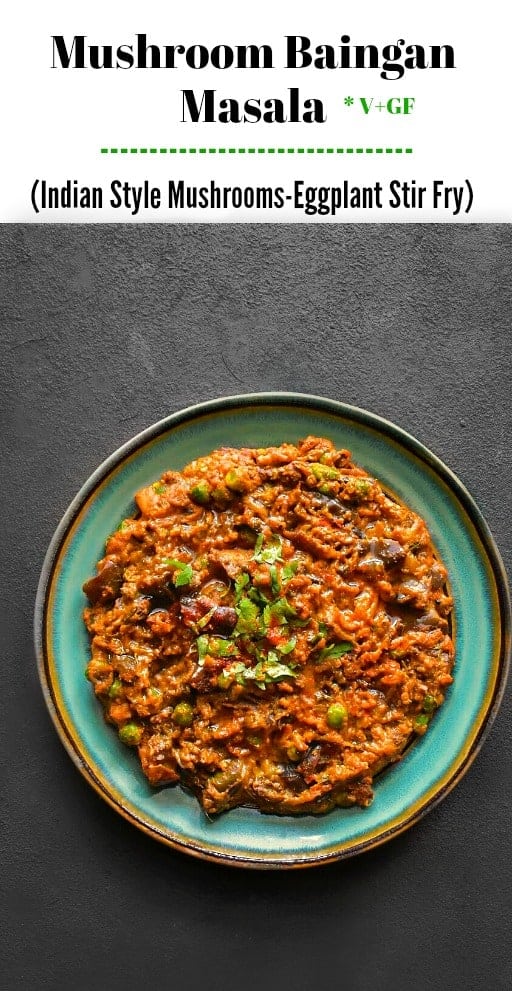 This Mushroom Baingan Masala or Indian Style Mushrooms-Eggplant Stir Fry is a perfect recipe for your Meatless Monday meals.
It's quick, delicious and goes with any kind of Indian meal or as is too. An absolutely scrumptious recipe for your meatless menu.
Also, it's one recipe that my meat-lover family and friends really look forward to eating because of the flavor combination.
Ingredients for Mushroom Baingan Masala:
Mushrooms
Eggplant – also known as baingan in India. I recommend using the Indian Eggplant for this recipe.
Green Peas – also known as matar in India. Can be fresh or frozen (thawed).
Ginger + Garlic
Onion
Tomato
Indian Spices – like turmeric, salt, red chili powder, etc.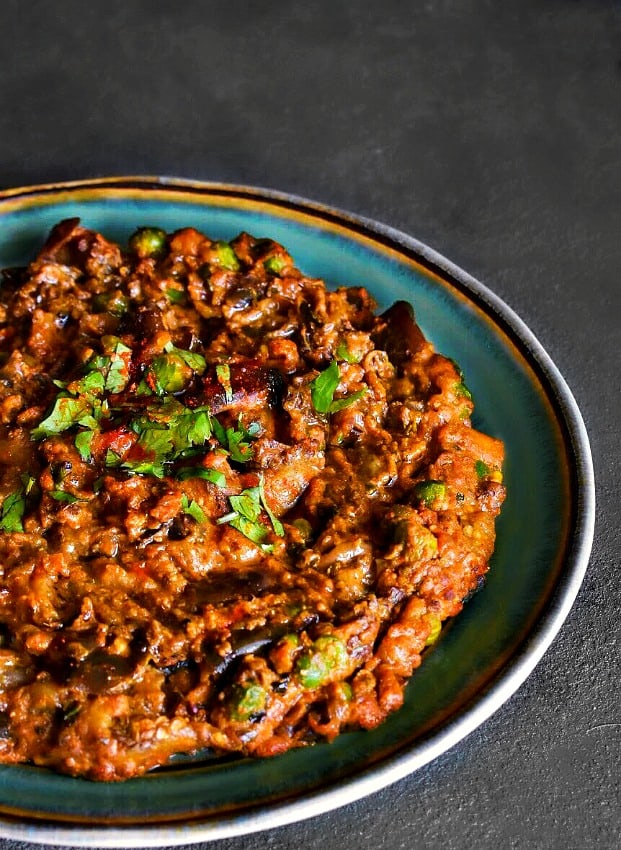 Okay, now who here loves eggplants or 'baingan' as we call them in India?
Although it's an easy vegetable to work with, but it's really tough to make everyone like it…maybe its the color/shape or just the simple taste.
But I've changed many eggplant haters into 'Oh My Goodness, I can't believe it's eggplant lovers' 😉
And this recipe is an example of a few of them that I'd share with you'll in the future.
This Mushroom Baingan Masala is going to leave you speechless …. in a Good Way … OR Very Good Way 😉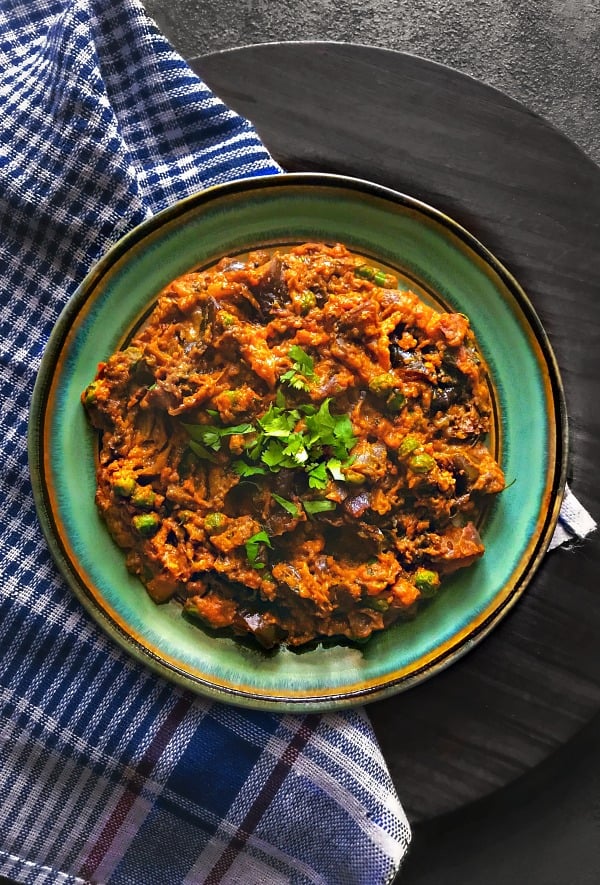 Now, I also have friends who for some reason or the other had to leave meat but they still crave that texture or flavors.
So this is one recipe, where the spices are very close to a 'meat curry' recipe and the sauteeing of mushroom+eggplants together result in this grainy texture that resembles meat.
The Mushroom Baingan Masala recipe is extremely easy.
I can guarantee, you'd crave the taste again and again and It might just become your favorite goto Indian veggie recipe 🙂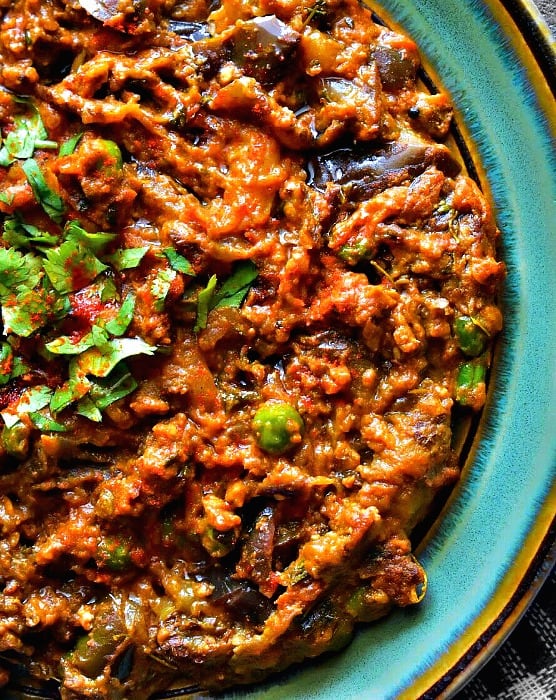 Tried Our Recipe – AWESOME!!!
Now Quickly SNAP A PICTURE & TAG :
#easycookingwithmolly + @easycookingwithmolly on Instagram –>
Connect with Me Here: Facebook / Pinterest / Instagram

:: You May Also Like ::
Yield: 3
Mushroom Baingan Masala (Indian Style Mushrooms-Eggplant Stir Fry)
Mushroom Baingan Masala (Indian Style Mushrooms-Eggplant Stir Fry): delicious recipe using mushrooms, baingan (eggplants), peas and Indian masala.
Ingredients
1/2 lb small purple eggplants - chote baingan (Indian name).
1 Cup Chopped Mushrooms - I'm using button mushrooms
1/2 Cup Frozen Peas - optional
1 Large Red Onion
2 Chopped Tomatoes - or use 1/2tsp tomato paste
1/2 Cup Yogurt - you can use any vegan or non-vegan brand as per choice - optional
1 Tsp ginger + garlic paste - fresh or store-bought
1 Medium Green Chili - thinly sliced - optional
4 Tbsp Olive Oil - or any light oil
Fresh Cilantro for Garnish
Spices:
1 tsp Turmeric Powder
1/2 Tsp Coriander Powder
1/2 Tsp Cumin Powder
1 Tsp Red Chili Powder
1/2 Tsp Garam Masala
1 Tsp Dry Mango Powder - you may use 1 Tbsp lemon juice
Salt - as per taste
Instructions
Wash the mushroom and eggplants properly.
Slice them both into thin pieces (any shape).
Now heat 2 tbsp oil in a non-stick pan.
Add the chopped onion and stir.
Now add ginger+garlic paste, spices and saute for a minute.
Add the peas, eggplants and stir-fry everything together for 2 minutes.
Now add the tomatoes, yogurt and saute everything.
Cover the mix and let it cook on low heat for 4 minutes (stir every 2 minutes).
Once the eggplants are cooked (almost mashed), now add the mushrooms.
Saute everything and cover cook for another 2 minutes.
Now remove the cover and increase the flame to medium.
Stir-fry everything slowly, scooping the sides.
Turn off the heat and transfer the mushroom-eggplant to serving plate.
Garnish with cilantro and some chili powder.
Serve immediately or store in fridge for upto 3 days.
Nutrition Information:
Yield:
3
Serving Size:
2
Amount Per Serving:
Calories:

230
Total Fat:

37g
Saturated Fat:

7g
Trans Fat:

0g
Unsaturated Fat:

25g
Cholesterol:

36mg
Sodium:

500mg
Carbohydrates:

37g
Fiber:

8g
Sugar:

15g
Protein:

19g