Quick Vegetable Quinoa Pilaf Pulao: learn how to make vegetable quinoa pilaf pulao using quinoa, vegetables and spices. This recipe is made using Electric Pressure Cooker and is vegan, glutenfree.
This Vegetable Quinoa Pilaf Pulao has been on the menu twice last week and it's one of our most GOTO meal.
It's healthy, super easy and cooked in our new Power Pressure Cooker XL (makes food super quick & retains the taste).
Now, pressure cooker cooking is something not new to me as it's one of the most used kitchen gadgets in India, however, an electric power cooker was definitely something new.
So we are literally on a spree and trying our favorite recipes in the power cooker with amazing results.
Before, we share more recipes, here's the Quick Vegetable Quinoa Pilaf Pulao recipe to begin with.
How to Make Vegetable Quinoa Pilaf
Now a vegetable pulao (as called in India) or pilaf (called everywhere else), is an extremely popular recipe in Indian households (especially Northern).
It's a quintessential comfort-food and a wholesome recipe to feed unexpected guests.
Just add some yogurt dip (raita), pickle and pappadams and you have yourself a full-blown meal.
Also being so popular, every household has it's own unique touch a pulao/pilaf….some makes it super simple not many vegetables, so just adds whole spices, some adds broth and so on.
Ingredients for Vegetable Quinoa Pilaf Pulao
Frozen Vegetables:
I prefer frozen vegetables to fresh (when I'm in a hurry yet want something wholesome) as the cooking time gets reduced to half as most frozen veggies are almost cooked.
Quinoa:
I'm using quinoa as it's even more nutritious and the BEST PART – It COOKS QUICKER in Pressure Cooker!!
You can definitely use brown rice or any kind of rice or other grains as a replacement (just keep the cooking time/temperature in mind for them).
Spices:
Spices is the heart and soul of this dish. Trust me, you can add whatever veggies/stock or any protein as per choice, but unless you add those aromatic-flavorful spices, you're not going to get the same FINGERLICKING Effect!
I'm using a mix of whole spices (used at the beginning for sauteing) and powdered spices towards the middle of the cooking (ALL the SPICES are very GENERIC).
Broth or Water:
I usually cook pilafs/pulao in regular water (all that sauteeing+spices already adds so much flavor n nutrients).
Unless I'm feeling extra fancy and healthy, then I add whatever broth I have in hand (usually low sodium veggie or chicken ones).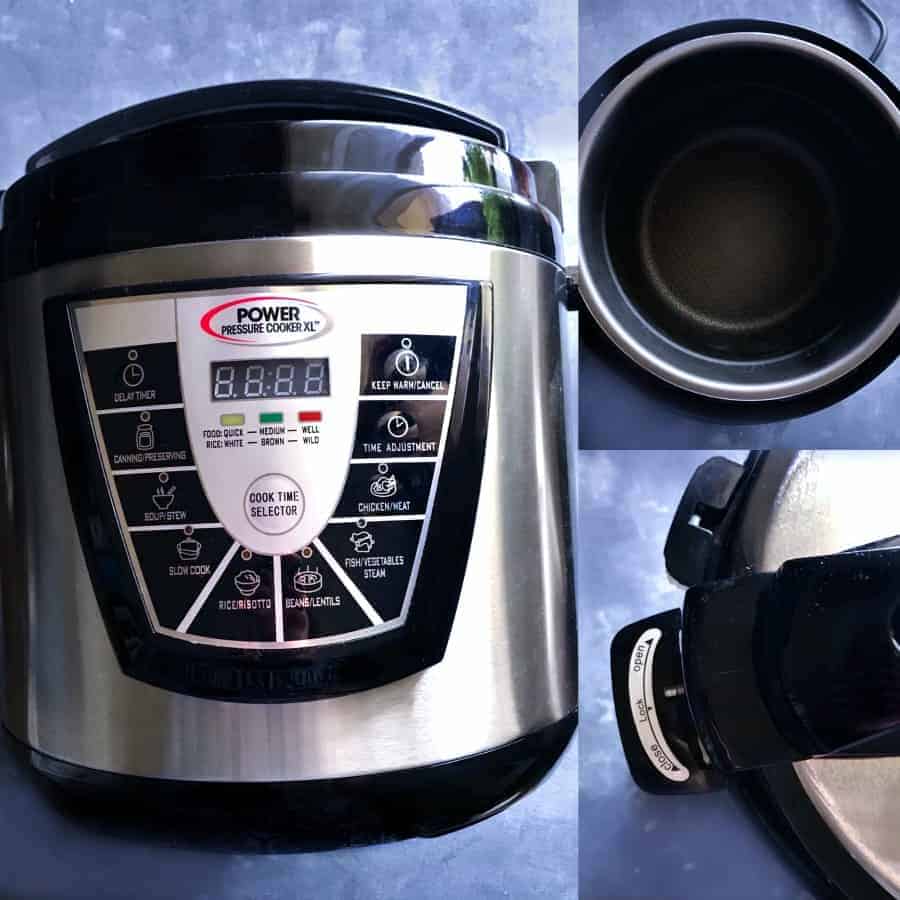 Once, we have all the ingredients in hand, making the Quick Vegetable Quinoa Pilaf Pulao in the Power Pressure CookerXL is super easy.
Now Before you go ahead and try the recipe, here's WHY I used the cooker: It uses a
" Flavor Infusion Technology, that traps super-heated steam inside the pot.
This high-pressure environment forces liquid and moisture into your food, locking in intense flavor and nutrients "
– the end result is always a very flavorful and juicy protein dishes.
It's also really really simple to use this power pressure cooker and trust me If I can do it, you can do too 🙂
All you have to do is, plug in the cord and as we are making quinoa which is similar to rice, we will be choosing the 'Rice/Risotto' setting (bottom of cooker – pic above).
As soon as you select that, the times start, now as we are sauting the mix initially, I've increased the timer to a total of 15 minutes (3-4 minutes for all the sauteeing/mixing).
There's also one great point, once your timer is up, the food setting turns to warm and keeps your meals ready and hot.
The inside pot is 'Non-Stick & dishwasher safe' and cooker comes with an awesome 'Lock Lid', which just doesn't open unless you press open (So it's completely safe).
The 'Steam Release Valve' is very easy to operate too, simply lift it to release any extra steam.
The body is Stainless Steel, which makes it even easier to wipe and clean the outside.
So here we are with our easy-peasy Vegetable Quinoa Pilaf Pulao and hope you try this recipe using your Power Pressure CookerXL .
Other Vegetarian Indian Rice Dishes
Other Vegetarian Indian Rice Dishes #indianrecipes
---
Tried Our Recipe – AWESOME!!!
Now Quickly SNAP A PICTURE & TAG :
#easycookingwithmolly + @easycookingwithmolly on Instagram –>
Connect with Me Here: Facebook / Pinterest / Instagram
Yield: 4 Medium Cups
Vegetable Quinoa Pilaf Pulao | How to Make Vegetable Quinoa Pilaf
Quick Vegetable Quinoa Pilaf Pulao: learn how to make vegetable quinoa pilaf pulao using quinoa, vegetables and spices. This is made in Electric Cooker. This recipe is vegan, glutenfree and low carb
Ingredients
1 Cup Quinoa - I'm using multi-color quinoa.
2 Tbsp Olive Oil
1 Small Onion - diced
1.5 cups Mixed Vegetables - you can add any other veggie of choice too
1.25 cup Water
Mint - garnish
--- Whole Spices ---
2 Small Bay Leaf
1 tsp Cumin Seeds or you can use 1/4 tsp powder too
1-2 Green Cardamom
1/2 Small Stick Cinnamon
--- Powdered Spices ---
1/2 tsp Turmeric
/2 Tsp Red Chili Powder
1/2 Tsp Garam Masala - homemade or store-bought
1 Tsp Salt or as per taste
Instructions
Start the electric pressure cooker in Rice mode and increase the timing to 10 minutes.
Let it heat initially for a minute.
Add oil, whole spices and saute for 30 seconds.
Add onions and sauté for 2 minutes.
Now, add the spices, mixed vegetables and saute everything together for a minute.
Add quinoa and saute again for a minute.
Now, add water and mix well.
Now, place the lid on top and place it in lock position with steam on.
Let the quinoa cook and once the timer is off, it will go on warm.
Let the pressure release naturally or if in a hurry, lift the nozzle and release the pressure carefully.
Open the lid carefully (remember there will be still some steam left, so don't keep your face right above it).
Fluff the quinoa using a fork.
Transfer to serving plate and garnish with mint.
Enjoy.
Nutrition Information:
Yield:
3
Serving Size:
1
Amount Per Serving:
Calories:

155
Total Fat:

12g
Saturated Fat:

2g
Trans Fat:

0g
Unsaturated Fat:

10g
Cholesterol:

0mg
Sodium:

200mg
Carbohydrates:

32g
Fiber:

7g
Sugar:

5g
Protein:

7g