This post is written in partnership with "Brummel and Brown Organic Buttery Yogurt Spread". As always, the opinions here are all my own.
Pan Roasted Winter Vegetable and Quinoa Bowl: a flavorful and nutritious mix of winter vegetables roasted in creamy buttery spread, served with tri-color quinoa and a zesty orange-balsamic sauce.
Pan Roasted Winter Vegetable and Quinoa Bowl
This Pan Roasted Winter Vegetable and Quinoa Bowl recipe serves 2 people and works great as a meal-prep too.
Poooof!!! Did you hear that noise too?
Well, it was the two-month long winter holiday whirlwind suddenly disappear, leaving us gazing wide-eyed into the New Year – New Me resolution!
Welcome to my world or shall I say OUR world.
Seriously, after all that holiday festivities, late nights, endless food and drinks scene, all I wanted to do was sleep an extra hour or maybe tried to stop myself from eating that last piece of the pie.
But anyhow, what happened, has already become a thing of past and let's try to move on…….move on to a routine/resolution (as I call it) that we can stick to towards our quest for a well and happy you, me and our families.
Keeping those goals in mind, I'm looking for products/ingredients that make our everyday food wholesome and yummy!
That's exactly when I came across Brummel and Brown Organic buttery yogurt spread that is made using real organic yogurt & organic plant-based oils.
This deliciously creamy buttery spread is made by blending plant-based oils, purified water, and real yogurt.
Yogurt helps give their spreads rich, creamy taste with less fat and calories than butter.
Also, I'm pretty finicky about any aftertaste left by butter/spreads and to my surprise; this buttery spread doesn't have any such issue. It literally melts and disappears in every bite.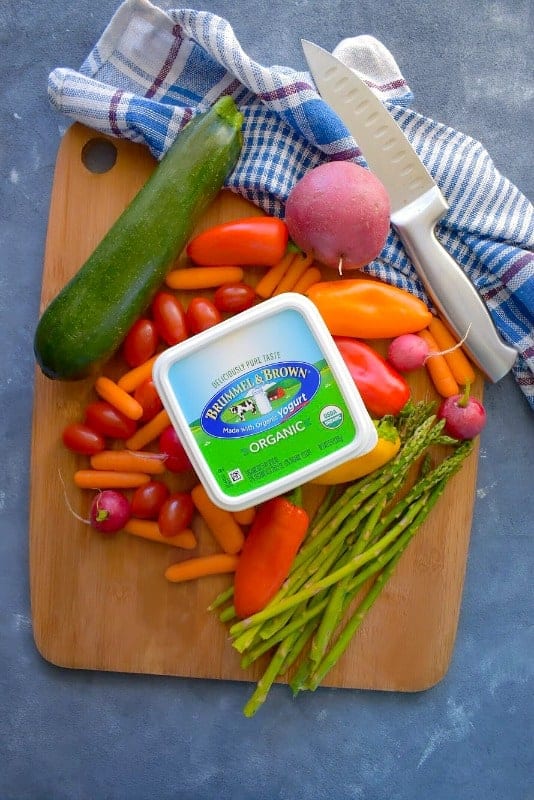 We are a family that's BIG on breakfast and that also toast with butter is one of our favorite…
I know it sounds really simple but "How many of us can literally slather the toast as per our choice? …… and eat it in peace J (now you get WHY I'm happy).
So next time when we sat down for our 15 minute breakfast (that's all the time we get in the morning)
and I slather 'Mr' toast's myself, he had to give this buttery spread a second look with a happy smile J (Ahhhh life is so simple folks and smiles are what makes your day).
Now coming back to our ' Pan Roasted Winter Vegetable and Quinoa Bowl ', which I think is filled with the best of winter offerings and that zesty orange-balsamic sauce adds such a refreshing flavor.
I've always been a fan of roasted winter vegetables and we, in fact, eat a lot of it (almost 3-4 times a month).
and every time I made them in the past, I used to think of ways to maybe improve the taste and make it even more delicious and that's exactly what I did using the Brummel & Brown Organic buttery yogurt spread.
I followed the same process as always except one change and that is pan roasted all the vegetables using the buttery spread, which in turn gave them such a glossy look even after cooking.
Apart from roasting the winter vegetables in the buttery spread.
I also used few teaspoons of the zesty orange-balsamic sauce to give it a nice flavor and then everything was roasted in the oven for 10 minutes for that sweet brown glaze on top.
Then make the quinoa (or any other grain like rice/ couscous/ faro /etc.) and place the vegetables along with it in a bowl.
Just before you serve, drizzle some of the zesty sauce over the roasted vegetables and sprinkle with your favorite toppings.
It's meals like this ' Pan Roasted Winter Vegetable and Quinoa Bowl ' that not only make your tummy feel happy but also your soul.
The other thing that I always believe in is that we 'Eat with our Eyes First', so always take that extra second or even minute to plate everything beautifully even if it's a meal for one.
A filled tummy and happy soul leads to a more sound mind and body.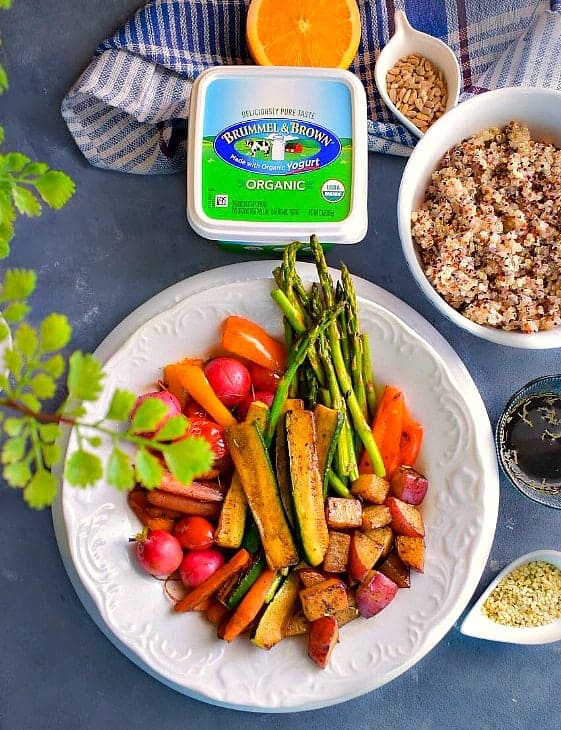 To make things even easier and before you go make this delicious recipe, you can click on Brummel & Brown Organic buttery yogurt spread to find stores near you that carry the product.
Here's some more information on them:
No artificial flavors or preservatives & Non-GMO
USDA certified organic by QAI
Less than half the saturated fat of butter
A good source of Omega-3 ALA
0g Trans fat per serving
After so many benefits, they definitely are going to be a regular feature in our everyday breakfast and I'm also going to try it in not only cooking but baking too.

You can even follow them on social media ( Facebook / Twitter / Instagram ) for product information / contests / recipes.
---
Connect with Me Here: Facebook / Pinterest / Instagram / Twitter / Subscribe to our Newsletter / Google+
Yield: 2 People
Pan Roasted Winter Vegetable and Quinoa Bowl
Pan Roasted Winter Vegetable and Quinoa Bowl: a flavorful & nutritious mix of winter vegetables roasted in creamy buttery spread.
Ingredients
3 Tbsp Brummel and Brown Organic buttery yogurt spread
2 Cups Mixed Quinoa – cooked as per instructions
Vegetables:
1 Zucchini – sliced in length
¼ Bunch Asparagus - halved
¼ Cup Baby Carrots – halved
¼ Cup Mini Bell Peppers – deseeded and sliced in length
¼ Cup Mini Red Radish
2 Medium Boiled Red Potatoes – chopped bite size
¼ Cup Cherry Tomatoes
Sauce:
2 Tbsp Balsamic Vinegar – you may use less or more as per taste
2 Tbsp Freshly Squeezed Orange Juice
A Pinch of Dried Rosemary
Salt and Pepper – as per taste
Optional Topping:
1 Tsp Sun Flower Seeds
1 Tsp Hemp Seed Heart
Instructions
Wash all the vegetables and slice as per instructions above.
In a bowl, mix all the sauce ingredients and keep aside.


Heat an oven safe pan and add 1 tbsp of Brummel and Brown Organic buttery yogurt spread.
Let the spread sizzle for a few seconds then add cherry tomatoes and bell peppers.
Sauté for a minute on medium heat and then remove from pan.
Similarly, sauté the zucchini and asparagus together and keep aside.
Now add ½ tbsp. buttery spread in the pan and sauté the carrots and bell peppers.
Remove from pan.
Add ½ tbsp buttery spread and sauté the chopped boiled potatoes and put everything back in the same pan.
Drizzle 2 tbsp of zesty sauce and toss the vegetables to get the sauce evenly coated.
Now place the pan in oven for 10 minutes.
After 10 minutes, turn off the oven and remove the pan.
Once the vegetables are evenly roasted, add the remaining 1tbsp spread and toss the vegetables gently*
Transfer the roasted vegetables in a bowl and add quinoa on the side.
Drizzle some of the sauce on the vegetables as dressing.
Sprinkle sun flower seeds and hemp heart on top (you can use any other topping of choice).
Serve immediately.
Nutrition Information:
Yield:
2
Serving Size:
1
Amount Per Serving:
Calories:

300
Total Fat:

15g
Saturated Fat:

4g
Trans Fat:

0g
Unsaturated Fat:

10g
Cholesterol:

5mg
Sodium:

481mg
Carbohydrates:

90g
Fiber:

11g
Sugar:

18g
Protein:

19g