Sweet Potato – Lentil Kebabs: a healthy kebab recipe using a mix of lentils, sweet potatoes, and spices. Serve as is or with toasted flatbread or plain crackers along with dip or sauce of choice. Also called Sweet Potato Cakes
These Sweet Potato – Lentil Kebabs are one of my favorite vegetarian kebabs that are not only so easy to make but absolutely yummmm!
What are Sweet Potato – Lentil Kebabs:
They are kebabs/kababs made using 2 different lentils, sweet potatoes, Indian spices, and few other ingredients.
This post was originally published in May 2015 and I'm just adding some new pictures today.
We made them for dinner a few days back and this time, I served them in a platter-style along with chutney, yogurt dip, banana peppers, and some chopped onions.
Since it was our dinner, I also added some flat-bread squares (I just chopped a large flatbread into squares).
They were such a super hit and the platter was literally gone in 10 minutes.
Hence, I decided to share this idea with you'll too.
Also, as many of you keep requesting me for easy appetizer recipes for parties, I think these would be a perfect fit.
Also, they can be made a day or two in advance and you can just saute them when needed to serve.
Sweet Potato is one vegetable that is fairly new to my taste-buds but I can definitely say, it's pretty versatile.
It can not only be used in stir fry's, saute but also as pie fillings, milkshakes, smoothies, and desserts.
They are also extremely rich in sodium, vitamin a, calcium.
I've previously used them in a recipe for a smoothie but this time, I wanted to try something different and turned them into Sweet Potato and Lentil Kebabs.
They are soft, delicious and can be even frozen for upto 2 weeks.
Use them as snack, side, an appetizer or filling for your wraps or burger.
I'm serving them with fresh cilantro chutney. (Click on Link for the recipe)
As we all are getting ready for a memorial day long weekend and BBQ's, this can be a great addition to your snack or filling for burgers, wraps.
They can be made Vegan by using a vegan yogurt and for the Glutenfree version, you can use any flour or choice. (Below are the pictures from 2015)
Serve them as sides or filling for a wrap or burger.
These can be stored in the freezer for upto a month.
Tried Our Recipe – AWESOME!!!
Now Quickly SNAP A PICTURE & TAG :
#easycookingwithmolly + @easycookingwithmolly on Instagram –>
Connect with Me Here: Facebook / Pinterest / Instagram

:: You May Also Like ::
Yield: 25 Medium kebabs
Sweet Potato - Lentil Kebabs ~ Sweet Potato Cakes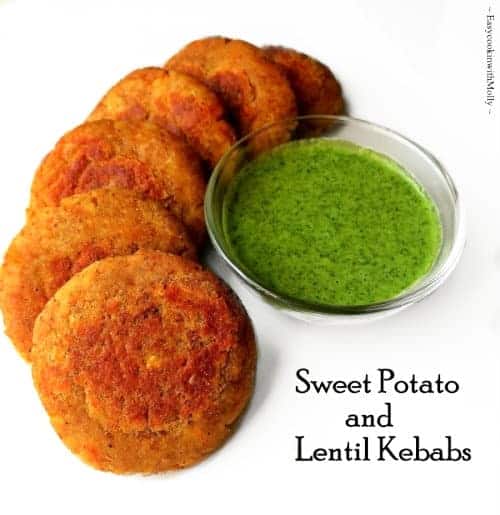 Sweet Potato - Lentil Kebabs: a healthy kebab recipe that's a mix of lentil and sweet potatoes. They make perfect party finger food.
Ingredients
1 Cup Split Chickpeas Lentil (Bengal Gram) – Washed and drained
1/4 Cup Red Lentil – Washed and drained
1 Medium Sweet Potato - cleaned, peeled and chopped
4 Tbsp Glutenfree Flour – you can use A.P or any other flour of choice
4 Tbsp Plain Yogurt – If Vegan, please use plain yogurt
2 Cups Water – For cooking the lentil
¼ Cup Olive Oil – For Making the kebab
Whole Spices:
5 Black Peppercorns
2 Cloves
3 Green Cardamoms
1 Large Bay Leaf
Powdered Spices:
1/4 Tsp Turmeric Powder
1/2 Tsp Cumin Powder
1 Tsp Dry Mango Powder - Optional (May use lemon juice)
1/2 Tsp Red Chili Powder – Optional
1/2 Tsp Garam Masala Powder
1 Tsp Salt – As per taste
Instructions
Cooking the Lentil
Stovetop Pressure Cooker Method:
Add lentils, whole spices, chopped sweet potatoes, water and turmeric in a pressure cooker.
Close the lid and cook the lentil over high flames till you hear 4 whistles, then turn off the heat (Usually takes about 5-7 minutes).
(If using electric pressure cooker, then cook in the lentil option).


Cooking in Open pot:
Follow the first step above and keep cooking over medium heat. (It takes about 15-20 minutes for the lentil to cook in pot).
Drain any excess water from the cooked lentils.


Making the Kebabs:
Let the lentil and potato mix cool completely.
Place everything in a food processor and pulse to form a dough (you can add some water if needed).
Once lentils are completely pulsed and it resembles a dough, turn off the food processor.
Transfer the mixture to a large bowl.
Now add, all the remaining spices, flour, yogurt and mix everything together to
form a smooth dough.
Now, wet both your palms and make equal size (small or medium) balls from the dough.
Flatten the balls to form kebab shape.


Cooking the Kebabs:
Heat a nonstick pan for a minute with 1 Tsp oil.
Place 4-5 kebabs (Depending on the size of the pan).
Let the kebab cook on medium heat for about a minute.
Flip the kebab gently to the other side and let it cook for another minute (a minute for lightly brown kebabs and two minutes for slightly dark brown color)
Transfer kebabs to serving dish and follow the steps above to make all the kebabs.
Serve Hot with choice of dip and flatbread.
Notes
* These kebabs, can be frozen for about two weeks in air tight containers or zip-lock.
Nutrition Information:
Yield:
8
Serving Size:
3
Amount Per Serving:
Calories:

297
Total Fat:

9g
Saturated Fat:

1g
Trans Fat:

0g
Unsaturated Fat:

7g
Cholesterol:

6mg
Sodium:

210mg
Carbohydrates:

44g
Fiber:

8g
Sugar:

9g
Protein:

13g