This shop has been compensated by Collective Bias, Inc. and its advertiser. All opinions are mine alone. #DelightfulMoments #CollectiveBias
Glazed Mini Pumpkin Pie Spice Bundt Cake: these fall favorite mini bundt cakes are super easy to make and filled with pumpkin pie spice flavors in every bite.
The cake and glaze, both have pumpkin flavors and they can be made 2 days in advance (stored separately).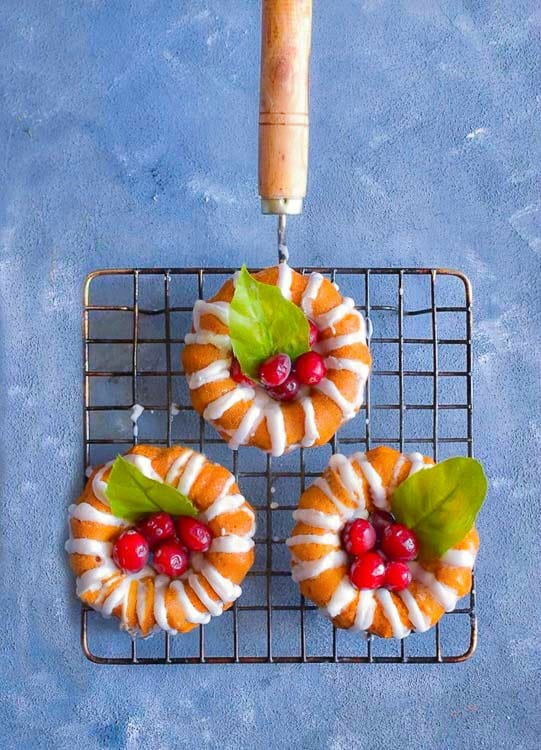 This Glazed Mini Pumpkin Pie Spice Bundt Cake is my official start to the festive season of fall.
I'm a huge pumpkin pie/pumpkin spice flavor fan and wait the entire year to start my yearly quota of everything pumpkin!!
This year, the fun started a little earlier than expected …Yessss!!
As I recently came across not only the 'International Delight® Pumpkin Pie Spice' coffee creamer but also 'International Delight® REESE'S Peanut Butter Cup' at our local Walmart .
The feeling was literally like 'a Kid in a candy store' !!!
We love International Delight® coffee creamers not only in our everyday coffee (/tea) but, I also use them in baking.
If you've never tried that, then you should do that right away as it enhances the flavor of the baked good so much more. Here are some notes on both these flavors:
International Delight® Pumpkin Pie Spice and International Delight® Sugar-Free Pumpkin Pie Spice: "A creamy swirl of seasonal spice flavors inspired by pumpkin pie."
International Delight® REESE'S Peanut Butter Cup: "Is there a REESE's Peanut Butter cup in your mug? There should be."
As you can see, here are the creamers that I just bought and I couldn't wait to get started and what better recipe than Mini Pumpkin Pie Spice Bundt Cake 🙂
So, I made myself some piping hot coffee and added the International Delight® REESE'S Peanut Butter Cup creamer and started with baking the cake.
Since, we both love cake, I usually bake small versions or mini cakes, as it's easier to finish and also easier to send to friends and family.
The recipe is absolutely easy and just like baking any other mini cake.
The only difference is that we replace any flavor (chocolate/ fruits/nuts) with pure pumpkin puree and the International Delight® Pumpkin Pie Spice Coffee Creamer.
That's it, the rest of the process is the same and the cake bakes in no time (about 16-18 minutes).
This cake will literally make your kitchen smell like fall has finally arrived.
The sweet-fresh fragrance of pumpkin and just the aroma of cinnamon/nutmeg….. all fall favorites!
Once the cake, is done, cool them thoroughly before you start to glaze them
(since I couldn't wait, I had to try one mini cake as soon as it came out – the fragrance literally had me in the kitchen all the time).
If you thought the cake was easy peasy, wait till you see our magical 'Pumpkin Pie Spice Glaze' with actually no effort needed 🙂
All you do, is add 2 tbsp of the coffee creamer in powdered sugar and whisk to a smooth, lump-free consistency.
The glaze can be made thick or thin by adding less or more of creamer. Also, if it crusts up during the application, simply add 1 drop of hot water and whisk.
So, that's how you can get this 'Pumpkin Pie Spice Glaze' with just 2 ingredients (you don't even need any actual spice.)
Now, comes the most fun part, decorating the Mini Pumpkin Pie Spice Bundt Cake and I chose some frozen cranberries to go along with our glaze.
I'm telling you, this one is super easy and it can impress anyone you serve them to.
Simply add cranberries in the middle of the cake once the glaze is done.
You can even visit this —> International Delight® <— link for more inspiration for using their coffee creamers. Remember, It just doesn't feel like the holidays without a splash of seasonal flavor.
Stock up and make that merriment last!!!
So, go ahead and stock up on these festive coffee creamers flavors and try this mini bundt cake recipe asap.
—– Here's a picture of where I found the creamers at Walmart (Dairy section) ——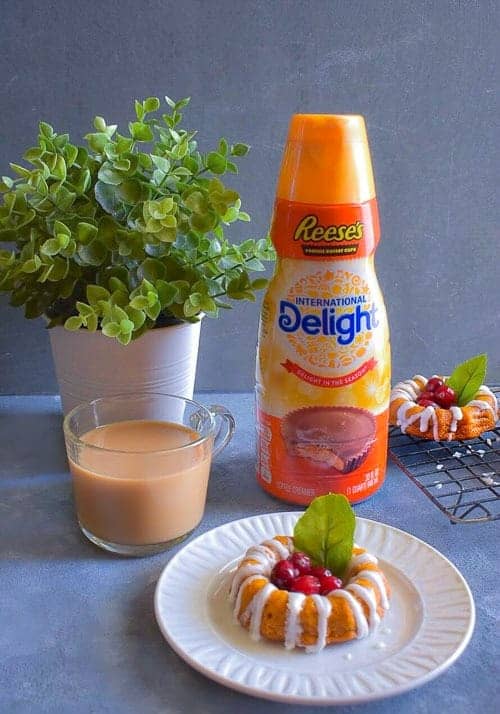 ---
As always, I Looove when you try my recipes and send me pictures & feedback. You can tag my recipes tried by you using #easycookingwithmolly on any of the social media below:
Connect with Me Here:  Facebook / Pinterest / Instagram / Twitter / Subscribe to our Newsletter / Google+
Yield: 8 Mini Bundt Cakes
Glazed Mini Pumpkin Pie Spice Bundt Cake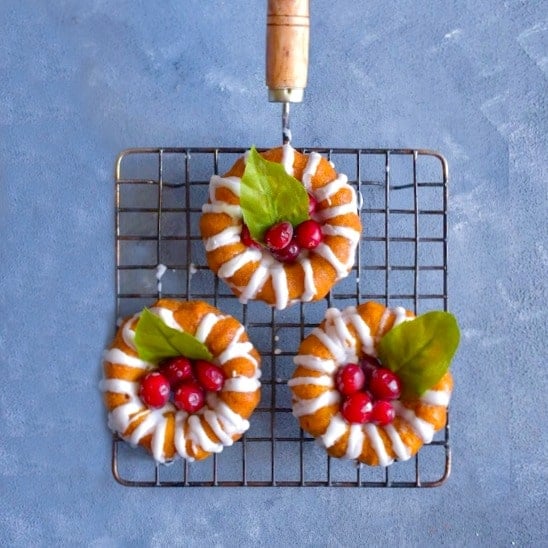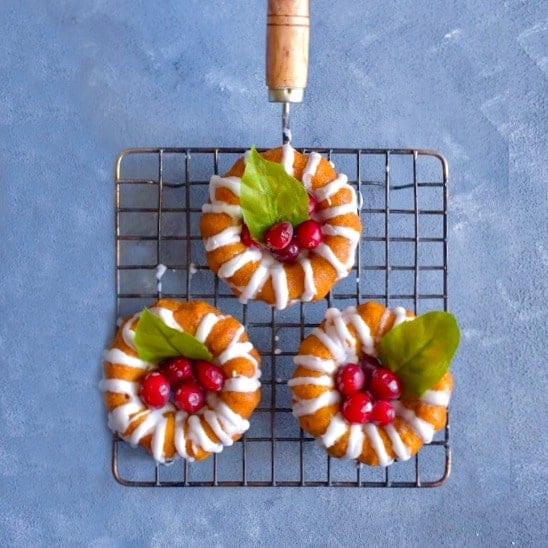 Ingredients
1 Cup All Purpose Flour
2 Tbsp Pure Pumpkin Puree - (not flavored)
4 Tbsp International Delight® Pumpkin Pie Spice Coffee Creamer
1/2 Cup Plain Yogurt - any vegan or non-vegan brand
1/4 Cup Vanilla Milk - you can vegan or non-vegan brand
1/3 Cup Olive Oil
2/3 Cup Sugar
1/2 Tsp Baking Powder
1/2 Tsp Baking Soda
1/2 Tsp Pumpkin Spice Seasoning - if you want a light taste of pumpkin, then you can skip this.
Pinch of Salt
Glaze:
1 Cup Powdered Sugar
2 Tbsp International Delight® Pumpkin Pie Spice Coffee Creamer
1/2 Cup Frozen Cranberries - optional
Instructions
Pre-heat Oven - 375f or 190.5c
Spray the mini bundt pans with oil and keep aside (I'm using 8 individual molds).
Make the Cake:
In a large bowl, sieve together flour, baking powder, baking soda, salt and keep aside.
Take a large bowl, add oil, sugar, yogurt, milk, and whisk for 2 minutes to form a smooth batter.
Now add pumpkin puree, coffee creamer and whisk for a minute to mix everything evenly.
Slowly add the dry ingredients and fold the batter using a spatula. (Please fold the dry ingredients slowly to incorporate air. This will result in lighter and fluffy cake).
Pour the batter half way into the bundt pan and bake for 16-18 minutes.
After 16 minutes, poke a toothpick into the cake and remove instantly. If the toothpick comes out clean, it means the cake is cooked completely.
Remove the cake from the oven and keep on a cooling rack for 10-15 minutes.
Prepare the Glaze:
In a bowl, whisk together powdered sugar and coffee creamer till you form a thick even glaze.
Pour the glaze over the cooled mini pumpkin bundt cakes and place cranberries in the center.
Server immediately.
Notes
You can store the cake in the fridge for 2 days (glaze kept separately) or freeze in ziplock bags for upto 2 weeks.
Nutrition Information
Serving Size
1
Amount Per Serving
Calories

2349
Total Fat

78g
Saturated Fat

12g
Cholesterol

3mg
Sodium

3324mg
Carbohydrates

390g
Sugar

251g
Protein

24g