Super Easy Peach Orange Mini Monkey Bread: Absolutely luscious and filled with the flavors of peach-orange in every bite. Made using frozen Biscuit dough
I'm literally in love with this Super Easy Peach Orange Mini Monkey Bread !!!
I've been craving dessert for past few weeks and have been knowingly avoiding making any as I literally have no self-control when it comes to baked goodies 😉
But the consequences were that I've been dreaming about dessert day and night, literally on my mind 24hrs.
Hence, I decided to put an end to my misery and make these mini desserts instead.
Everything about these Peach Orange Mini Monkey Bread literally screams autumn-fall to me and I've been literally itching to create a recipe using both 'peach and orange' combination.
If you've not tried them together, then you are definitely missing out on a very delicious flavor.
The sweetness from these ripe peaches adds such a delicious twist to the fresh tart orange flavor.
And, for that refreshing, bright orange flavor, I've always used my trusted Nielsen Massey Pure Orange Extract for ages.
Just the whiff of that bottle makes me so happy. (Below are some pictures from the baking process):
As always, this dessert recipe is super easy to make and you can even pre-proportion and freeze the ingredients for up to a week.
Just thaw for 2-3 hours, bake and your Peach Orange Mini Monkey Bread is ready in 15 minutes.
Seriously, I loooove mini dessert as they are so easy to finish and definitely serve those 'Must Have' dessert pangs.
And, before you ask me, this recipe makes 4 mini monkey bread and I'm using two of them for us and freezing the other too (minus the icing).
The baked monkey bread can stay in the freezer for almost 2 weeks and I'd just thaw, microwave it for a few minutes and serve.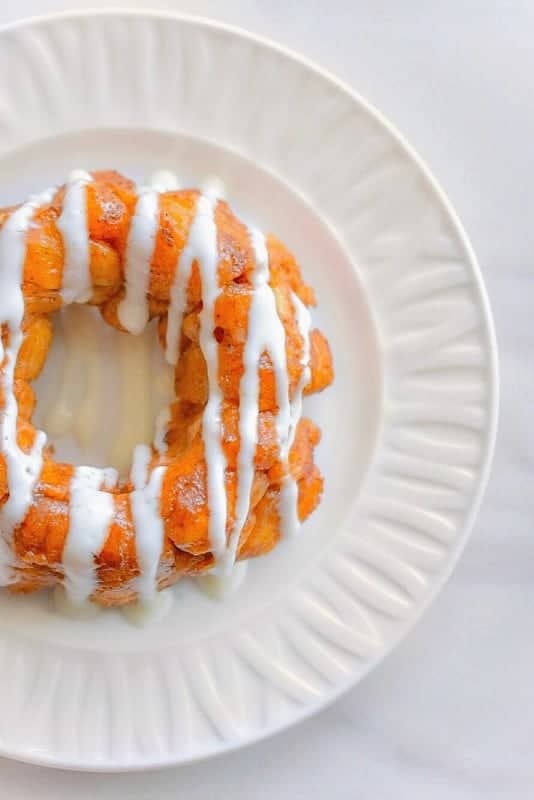 So this weekend, definitely try this recipe and do let me know how you felt about it.
Also, I hope you're keeping up with all the fun things/updates I keep sharing on my Instagram account….if not, then come join me there —> My Instagram Account 🙂
This monkey bread recipe is perfect for a quick dessert or snack and reminds you of the approaching autumn season.
:: You May Also Like ::
---
Tried Our Recipe – AWESOME!!!
Now Quickly SNAP A PICTURE & TAG :
#easycookingwithmolly + @easycookingwithmolly on Instagram –>
Connect with Me Here: Facebook / Pinterest / Instagram
Yield: 4 Mini Monkey Bread
Super Easy Peach Orange Mini Monkey Bread
Super Easy Peach Orange Mini Monkey Bread: Absolutely luscious and filled with the flavors of peach-orange in every bite. Made using frozen Biscuit dough
Ingredients
Mini Monkey Bread Ingredients:
4 Buttermilk Biscuits Dough
1.5 Tsp Nielsen Massey Pure Orange Extract
1/4 Cup Peach Preserve
1 Tbsp Brown Sugar - for the glaze
1 Tbsp Unsalted Butter
1.5 Tsp Organic Cinnamon Powder
3 Tbsp Sugar
1 Can Olive Oil Spray
For Cream Cheese Frosting:
2 Tbsp Cream Cheese - softened in room temperature
2 Tbsp Powdered Sugar
1 Tbsp Milk
1/8 Tsp Nielsen Massey Pure Orange Extract
Instructions
Pre-heat oven to 350 degrees.
Cut each biscuit into tiny pieces and keep aside.?
Making Cinnamon Mix
Add sugar and cinnamon in a large ziploc bag.
Now, add these chopped biscuit pieces in it and shake to coat all the pieces with the cinnamon-sugar mix.
Making Peach-Orange Butter Mixture:
In a microwave bowl, add peach preserve and butter.
Microwave it for 2 minutes (stirring every 30 seconds).
Remove the bowl from microwave and orange extract to this peach-butter mix.
Mix everything evenly in the bowl.
Baking the Monkey Bread:
Spray a mini bundt pan with non-stick cooking spray.
Divide the content of the ziplock bag into 4 equal parts.
Layer each mini bundt pan with this cinnamon-buttermilk biscuits to the top.
Pour the peach-orange butter mixture evenly over the contents of the pan of each pan.
Place the pan in the preheated oven, and bake for 15 minutes, until golden and bubbly.
Cool on a wire rack for 10-15 minutes.
Once cool, transfer the bread on a serving plate.
Making the Cream Cheese Glaze:
In a large bowl, whisk the cream cheese glaze ingredients to a smooth consistency (making sure no lumps are there).
If you feel glaze is too thick, you may add 2-3 drops of milk and wish again.
Pour the glaze into a small ziploc bag and snip off one corner of the bag.
Drizzle the glaze over the monkey bread and serve immediately.
Notes
This can be served immediately or stored in an air-tight box in fridge for 2 days. Just microwave for 10 minutes before serving.
Nutrition Information:
Yield:
8
Serving Size:
1
Amount Per Serving:
Calories:

322
Total Fat:

17g
Saturated Fat:

6g
Trans Fat:

0g
Unsaturated Fat:

9g
Cholesterol:

8mg
Sodium:

304mg
Carbohydrates:

41g
Fiber:

1g
Sugar:

13g
Protein:

3g