This shop has been compensated by Collective Bias, Inc. and its advertiser. All opinions are mine alone. #SameSilkySmoothTaste #CollectiveBias
Blueberry Chocolate Smoothie (V+GF) is a delicious, creamy and a healthy blend of blueberries, chocolate, oats, and almond milk. It is an easy breakfast on the go or a perfect anytime snack.
Happy Monday Everyone and How's your healthy New Year resolution going?
I've been trying my best to keep up with it and there is one thing that I've realized that 'Being Healthy' is not just a mere resolution but it's a whole new way of thinking or a commitment to myself and all my loved ones.
A commitment to make health our priority which doesn't mean that we give up everything we like to eat but come up with new and lighter ways to include them in our diet.
One such example is this Blueberry Chocolate Smoothie – Vegan and Glutenfree which include blueberries – filled with antioxidants but also chocolate – something which we usually associate with desserts but you'll be surprised by this flavor combination.
To make this smoothie even more delicious, lighter and creamier, we are swapping regular milk with Silk Almondmilk and Silk Creamer. (Ingredients picture below)
Have you tried Silk Almondmilk before?
Then here's what you can expect:
Silk Almondmilk has a mildly nutty taste and a calorie count that isn't nutty at all, our almondmilk is perfectly poised to become your cereal's new best friend. Plus it can be a smart swap for milk in recipes or shakes.
Every delicious glass has absolutely no cholesterol and no saturated fat. That's what we call the power of plant-based nutrition!

Now our Blueberry Chocolate Smoothie recipe is really simple, all you have to do is add all the ingredients in a blender jar and churn for a minute or two – depending on how chunky or smooth you like your smoothie.
For me, it all depends if I want to have it as a breakfast or a snack. Also, I feel smoothies makes the best breakfast especially if you're a grab and go kind of a person or you're too busy to sit down for an elaborate meal.
Just blend, pour into your favorite takeaway jar/mug and get going with your day's work. I also keep a small jar of my favorite 'smoothie topping', which is a blended mix of nuts like almonds, pistachio, coconut flakes, flax seeds and chia seeds.
They are usually used in all my smoothie as toppings or sometimes I even mix it in my favorite cereal bowl.
If you're a regular Silk milk/creamer user, then you'll notice that Silk products have a new packaging coming out in mid-late January and I was so excited to find the new packaged products in my local Walmart.
They were all in the refrigerated dairy section. I did use Silk Almondmilk which I've started swapping with regular milk and sometimes I even swap the regular creamer with Silk creamers for my quest for a more healthy plant based diet.
You can find more recipe inspiration using Silk products –> Here & also visit the Silk Walmart Page for more details on the products.
If you're looking for that healthy or lighter meal, then try swapping your dairy product with Silk products and feel the difference. The easiest way is to try them in your cereal or smoothies like I do. They have a wide selection to choose from:
Silk Almondmilk
Silk Soymilk
Silk Cashewmilk
Silk Coconutmilk
Silk Creamer
I hope you give this Blueberry Chocolate Smoothie a quick taste and let me know how you felt?
Until Next Time ~ XoXo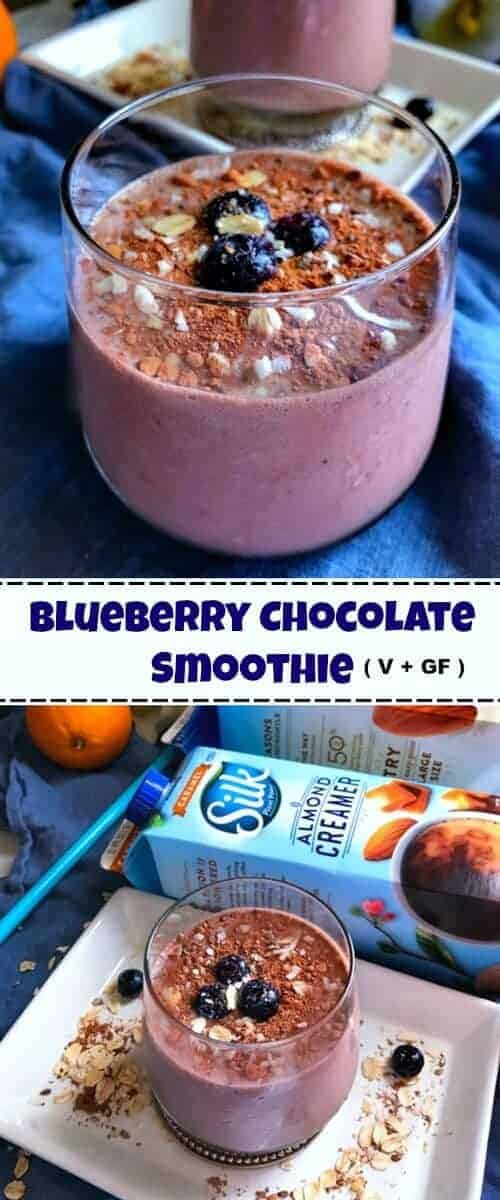 :: You May Also Like ::
Yield: 2 Cups
Blueberry Chocolate Smoothie (V+GF)
Blueberry Chocolate Smoothie (V+GF) is a delicious, creamy and a healthy blend of blueberries, chocolate, oats, and almond milk.
Ingredients
1 Cup Silk Almondmilk
1/2 Cup Silk Creamer - I'm using the almond creamer
1/4 Cup Blueberries - fresh or frozen
2 Tbsp Chocolate Powder - use as per taste
1/4 Cup Oats - I'm using glutenfree
2 Tbsp Protein Powder - use as per taste
1 Cup Ice
Decoration
4 Blueberries
1 Tbsp Mix of Crushed Almond, Pistachio, Coconut Flakes, Flax Seed, Chia Seed (Optional)
Instructions
In a blender, add all the ingredients and blend to form a smooth batter like consistency.
Pour into serving glasses
Decorate with crushed mix and blueberries.
Serve Fresh
Nutrition Information:
Yield:
2
Serving Size:
1
Amount Per Serving:
Calories:

300
Total Fat:

29g
Saturated Fat:

15g
Trans Fat:

0g
Unsaturated Fat:

9g
Cholesterol:

5mg
Sodium:

236mg
Carbohydrates:

53g
Fiber:

11g
Sugar:

27g
Protein:

20g