Gourmet Golf Open Faced Sandwiches: These are a collection of gourmet savory and sweet open-faced sandwiches perfect for a golf party. They can be prepped a night before and ready in 15 minutes.
Gourmet Open Faced Sandwiches are Perfect for Spring-Summer Parties/Brunch
Hey Everyone, Hope you'll are doing great and have you made plans for the upcoming Memorial Day Long Weekend?
We are hosting a pre and post golf party at our place and I'm making these gorgeous Gourmet Golf Open Faced Sandwiches and serving them with Gran Reserva wines.
After a long time, it's finally sunny and bright in California and we have absolutely no reasons to stay indoors for the weekends or the long weekends.
So the men have planned a good 3-4 hours golf game and it's a perfect opportunity for us to share this delicious cabernet sauvignon and sauvignon blanc that we got from the Gran Reserva wines with our friends.
The wines are from the Colchagua Valley, Chile and we love both their taste:
Cabernet Sauvignon: has hints of plum, cherry, and slight chocolate.
Sauvignon Blanc tastes fruity with hints of hazelnut flavor – trust me, you'd love both of these!
Since it's a post-lunch game, I'm keeping the menu pretty simple with a variety of finger food that goes great with our wines and easy for all of us to grab and chat before the game.
Also, since golf parties are incomplete without sandwiches, I decided to do a mix of savory and sweet Gourmet Golf Open Faced Sandwiches which look absolutely gorgeous and tastes super yum.
How to Make Gourmet Open-Faced Sandwiches
I'm keeping the base of all the sandwiches the same (creamcheese+ hint of truffle oil) and including different toppings like:
Pickled Cucumber
Pickled Carrots
Smoked Turkey (you can use any other meat),
Kiwis
Fruit Preserve/Jam
I can already feel that the everyone is gonna love the combination.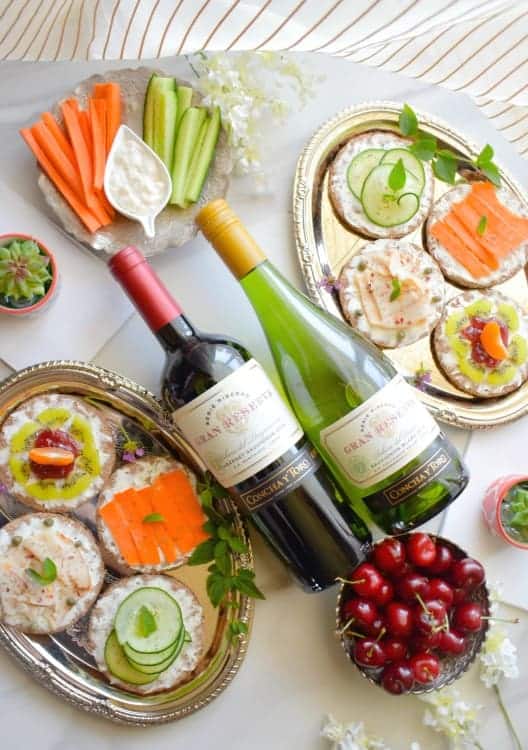 Also, here's a great offer for all our golf lovers from Gran Reserva wines:
— Enjoy a $25 credit on a round of golf at major golf courses nationwide courtesy of Concha y Toro Gran Reserva.
Find a specially marked bottle necker where you buy wine. —-

—> You can also enter great sweepstakes to win – one year of free golf. Check it out <—

So go ahead and take advantage of this offer and enjoy the Memorial Day Weekend with your golf buddies or use it on any other upcoming weekend.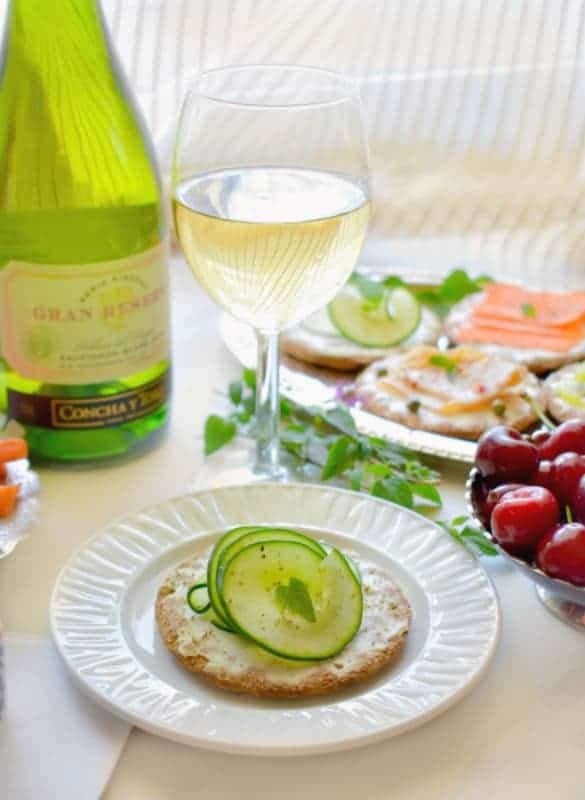 Hope you get to try the wines soon along with these Gourmet Golf Open Faced Sandwiches.
You can try these open-faced sandwiches with any of your favorite toppings.
:: You May Also Like ::
---
Tried Our Recipe – AWESOME!!!
Now Quickly SNAP A PICTURE & TAG :
#easycookingwithmolly + @easycookingwithmolly on Instagram –>
Connect with Me Here: Facebook / Pinterest / Instagram
Yield: 20 Open Faced Sandwiches
Gourmet Golf Open Faced Sandwiches
Ingredients
20 Bread Slices - I'm using 5 grain bread but you can use any variety.
1 Cup Cream Cheese - room temperature
1 Tbsp Truffle Oil - optional
Salt - as per taste
Pepper - as per taste
Toppings:
1 Cup Pickled Cucumber
1 Cup Pickled Carrots
6 Slices Smoked Turkey - you may use any other thinly sliced meat.
3 Kiwis - chopped in small triangles
2 Tbsp Organic Raspberry Jam - you can use any other jam
5 Orange Slices
2 Tbsp Capers
1 Tbsp Dry Mint Leaves - crushed
12 Fresh Mint Leaves
Instructions
In a large bowl, mix cream cheese with truffle oil.
Take 1 bread slice and using a round cookie cutter or large glass, cut the slice into a circle.
Similarly, cut each slice into a circle and keep aside.
Now take each circular slice and spread cream cheese over it.
do the same for all the slices.
Now, layer 5 with pickled cucumber and 5 with pickled carrots.
Take the next 5 slices and layer them with smoked turkey.
For the last remaining 5 slices, add a small amount of jam in the middle of the bread and spread it in a small circle. Layer the kiwis around it and place an orange slice over the center.
Finally, sprinkle salt, pepper and crushed mint on all savory sandwiches.
Transfer the sandwiches in serving platter and serve fresh along with Gran Reserva Wine.
Nutrition Information:
Serving Size:
7-8 People
Amount Per Serving:
Calories:

246
Total Fat:

14g
Carbohydrates:

22g
Protein:

9g
I was selected for this opportunity as a member of CLEVER and the content and opinions expressed here are all my own.