Sun-Dried Tomato – Spinach – Pesto Pinwheels: These delicious and gorgeous looking pinwheels are a perfect appetizer for your parties.
It's filled with 2 minutes homemade spinach pesto, cream-cheese and sun-dried tomato for that mouthwatering taste. I'm using frozen pizza dough to make them.
This Sun-Dried Tomato – Spinach – Pesto Pinwheels are my all-time favorite appetizer and you can find me noshing on them every now and then (read finding excuses to make them).
I cannot believe that I've not shared this recipe before, so when I was sent 'Pinot Grigio from Cavit Wines', I knew exactly what I'm going to pair and share with you.
By now and my previous wine posts, you must have understood that I love wine and we enjoy both red and white occasionally with friends.
These Cavit Wines are all the way from the Trentino region of northern Italy and they were first introduced in the US in 1977.
For all my white wine lovers, the 'Pinot Grigio' has a floral note along with hints of fresh peaches and apples.
Also, I'm also so excited that we are celebrating the FIRST ever National Pinot Grigio day on May 25, 2017 🙂 which happens to be this Friday.
So I had the perfect excuse to call some of my wine loving friends over for a small get-together….
You can imagine an evening with friends, wine and our favorite pinwheels (don't worry we do have cheese and other small bites too 😉
The Pinwheel Filling:
Now, let's talk about my favorite pinwheels which are stuffed with these 2 minutes spinach pesto (if you like, you can add store-bought pesto too).
I'll post an elaborate post on how to make pesto later but for now or our quick turn around, we are making the pesto using fresh spinach, pinenut, olive oil, garlic, and cheese.
Just pulse everything in a food processor for a minute or two and you have yourself a scrumptious pesto that can be slathered on bread, crackers or just about anything.
I'm also adding these sun-dried tomatoes for a hint of tanginess and we are doing two kinds of cheeses here – cream-cheese and asiago.
The Pinwheel Base:
Since it's a really quick snack, I'm using a frozen pizza dough which is rolled to 1/4 inch thickness but if you have a homemade dough, you can use that too.
You may use pastry dough too and that would give you a flaky-crispier texture.
Once you have your dough and filling, it literally takes 5 minutes to make them.
Just roll the dough on a flat clean surface (the dough should be cold), spread the filling and roll into a log kind of shape (picture above).
Cut them into the desired shape (thick or thin) and line them with a parchment layer or foil layered baking tray.
Bake for 12 minutes and you have these delicious looking Easy Sun-Dried Tomato and Spinach Pesto Pinwheels ready.
So, I'm going to enjoy this deliciousness with friends along with the pinot grigio to celebrate
#NationalPinotGrigioDay and you can visit Cavit Wines on the following social media for more information:
---
Tried Our Recipe – AWESOME!!!
Now Quickly SNAP A PICTURE & TAG :
#easycookingwithmolly + @easycookingwithmolly on Instagram –>
Connect with Me Here: Facebook / Pinterest / Instagram
:: You May Also Like ::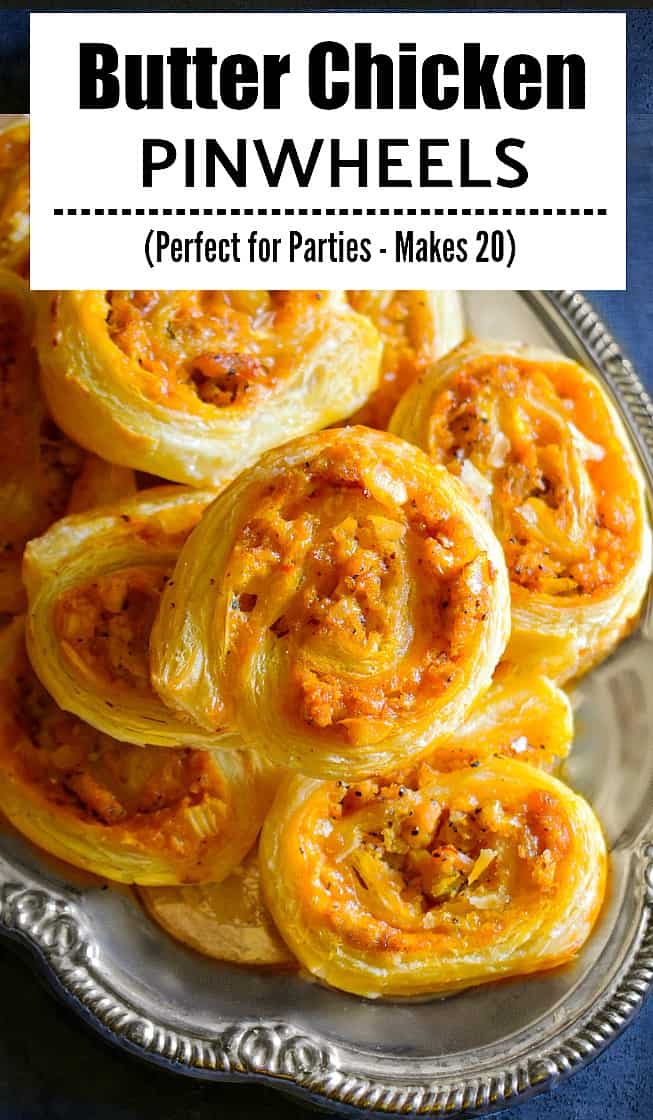 Yield: 25 Pinwheels
Sun-Dried Tomato - Spinach - Pesto Pinwheels
Sun-Dried Tomato - Spinach - Pesto Pinwheels: These delicious and gorgeous pinwheels are a perfect appetizer for your parties.
Ingredients
1 Can Frozen Pizza Dough - thawed but cold
4 Tbsp Cream-Cheese - room temperature
4 Tbsp Asiago Cheese - grated
3 Sun-Dried Tomatoes - chopped into tiny pieces
1/2 Tsp Italian Seasoning - optional
For Spinach Pesto:
1/4 Cup Fresh Spinach
2 Tbsp Olive Oil
1 Tbsp PineNuts
1 Clove Garlic
1 Tbsp Parmesan Cheese
Instructions
In a food processor, add all the spinach pesto ingredients and blend to form a smooth paste (kind of granular texture).
Preheat oven at 200F
Roll the thawed pizza dough into a rectangular shape on a flat clean surface. (till it's an inch thick).
Spread the cream cheese on top.
Then spread the spinach pesto evenly and sprinkle chopped sun-dried tomato.
Finally, sprinkle grated asiago cheese all over.
Roll the dough to form a long log kind of shape.
Cut into thin or thick pieces as per choice.
Place them on a baking tray layered with foil/parchment paper.
Bake for 10-12 minutes (till it cooks and gets a golden color).
Turn off the oven, remove and place the baking tray outside for pinwheels to cool down.
Transfer to a serving tray and enjoy.
Notes
These can be prepped and frozen for a week in an air-tight container. Thaw and bake.
Nutrition Information:
Yield:
6
Serving Size:
1
Amount Per Serving:
Calories:

156
Total Fat:

23g
Saturated Fat:

8g
Trans Fat:

0g
Unsaturated Fat:

12g
Cholesterol:

17mg
Sodium:

407mg
Carbohydrates:

31g
Fiber:

2g
Sugar:

2g
Protein:

7g