Zarda Recipe | How to Make Zarda | Zarda Pulao: a traditional Indian dessert rice dish that's aromatic and infused with saffron, dry fruits, ghee, sugar, and rose-water. Learn How to Make Zarda Recipe or Meethe Chawal
Zarda, also famous as Zarda Pulao, Meethe Chawal, Zard Pulao.
"Food for the body is not enough. There must be food for the soul – Dorothy Day"
And every bite of this Zarda Recipe or Zarda Pulao feeds not only our taste buds but also the soul.
Hello Everyone, today I'm sharing one such traditional Indian recipe that's specially made for celebrations, be it a festival, wedding or just about celebrating life.
I'll be making this very shortly for a 'Festival of Holi' brunch at our place.
As many of you would be aware, Holi is one of the biggest Indian festivals.
It's also known as Festival of Color / Festival of Love all over the world and this time it's on Monday – March 13, 2017.
And every year, I try to cook 1 or 2 recipes that are as colorful as our festival but using all-natural ingredients.
So, this year, it's Zarda / Meethe Chawal which is actually a Persian word. It means the color yellow and the recipe evolved during the Mughal period in India.
Now, since, it's a Mughal period dish and like most dishes of that time, it's also made using lots of ghee, milk, and nuts.
But we are definitely going to make a slightly healthier or a lighter version.
Ingredients for Zarda Pulao:
Now, let's get to the recipe and make this delicious Zarda – Indian Sweet Rice Pilaf.
Rice: Preferable basmati as that's what's used in the traditional recipe. But you can use other long-grain rice too (I wouldn't recommend any thick sticky rice as this will turn all mushy).
Saffron & Turmeric: For that Rich Yellow Color. A little bit of both saffron and turmeric helps achieve this gorgeous yellow color (I avoid using food coloring but you can totally use it)
Ghee: This is one of the core ingredients that adds that rich aromatic flavor to the overall dish. (You can make it using coconut oil or any other light oil too but they won't taste as aromatic and flavorful as ghee does)
Milk or Khoa:
Aromatic Spices: green cardamom, cinnamon and cloves
Dry Fruits – you can use one or all of these dry fruits like almond, cashews, pistachio, raisins
Pomegranate – optional
Optional: Rose-water to give it this delicate flowery fragrance and also adds to that fresh taste.
Now, that we got everything needed to make our Zarda recipe, I just wanted to add that tad bit more color or pop.
Hence, I'm topping it with pomegranate seeds, but you may skip this step if need be or if unable to find pomegranate.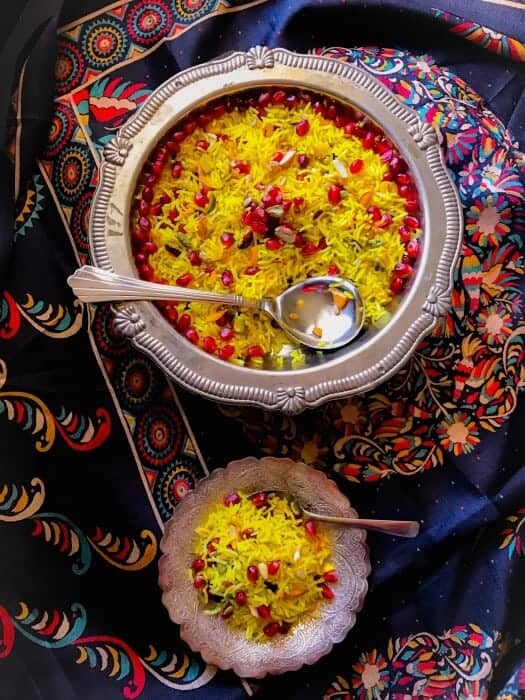 This dish is very popular in the Northern States of India like UP, Punjab, Bihar, Uttarakhand and more.
In earlier years, it was also a sort of mandatory/very popular dish in weddings/festivals because of it's three main things.
Color (Saffron/Turmeric) considered pure and auspicious
Rice – considered to be holy/prosperous
Sweetness (Jaggery/Sugar) – again considered auspicious and supposed to be the first meal in such occasion.
So, you can imagine, every wedding that our great-grandparents would have attended, they would have tasted this sweet preparation.
I feel it was also popular those days cause there was no electricity or fridge to store sweets (that goes bad easily).
And this Zarda – Indian Sweet Rice Pilaf with Saffron and Nuts recipe can easily be kept outside for 1-2 days.
How to Make Zarda:
Once we have all the ingredients, let's talk about the cooking method and you can cook it 2 ways:
Method 1:
Cooking the rice in a deep dish or dutch ovens/ pan: you boil the rice in water and saute the nuts separately in the mixture of ghee+milk. Then add the cooked rice to this mixture and cook for 10 minutes.
Method 2:
Cooking the whole dish in a pressure cooker: you saute the nuts in ghee, then saute the rice in the mixture, add water and steam till 3-4 whistles.
I usually prefer ' Method 1' as it adds much more flavor to the dish and the rice comes out all separate but I've cooked using the 'Method 2' as well when I'm in a hurry.
So pick your choice of method and this festive season or for any of your celebrations, try this 'Zarda – Indian Sweet Rice Pilaf .
Every bite is filled with so much flavor that not only satisfy's your taste-buds but the soul too. It's popular for weddings, festivals or special occasions is gluten-free and can be made vegan.
Tried Our Recipe – AWESOME!!!
Now Quickly SNAP A PICTURE & TAG :
#easycookingwithmolly + @easycookingwithmolly on Instagram –>
Connect with Me Here: Facebook / Pinterest / Instagram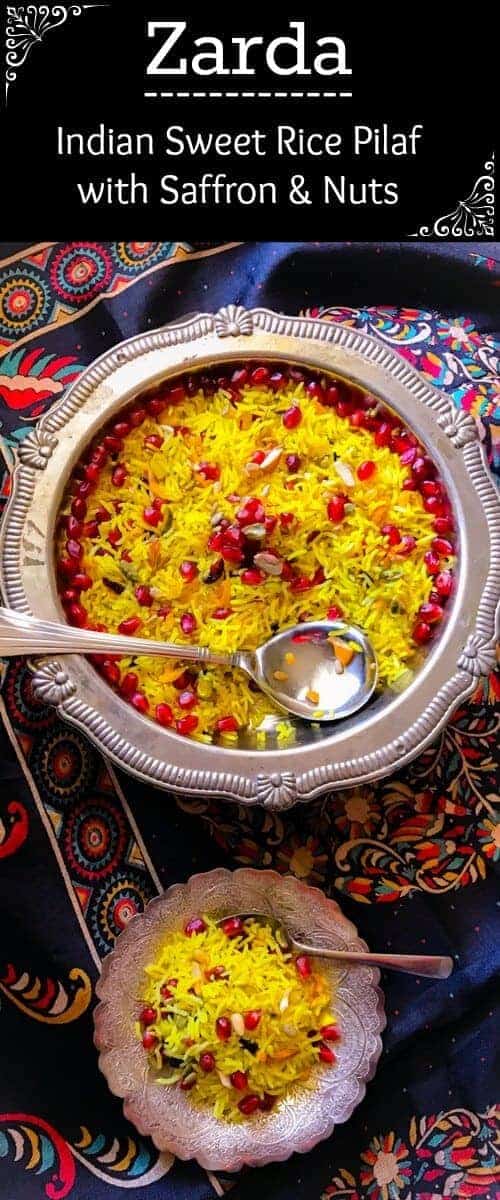 :: You May Also Like ::
Yield: 4 People
Zarda Recipe | How to Make Zarda | Zarda Pulao
Learn How to Make Zarda / Zarda Pulao which is a delicious traditional Indian dessert rice dish infused with saffron, dry fruits, ghee, sugar, and rose-water. Meethe Chawal
Ingredients
1 Cup Basmati Rice - Washed and soak for for 15-20 minutes
3 Cups Water - to cook the rice
1/2 Cup Milk
Few Strands of Saffron
1/2 Tsp Turmeric - you can skip this is you want light yellow color
4 Tbsp Ghee
1 Tbsp Green Cardamom - slightly crushed
3 Cloves
1 Stick of Saffron
Pinch of Nutmeg
1/4 Cup Sugar
1 Tbsp Rose Water
1/2 Cup Fresh Pomegranate Seeds - for decoration
Nut Mix: you can skip or add any of the nut mix
1/4 Cup Almonds - slivered
2 Tbsp Pistachio - slivered
3 Tbsp cranberries - you can add raisins instead
2 Tbsp Dried Apricots - thinly sliced
2 Tbsp Melon Seeds - can skip
Instructions
Make the Rice:
In a large pan (dutch oven), add 3 cups water and place on high heat.
Add 1 tsp almond, 3-4 cardamom, 1 clove and rice.
Stir this mix and bring to a boil.
Reduce heat to low-medium and cook till the rice is properly cooked. (takes about 10 minutes)
Drain any water that's left after cooking the rice and keep aside.
In a small bowl, heat the milk in microwave for 10 seconds.
Then add saffron and let it mix.


Roast the Nuts:
In a large non-stick pan, heat 2 tbsp ghee.
Add cinnamon stick, cardamom, clove and saute for 20 seconds.
Now add all the nuts and saute for a minute over low heat. (Once the nuts are heated in ghee, it will dispense a sweet aromatic flavor).
Now, add turmeric and saute again.
Add the cooked rice and gently mix everything together.
Let the rice and nut mixture cook on low heat for 3-4 minutes (keep sauteeing every minute).
Now, add the saffron milk, sugar and saute everything evenly.
Cover the pan and cook for 3 minutes.
Turn off the heat.
Drizzle the rose water all over the Zarda/Sweet Rice and cover the dish again (let the rice absorb the rose water).
Serving the Dish:
Remove the pot cover.
Using a fork, fluff the rice and transfer to a serving dish.
Add pomegranates and some mixed nuts.
Serve Hot.
Nutrition Information:
Yield:
6
Serving Size:
1
Amount Per Serving:
Calories:

215
Total Fat:

14g
Saturated Fat:

6g
Trans Fat:

0g
Unsaturated Fat:

7g
Cholesterol:

23mg
Sodium:

63mg
Carbohydrates:

39g
Fiber:

3g
Sugar:

17g
Protein:

5g