Cranberry Chicken Pilaf: tart-sweet cranberries sauteed with spices to create an extremely delish chicken Pilaf.
Rice dishes are our absolute favorite for a quick meal or a special event and this Cranberry Chicken Pilaf is studded with delicious and gorgeous cranberries to give you that instant festive feel.
It's a great combination of flavors with crunchy cranberries and melts in your mouth chicken and every bite give you that warm festive feel.
I recently came across Veetee Rice which has 2 minutes microwavable ready rice called 'Dine In' and it definitely was my O M G moment.
Can you imagine cooked fluffy rice in 2 minutes !!! I had to give it a try and was absolutely shocked by the amazing results.
You not only get the cooked rice in 2 minutes (microwave – nothing to be added) but they come in 11 different varieties to choose from – Now we are talking, right ?
And with this rice, my Cranberry Chicken Pilaf was done and served on the table in under 20 minutes.
I just cooked the chicken with spices and cranberries and just mixed in the veetee basmati rice (cooked in microwave).
Now, I used the basmati rice to make this recipe, however, you can pick and choose from any 11 of these flavors:
Long Grain Rice
Basmati Rice
Basmati & Wild Rice
Wholegrain Brown Rice
Thai Jasmine Rice
Wholegrain Brown Rice & Quinoa
Red Beans & Rice New Orleans Style
Chicken Flavor Rice
Golden Vegetable Rice
Pilaf Rice
Spanish Style Rice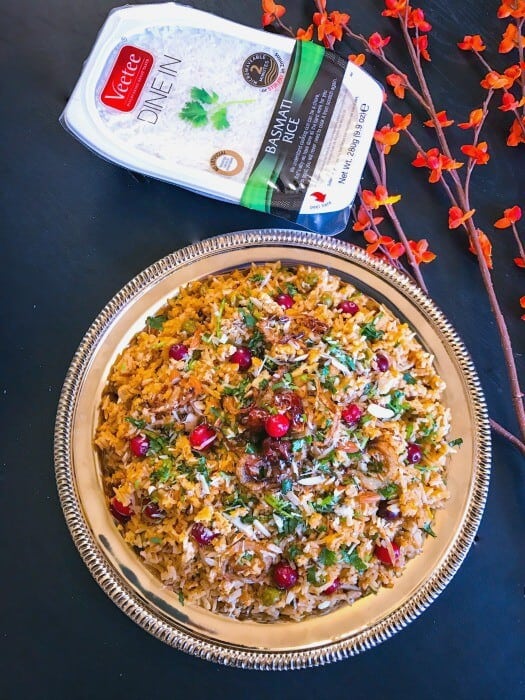 While you get on with this recipe, here's some exciting news:
We are doing an awesome giveaway with Veetee where
*** '1 lucky winner gets two six packs of Veetee rice in the flavor(s) of the winner's choice.' ***
You definitely need to enter the Giveaway for this delicious prize and try this recipe asap.
You can also visit Veetee Rice for more information and recipes. If you are living in USA, you can find Veetee in these stores.
---
Tried Our Recipe – AWESOME!!!
Now Quickly SNAP A PICTURE & TAG :
#easycookingwithmolly + @easycookingwithmolly
Connect with Me Here: Facebook / Pinterest / Instagram
:: You May Also Like ::
Yield: 2 People
Cranberry Chicken Pilaf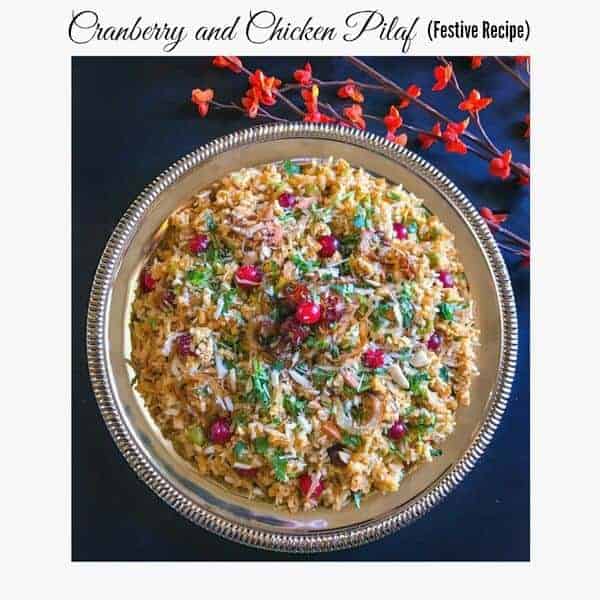 Cranberry Chicken Pilaf: tart-sweet cranberries sauteed with spices to create an extremely delish chicken Pilaf.
Ingredients
1 Packet Veetee Basmati Rice
1 Cup Cranberries - fresh or frozen
2 Cups Chicken Mince
1 Tsp Ginger+Garlic Paste
2 Large Onions - thinly chopped
1/2 Cup Fresh Cilantro - chopped
1/4 Cup Almonds - thinly chopped
2 Tbsp Raisins - optional
1/2 Cup Oil - for making pilaf and sauteeing onions.
Spices for the Pilaf
1 Bay Leaf
3 Cloves
3 Green Cardamom
1 Cinnamon Stick
1 Tsp Garam Masala
Red Chili Powder - as per taste
Salt - as per taste
Instructions
In a large pan, heat oil and add the chopped onions.
Fry till onions turn slightly brown and crisp (takes 6 minutes on medium flame).
Remove 3 Tbsp cooked onions and keep aside.
Now add the spices and saute the mixture.
Add ginger+garlic paste, stir everything together and cook for 3 minutes on medium heat.
Add minced chicken and saute everything together.
Cover the pan with lid and let everything cook over low heat for 7 minutes (stir every 2 minutes or till chicken is cooked).
Heat the Veetee Basmati Rice as per instructions.
Add the cooked rice to the cooked chicken and gently mix everything together.
Stir in the cranberries, almonds, raisins and cover cook for another 3 minutes (medium heat).
Turn off the heat and transfer to a serving bowl.
Decorate with fried onions, cilantro and nuts.
Serve Fresh.
Nutrition Information:
Yield:
2
Serving Size:
1
Amount Per Serving:
Calories:

91
Total Fat:

80g
Saturated Fat:

9g
Trans Fat:

1g
Unsaturated Fat:

67g
Cholesterol:

136mg
Sodium:

231mg
Carbohydrates:

62g
Fiber:

9g
Sugar:

17g
Protein:

39g