Summer is so full of beautiful fruits-vegetables, this week our trip to the farmers market resulted in a big basket of fresh-juicy figs. We have been consuming dried figs for a long time but the fresh one's are a beauty in itself. The inside is a fibrous lush dark pink-red color and amazingly sweet. So I decided to make "Indian Style Figs-Saffron Overnight Oats".
As everyone say Breakfast is the most important meal of the day then why not making it exciting, delicious and off-course healthy. And to top it all, if you can be made a night before resulting in an extremely creamy-delicious bowl of yum then why not 🙂
In our house, everyone is fond of dessert more than any category of food and this breakfast is hands down house favorite. If you haven't heard of overnight oats – they are absolutely easy to make, you just need to mix everything in a big pot a night before and serve hot or cold next day….Could you have asked for anything simpler than this. When I made them for the first time I was kind of skeptical and not sure how it would taste, but trust me, it tastes awesome and what can be easier than this!
So I did try couple of different variety of overnight oats with fresh fruits/dry-fruits/different milk and few other combination but this is our number one choice. I call it 'Indian Style' as the milk is boiled along with saffron, cinnamon, green cardamom, mixed nuts and fresh figs.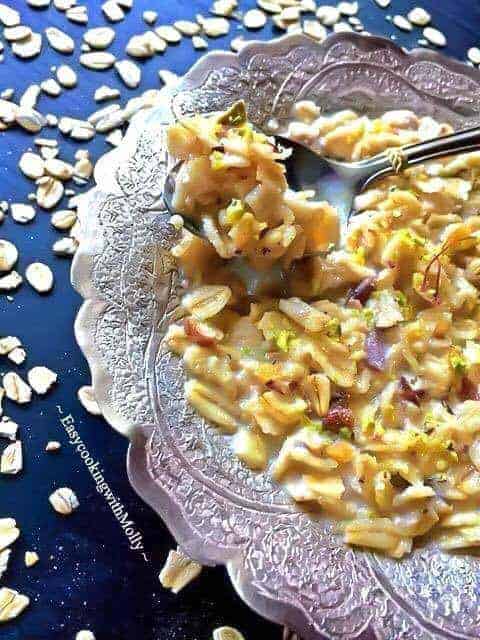 These days, we all are loving the flavor of rich coconut milk, hence I decided to use it for this recipe and th result is almost a pudding/kheer like taste. So you actually feel that you're eating dessert for breakfast and I'm 'All up for it :)'
Try this for your next breakfast and If you don't have rolled/thick oats, you can use quick oats just remember to add them in the morning before serving (as quick oats don't needs to be soaked).
Yield: 4 Cups
Indian Style Figs-Saffron Overnight Oats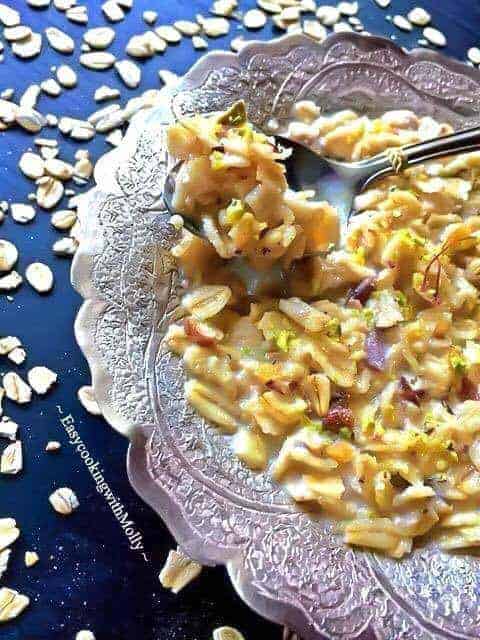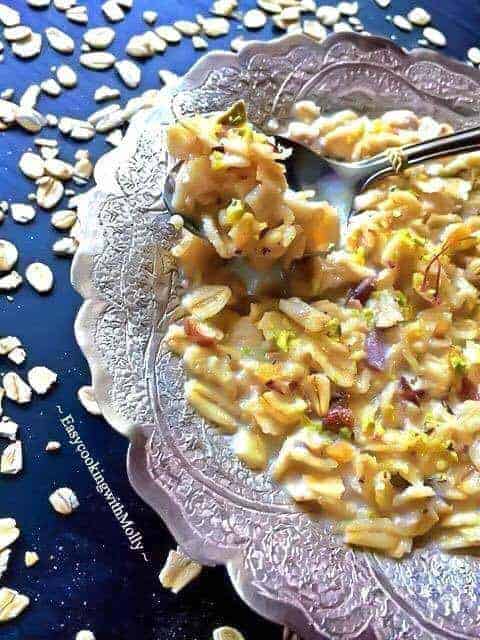 Ingredients
Ingredients
1 Cup Rolled Oats*
2 Cups Coconut Milk (You can use any other milk too)
1/4 Cup Water
1/4 Cup Figs** - Chopped
1/4 Cup Mixed Nuts - Chopped (I'm using more of pistachio with pecans, almonds)
Pinch of Saffron
Pinch of Cinnamon Powder
2 Green Cardamom - Deseeded & Crushed
4 Tbsp Brown Sugar - Any sugar as per choice
Instructions
In a large pot, add water and bring to a boil.
Add coconut milk and rest of the ingredients (except oats) and stir evenly.
Lower the heat to the lowest setting and let cook for 3-4 minutes (keep stirring every minute)
Turn of the heat and let the mixture cool slightly.
Now add, oats and stir evenly.
Cover with lid and refrigerate overnight.
Serve hot or cold as per choice next day.
Notes
* This version is for thick /rolled oats but If you are using quick oats, just make the milk mixture overnight and add quick oats just before serving.
** I'm using fresh figs, you can use dried too, just add them to boiling water for 10 mintes. They'll plump up.
Nutrition Information
Yield
4
Serving Size
1
Amount Per Serving
Calories

442
Total Fat

31g
Saturated Fat

23g
Trans Fat

0g
Unsaturated Fat

6g
Cholesterol

5mg
Sodium

82mg
Carbohydrates

37g
Fiber

3g
Sugar

15g
Protein

9g