Cherry Garcia Power Packed Smoothie or Cherry Garcia Smoothie: A gorgeous looking smoothie tastes like dessert yet packed with protein and antioxidants. Absolutely smooth and gone in seconds.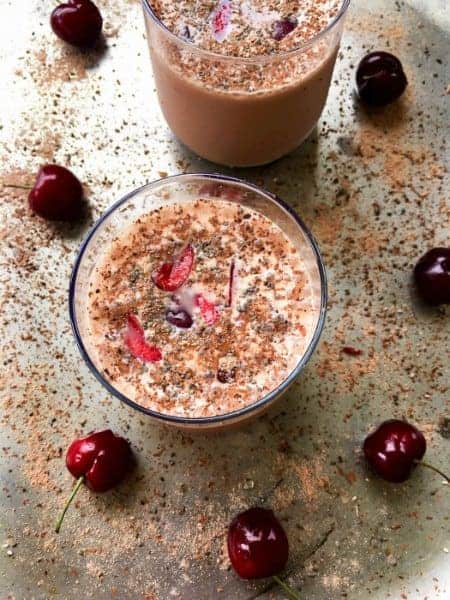 This weekend was packed with brunches/munches all over the Bay Area with friends and family which meant lots of food n drinks, endless discussions and lots of laughter.
And finally Sunday evening, we had a small session at our place with one of our bum-chums 😉 …. where the boys decided to watch some game (off-course beer was involved) and us ladies finally decided to go healthy and have my 'Cherry Garcia Power Packed Smoothie' !
We were in luck as I just got a huge bag of organic mixed cherries (dark+red) and they were bursting with sweet n tangy flavors.
Now, if you're wondering Cherry Garcia is a famous ice-cream flavor here in the USA and it's a fav of my friend. I even offered to make something similar with an ice-cream but she decides to go with the smoothie.
It's 'Powerpack' because its made with protein powder (you can skip and use plain cocoa or chocolate too), chia+flax seeds (powdered form), almond milk, organic almond butter and of course cherries that are packed with antioxidants – all these ingredients are extremely healthy and beneficial for our body.
As we gathered all the ingredients for the Cherry Garcia Smoothie and decided to go with a thinner version of smoothie (more milk and less of ice).
It took me 2 minutes to make 3 glasses – 2 for each of us and one, if any of us want to splurge later. But I definitely wanted to click some pictures and share the recipe ASAP with you'll as it was that delicious.
Hat's off to my friend, who patiently waited and helped me around to decorate the glass. We clicked pictures and she got so much into it that she must have taken atleast 20 pics of the same shot above …. after all girls will be girls and we love such stuff, don't we 😉
The smoothies were gone in 10 minutes and we noshed on some more cherries and believe it or not, some himalayan salt flavored popcorn, which was a great sweet n savory combination.
We both agreed, that the Cherry Garcia Smoothie tasted absolutely like dessert and infact she had the 3rd glass togo (for her monday morning breakfast).
So here I'm sharing this simple yet delicious recipe with you'll and I hope you love it the way we girls do.
                                             Have a Happy n Great Week Ahead ~ XoXo
---
Tried Our Recipe – AWESOME!!!
Now Quickly SNAP A PICTURE & TAG :
#easycookingwithmolly +  @easycookingwithmolly on Instagram –>
Connect with Me Here:  Facebook / Pinterest / Instagram / Twitter / Subscribe to our Newsletter / Google+
Yield: 3
Cherry Garcia Power Packed Smoothie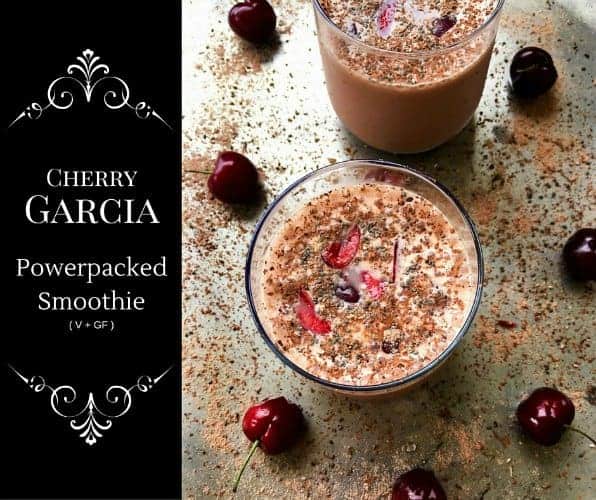 Ingredients
2 Cups Almond Milk - you can use any other flavorless milk
1/4 Cup Fresh Fresh Pitted Cherries - you may use frozen too
1 Tsp Vanilla Essence
1 Tsp Chia Seeds Powder
1 Tsp Flax Seed Powder
1 Tbsp Protein Powder - optional
1 Tsp Cocoa Nibs - you may use cocoa powder too
1/2 Cup Ice
---- Decoration (optional) ----
Few Sliced Cherries
Pinch of Chia Seeds
Cocoa Nibs
Instructions
Add all the ingredients into a blender and blend for 2 minutes or until you get a smooth consistency.
Transfer to serving glasses, decorate with sliced cherries/chia seeds/cocoa nibs.
Serve Fresh
Nutrition Information:
Serving Size:
1
Amount Per Serving:
Calories:

177
Total Fat:

8g
Saturated Fat:

4g
Sodium:

378mg
Carbohydrates:

17g
Sugar:

13g
Protein:

8g