7 Mins Chocolate Coconut No-Cook Pudding: A melt in your mouth, luscious and absolutely delicious dessert recipe that's made using 3 simple ingredients and ready in 7 minutes.
7 Mins Chocolate Coconut No-Cook Pudding (VEGAN)
There are times when a weekend is around the corner and all you want is a simple, cozy yet absolutely delicious yummm….
Most of the time, it's the dessert we crave and this weekend that's exactly what I'm going to share with you.
Dessert cannot be simpler and faster than this and once you make it, you would wonder, where was it all this life.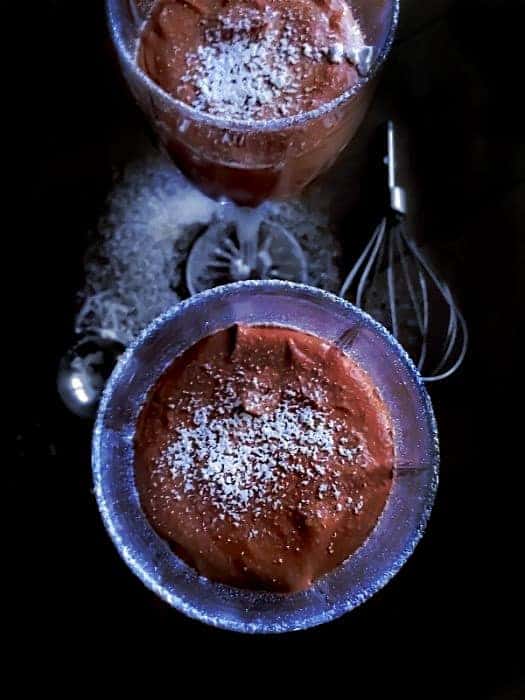 But before that, a very interesting incident that actually led to this recipe…..
Few weeks back, I bumped into one of my ex-colleague and he mentioned about reading my blog (which took me by surprise at the first place as he's the last person who would ever cook anything 😉
But also there was something he mentioned, that just hit a chord with me – he said everything is nice but 'You don't have many dessert recipes'!!!
OMG, that's so true, although I loooooove desserts but I hardly posted many dessert recipes on my site.
He was so correct and it made me secretly grin too cause he actually reads my blog – YAAAAY!!!
So with all that mixed emotion, I returned home and my first project was this 7 Mins Chocolate Coconut No-Cook Pudding.
Off-course, I had to make something right away to stop feeling guilty and I needed something sweet to eat, so this definitely served both the purpose.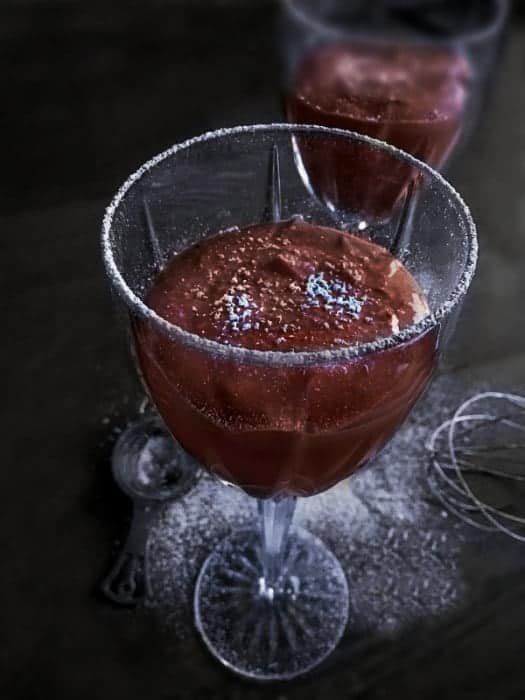 Now, coming back to this7 Mins Chocolate Coconut No-Cook Pudding recipe, it's your answer to a QUICK-DELICIOUS dessert recipe and you need not look any further.
It's made using full coconut milk (which we kept in the fridge overnight so that the milk thickens and cream can be easily formed).
Then all you need is a good quality cocoa powder some sugar (any other sweet substitute would work too).
And if you are feeling upto it, go ahead and add a splash of brandy or any kinda liqueur you like in this Chocolate Coconut No-Cook Pudding.
I've made 3 different version from this recipe using orange liqueur/brandy/rum (so go give it a try).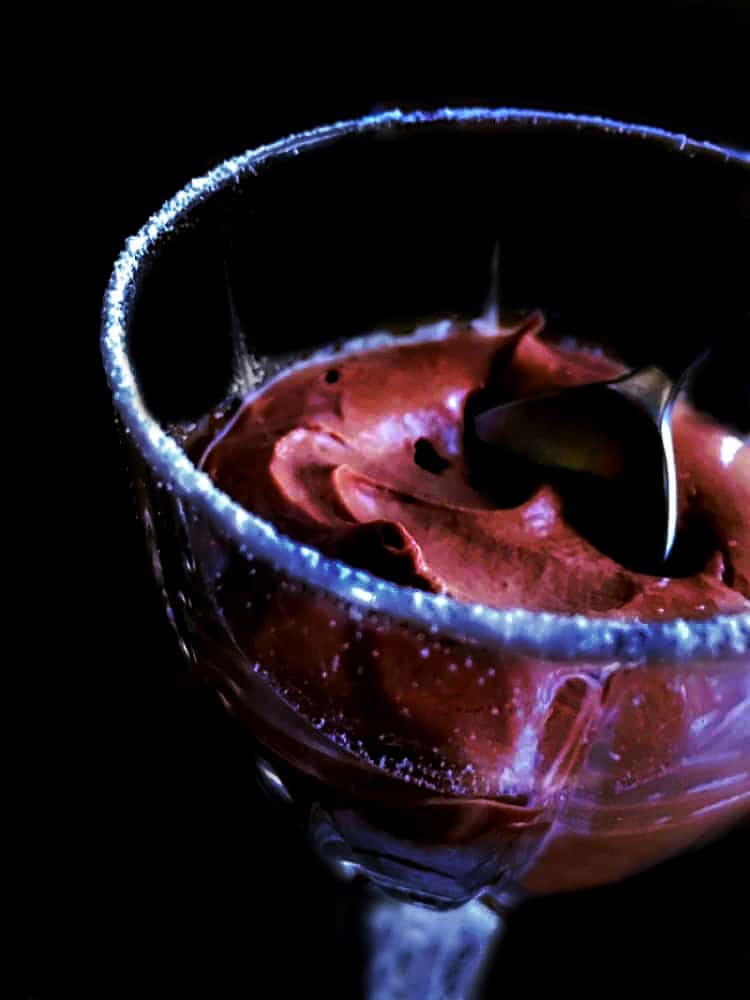 Just whisk the mentioned ingredients together for 2 minutes and you get this dessert which resembles a thick cloud.
If you're like me (I seriously couldn't stop myself), you can eat this Chocolate Coconut No-Cook Pudding right away.
Or just pour it into some swanky glasses or jars or whatever dish/bowl you want to serve them in and just place them in fridge to chill for few minutes.
Once chilled, just lightly dust with powdered sugar (which is absolutely optional BUT highly recommended as they look stunning).
Now simply, find someone to share them with (it makes 4 glasses) or just nosh on them all by yourself.
I've made this particular recipe at-least 10-15 times and every time, it hits all the right notes and is definitely my favorite easy dessert recipe…seriously what can be this delicious and ready in 7 minutes?
Also, as I've mentioned before, this tastes really good and at times, we have even scooped the entire bowl with our hands just to get that last bit, so make some extra.
Oh, I forgot to mention, it's an easy-peasy dessert for all my Vegan & Glutenfree friends too as this doesn't involve any milk or glutenous product.
Tried Our Recipe – AWESOME!!!
Now Quickly SNAP A PICTURE & TAG :
#easycookingwithmolly + @easycookingwithmolly on Instagram –>
Connect with Me Here: Facebook / Pinterest / Instagram

You May Also Like this
Yield: 4
7 Mins Chocolate Coconut No-Cook Pudding
3 Ingredients, creamy and delicious vegan chocolate-coconut pudding that's ready in 7 minutes.
Ingredients
1 Can Coconut Milk - I'm using full fat milk *
2 Tbsp Cocoa Powder
1.5 Tbsp Powdered Sugar - you can use any other sweet substitute
*** OPTIONAL ***
If you feel like, you can use a splash or liqueur of choice - like brandy / rum / any other flavor,
Instructions
Place the unopened coconut can in the fridge overnight or atleast 2-3 hrs.
Remove the can from the fridge and open gently.
Remove all the thick milk that would have settled or even formed like a crust on the top.
You can discard the remaining thin watery milk or use it in curries/smoothies later.
Place the scooped thick milk in a large cold bowl (you can keep a bowl in the freezer for 10 mins).
Whisk the coconut milk using an electric whisk or hand blender till they form thick stiff peaks (about 1 minute).
Now add cocoa powder, sugar and whisk to combine everything evenly.
Whisk everything for a minute to form a smooth pudding consistency.
Pour in serving bowls/glass and place them in the fridge for 5 minutes.
Remove from the fridge, sprinkle powdered sugar and serve immediately.
(If you plan to serve them later, then sprinkle powder sugar when ready to serve or it will melt).
Nutrition Information:
Yield:
4
Serving Size:
4
Amount Per Serving:
Calories:

207
Total Fat:

23g
Saturated Fat:

19g
Trans Fat:

0g
Unsaturated Fat:

2g
Cholesterol:

5mg
Sodium:

45mg
Carbohydrates:

11g
Fiber:

1g
Sugar:

4g
Protein:

5g
---