Eggless Blueberry Cake (with hint of Coconut Rum): super moist and flavorful eggless cake made using blueberries, yogurt with a hint of coconut rum (optional). Perfect for any occasion.
Eggless Blueberry Cake is Perfect for Summers
Father's Day is right around the corner (June 21st) and I have been thinking for almost a week regarding a special yet delicious recipe.
We already have dad's favorite breakfast dishes planned for the morning but I definitely wanted to make something that he really likes.
So I finally decided upon a special, quick and super moist Eggless Blueberry Cake.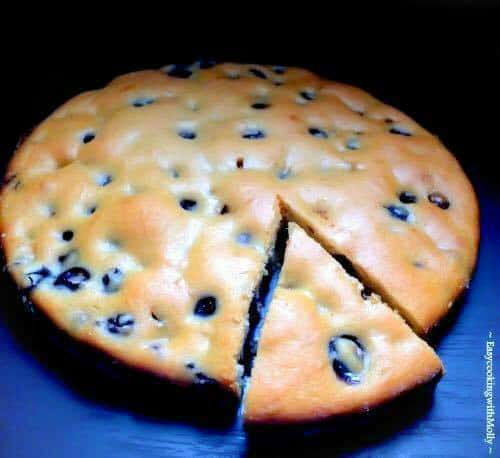 I've decided to keep the cake eggless as our breakfast would be heavy with lots of eggs and also as this recipe can be enjoyed with many of my vegan friends (Use vegan plain yogurt of choice).
Also, the addition of yogurt makes the cake extra moist.
The cake sounds simple yet the combination of blueberry soaked in coconut rum makes it absolutely delicious in every bite.
Since the weather is going to be extremely hot on this father's day, I'll be serving it with some freshly prepared chilled Cardamom & Mint lemonade.
You can serve it with breakfast or any other meal.
Now, I'm using coconut rum in this recipe, however, if you wish, you can completely ignore this ingredient and simply bake the cake using rest of the ingredients.
The cake will taste equally delicious and moist because of the addition of blueberry and yogurt.
You can even add chocolate chips or any other choice of fruit and try the recipe.
How to Make Eggless Blueberry Cake:

Here's wishing all the Special, Loving n Super Dad's –
* A Very Happy Father's Day *
You Can Also Try: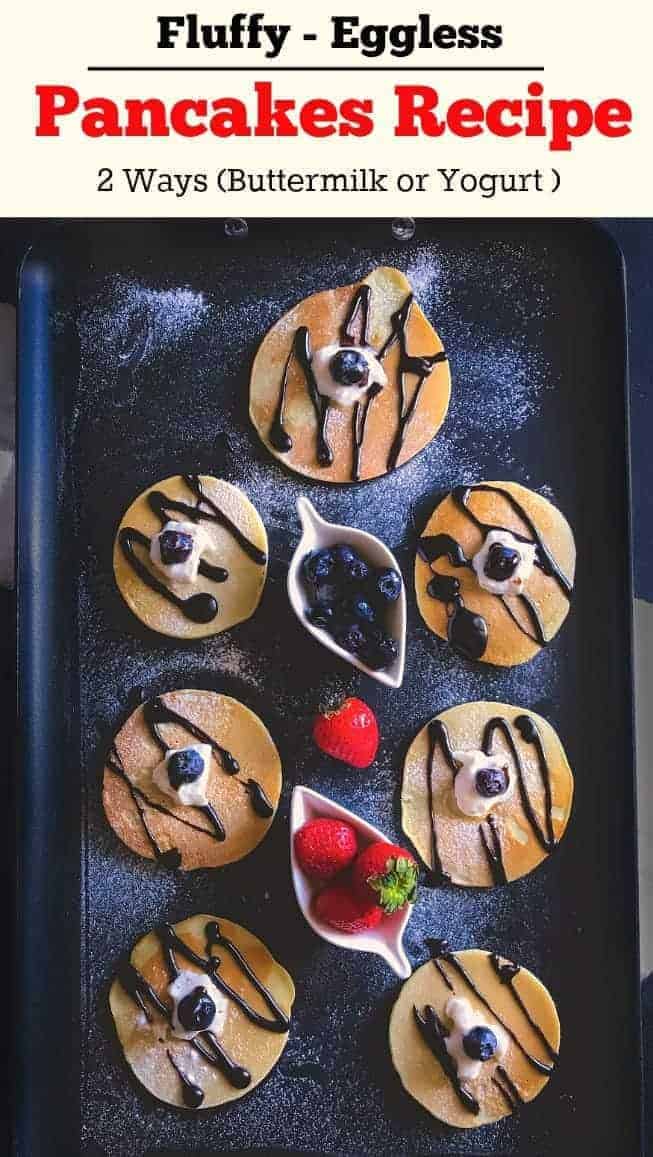 ---
DID YOU TRY MY RECIPE – AWESOME!!!
TAG :
#easycookingwithmolly + @easycookingwithmolly on Instagram –>
Connect with Me Here: Facebook / Pinterest / Instagram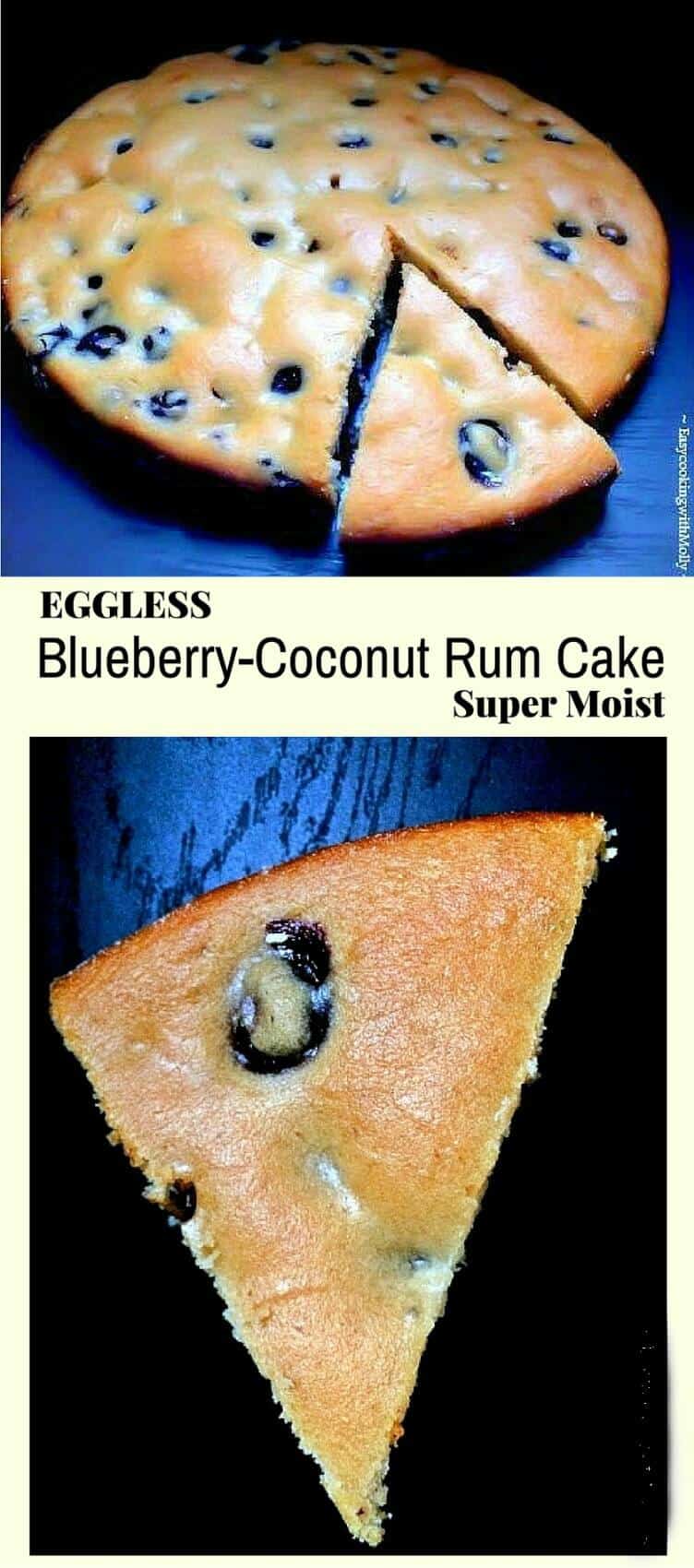 Yield: 6
Eggless Blueberry Cake (with hint of coconut rum)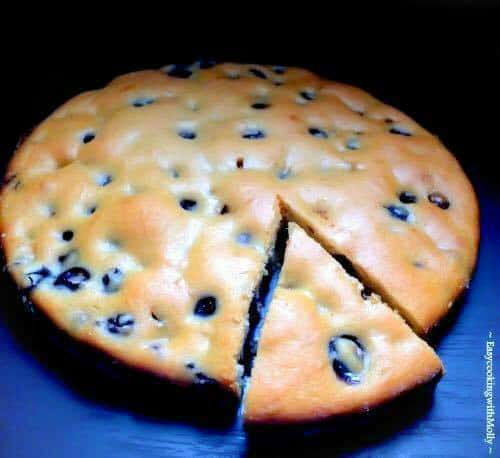 Eggless Blueberry Cake (with coconut rum): super moist and flavorful eggless cake made using blueberries, yogurt with a hint of coconut rum (optional). Perfect for any occasion. 
Ingredients
1 Cup All-Purpose Flour
1 Cup Fresh Blueberries - you can use frozen blueberries
1/2 Cup Yogurt
1/4 Cup Coconut Rum
1/3 Cup Olive Oil
2/3 Cup Sugar
1/2 Tsp Baking Powder
1/2 Tsp Baking Soda
Pinch of Salt
1/2 Tsp Vanilla Extract
Instructions
Pre-heat Oven - 375f or 190.5c
In a small bowl, add rum, blueberries and keep aside for 15 minutes.
In another bowl, sieve together flour, baking powder, baking soda, salt and keep aside.
Take a large bowl, add oil, sugar, yogurt, vanilla extract and whisk for 2 minutes to form a smooth batter.
Using a spatula, fold 1/4 Cup dry ingredients to the whisked batter.
Follow the above step to mix rest of the dry ingredient to the batter. (Please fold the dry ingredients slowly to incorporate air. This will result in lighter and fluffy cake).
Now gently fold in the blueberries along with rum to the mixed batter.
Pour the batter into the baking pan and bake for 30 minutes.
Do the Toothpick Test:
After 30 minutes, poke a toothpick into the center of the cake and remove instantly. If the toothpick comes out clean, it means the cake is cooked completely.
Remove the cake from the oven and keep on a cooling rack for 10-15 minutes.
Cut into desired size and serve fresh.
Nutrition Information:
Yield:
6
Serving Size:
12
Amount Per Serving:
Calories:

129
Total Fat:

6g
Saturated Fat:

1g
Sodium:

81mg
Carbohydrates:

18g
Sugar:

10g
Protein:

2g