Matar Kachori (Fried Green Peas Stuffed Puffs): khasta kachori stuffed with sweet-spicy matar filling.
Matar Kachori – Perfect for Parties / Dinners
This Matar Kachori or as some of our friends call it "Fried Green Peas Stuffed Puffs" is a perfect Indian Winter comfort-food.
Winter is finally here and It is a perfect time to enjoy traditional/modern comfort-food with friends and family.
It is the time for all things Home…Pure Bliss !!!
By now, you must have understood, it's my favorite season. It's the season of comfort food of soups….piping hot dishes….cakes….tea's….n so on…Oh My My !
I'm starting my winter food journey with one of our family's all-time favorite comfort food Matar Kachori (Fried Green Peas Stuffed Puffs).
It's a deep fried dish which is filled with a spicy and almost melt in your mouth green peas filling.
It's also a very popular dish found in the Northern part of India and In many places, it's deep fried in clarified butter.
I know you must be thinking "Deep Fried" but yes that's what comfort food is all about….
But still I'm trying to make it slightly healthy by using more of whole wheat flour with a mixture of other ingredients and very less of ghee 😉
The dough and filling can be separately prepared in advance and frozen for about a week in freezer.
Do give it a try, You would love it !!!
Happy Weekend ~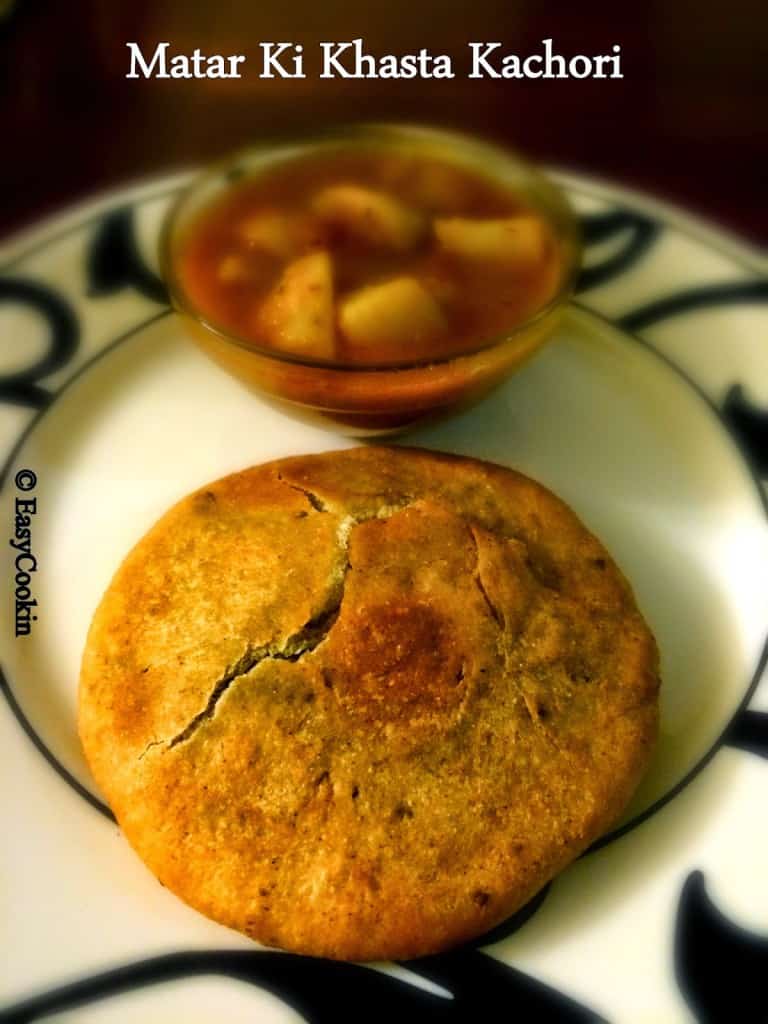 Making The Puff / Khasta Kachori Dough
In a large bowl, add the flours along with semolina, salt and carom seeds. Whisk them together for a
minute.
Now add oil to this and mix with hand, till oil is evenly combined with flour and you get a courser texture.
Now add water and form a smooth and slightly tight dough for a crunchier puff.
Cover the dough with a damp cloth/kitchen towel and keep aside for atleast 1hour.
TIP:
When the oil is evenly mixed, try binding a handful of mixture and if it forms a ball shape, the mixture is ready to be made into a dough.
If not, then mix for few more minutes and repeat the test.
Yield: 12 Medium size kachori
Matar Kachori (Fried Green Peas Stuffed Puffs)
khasta kachori stuffed with sweet-spicy matar filling. (Indian puffed bread stuffed with spicy-sweet peas filling).
Ingredients
For Making The Green Pea's Stuffing:
3 Cups Green Pea's - (You can use fresh or frozen)
1 Tsp Freshly Grated Ginger
1/4 Cup Fresh Coriander/Cilantro - Chopped
2 Tbsp Clarified Butter(Ghee)  – You may skip this step as per taste or dietary restrictions
3 Tbsp Olive Oil – You can use any light oil
1/4 Tsp Asafoetida Powder
1 Tsp Coriander Powder
1 Tsp Cumin Powder
2 Tsp Dry Mango Powder
1 Tsp Garam Masala
1/2 Tsp Turmeric Powder
1 Tsp Red Chili Powder
1 Tsp Salt (As per your taste)
1/4 Cup Water – As per Need
For Making The Puff / Khasta Kachori Dough
1.5 Cups Whole Wheat Flour
1/2 Cup Plain White Flour
1/2 Cup + 4 Tbsp Semolina
1/2 Tsp Baking Powder
6 Tbsp Olive Oil
1/2 Tsp Carom Seeds
1 Tsp Salt (As per taste)
1/2 Cup + 4 Tbsp Water – For making the dough
1.5 Cups Oil – For Deep Frying the Kachori
Instructions
Making The Green Pea's Stuffing ***
In a large non-stick pan, add 2 Tbsp ghee and 3 Tbsp olive oil (medium flame) and let it heat up for 2 minutes.
Once the oil is hot, add grated ginger, asafoetida and stir for a minute.
Now add the green peas, give it a good stir, cover with non-stick lid and let it cook for 5-6 minutes over low flame (keep stirring every 3 minutes).
Now add all the spices and give it a quick stir, add water, cover the lid and let it cook for another 3 minutes.
While the peas are cooking, it will become almost mushy; just mash them further into a crumbly consistency.
After cooking the peas (for 9-minutes above) it will be cooked and all the spices will be evenly mixed, giving a nice aromatic smell.
Switch off the heat and let this mixture cool to touch.




** Making The Puff / Kachori **
Divide the already prepared dough into 14-16 equal parts and roll with hands to form round balls.
Take 1 dough ball and using the rolling pin, flatten it into a round shape (Size of your palm).
Now hold this flattened dough between your hands and form a cup shape and fill it with a spoonful of green pea mixture.
Seal the edges and form it into a ball again(making sure all the edges are tightly sealed).
Now flattened this filled dough ball into the size of your palm.
Follow step 2, 3, 4 and 5 till all the dough is used.


** Frying The Puff / Kachori **
Heat 1.5 cups of oil in a large pot for deep frying the prepared kachori.(This will be heated on medium flame. This will take a good 7-8minutes).
Now once the oil is nicely heated, add 1 or 2 kachori into the pot and fry evenly on both sides.
Reduce the heat to low and cook each Kachori for about 1-2minutes (Or till they become golden brown on both sides.)
Once the kachori's are cooked to your desired color(light golden or dark golden), remove them from the pot to a kitchen paper(for absorbing any extra oil).
Serve Hot with desired curry / pickle or fresh yogurt.
Nutrition Information:
Yield:
5
Serving Size:
2
Amount Per Serving:
Calories:

500
Total Fat:

70g
Saturated Fat:

13g
Trans Fat:

1g
Unsaturated Fat:

50g
Cholesterol:

0mg
Sodium:

400mg
Carbohydrates:

84g
Fiber:

12g
Sugar:

7g
Protein:

14g