Zucchini Chicken Kebabs : easy kebab/patties recipe using chicken, zucchini and Indian spices along with few other ingredients. They can be served as appetizer /side or even as stuffing in burger/sandwiches. They freeze well too.
I've always been very fond of kebabs and keep thinking of ways to invent newer varieties which is palatable to not only to my Indian roots but also to my global taste buds.
One more happy fact is that the mixture can be pre-made and stored in the freezer for about a month. Hence all you need to do is thaw a night before and make fresh kebabs.
Kebabs in India are traditionally made using meat (chicken/lamb/goat), lentils, lots of spices (hence the spicy flavor) and deep fried (Infact people tend to ask for re-fry if they think it's not fried to their heart's content).
They are prepared in family get-together / special occasions or to celebrate any happy occasion.
Every state has their different version and serving ideas from stuffed in Indian Naan/Bread to Rice or eaten as a snack or with drinks. It's also one of the very popular street food in India.
Now if you are once in 3-6 months kebabs eater, I can understand so much of fried stuff but if you are like me and want to have it frequently, then we have to figure out ways to make it healthier.
Hence "Zucchini Chicken Kebabs" recipe was born, it involves your seasonal green veggie along with lentil and chicken (to make it heart healthy) and few spices which are easily available in most kitchens/pantry along with other everyday ingredients.
Infact, when I first made them, it was hard to believe that something made using such basic/simple ingredients can give such a delicious taste…..they melt in your mouth and taste just AWESOME !
Since this is a milder version (spice and flavor), it can be easily introduced to kids and can also be used in burgers.
You Need the Following to Make these Zucchini Chicken Kebabs:
Medium Pot – For Frying the croquette.
Food Processor – For making bread crumbs
Large Bowl – For mixing the ingredients together.
Large Plate – For placing uncooked kebabs
Ice-Cream Scoop – For measuring kebabs OPTIONAL)
Paper Napkin/Towel – To soak any excess oil from the cooked kebabs
Serving Dish
:: You May Also Like ::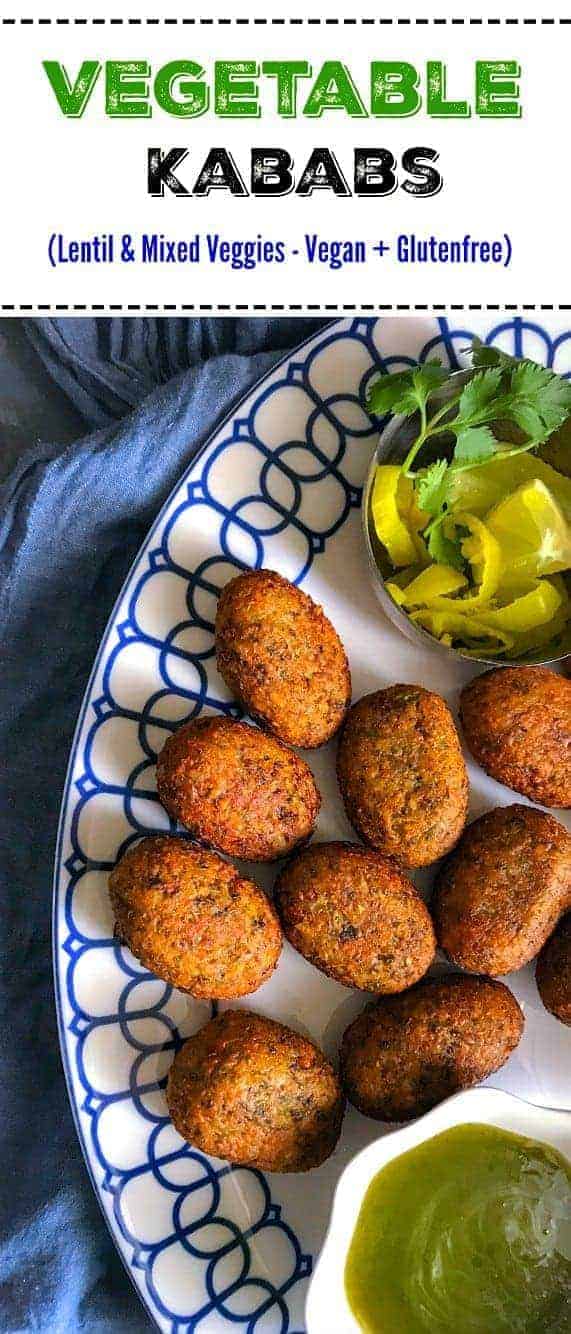 ---
Tried Our Recipe – AWESOME!!!
Now Quickly SNAP A PICTURE & TAG :
#easycookingwithmolly + @easycookingwithmolly on Instagram –>
Yield: 5
Zucchini Chicken Kebabs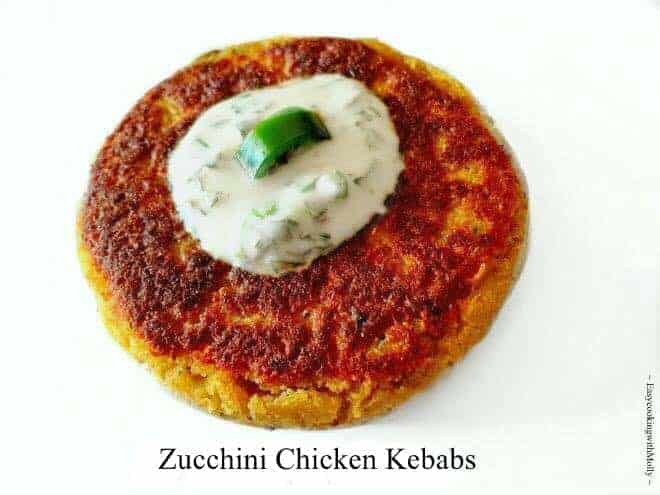 Zucchini Chicken Kebabs: easy kebab/patties recipe using chicken, zucchini and Indian spices along with few other ingredients. They can be served as appetizer /side or even as stuffing in burger/sandwiches. They freeze well too.
Ingredients
For the Kebabs:
1 kg Boneless Chicken - Cut into 7-8 pieces
3 Medium Size Zucchini - Thinly grated along with peel
1 Cup Uncooked Red Lentil
1/2 Cup Plain Yogurt - Any kind can be used from full fat to 1% fat
1.5 Cups Water
1 Large White Onion – Chopped
3 Garlic Cloves – Peeled
1 Small Piece Ginger
4 Tbsp Fresh Lemon Juice – You may use bottled lemon juice as well
1/2 Cup Bread Crumbs - Store bought or homemade
1/4 Cup Flour - You may use whole wheat or all purpose flour
1/4 Cup Olive Oil – You may use any flavorless oil of choice
For Yogurt Dip
1/2 Cup Thick Greek Yogurt
2 Tbsp Lemon Juice
1/4 Cup Fresh Coriander/Cilantro - Thinly Chopped
1 Medium Jalapeno - Deseeded & Chopped
Salt - To taste
Spices:
1 Bay Leaf
1 Tsp Whole Black Pepper
2 Tsp Coriander Powder
1 Tsp Cumin Powder
2 Tsp Indian All Spice Powder (Garam Masala)
2 Tsp Red Chili Powder - Optional
2 Tsp Salt (As per your taste)
Instructions


In a bowl, add all the yogurt dip ingredient, mix thoroughly and chill in fridge.
In a large pot add chicken, lentil, bay-leaf, black-pepper, ginger, garlic, onion, water and cook till lentil & chicken is cooked (about 15 minutes)OR If using pressure cooker, give 3 whistles and switch the heat off.
Let the mixture cool and drain the remaining water. (Keep the water aside)
In a food-processor, add the cooled mixture, all the spices and remaining kebabs ingredients except oil.
Now mix everything to a smooth dry texture (use the drained water for this).
Evenly divide the mixture into 16-18 medium size balls.
Now wet your hands and make flatten each ball into the shape of kebabs (circular or any shape you want).
Heat a large non-stick pan (2-3 minutes) on high and add 1 tbsp oil.
Place 5-6 kebabs (depending on the size of the pan) and cook till golden brown (3-4 minutes on medium heat).
Now turn the kebabs to other side, add 1 tbsp of oil and let it cook till golden brown.
Follow the step above till all the kebabs are made.
Take a serving dish, place 8-10 kebabs, dollop each kebab with chilled yogurt dip.
Serve fresh.
Nutrition Information:
Yield:
5
Serving Size:
5
Amount Per Serving:
Calories:

910
Total Fat:

32g
Saturated Fat:

7g
Trans Fat:

0g
Unsaturated Fat:

22g
Cholesterol:

181mg
Sodium:

384mg
Carbohydrates:

78g
Fiber:

12g
Sugar:

8g
Protein:

78g