Green Tea Cold Pasta Salad: Infused with the flavors of green tea, ginger with a hint of orange this salad will become your new favorite recipe on a hot summer day.
It tastes delicious served cold or slightly warm. 
This Green Tea Cold Pasta Salad is my 'all in one' recipe and I've been eating copious amounts of this for lunch these days.
I call it 'all-in-one' cause it's the perfect combination of easy, healthy and super yummm.
I've been loving this  'green tea-ginger-orange' combination and have literally made a huge batch of it.
So, all I'm doing these days, is just make some pasta (if it's not already in the fridge) and then mix everything together, add some greens, some crunch and here you go – Green Tea Cold Pasta Salad.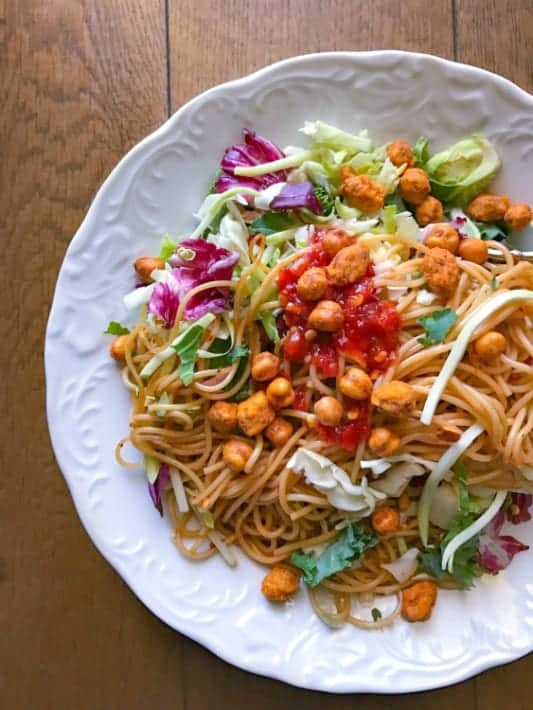 This is my absolute favorite on a hot summer day because of the minimal cooking involved.
Now, there are definitely few things to remember when making this as you don't want to overpower the salad with green-tea or ginger but what we want is a light fragrant infusion of both.
Although I could eat the salad just with ginger-green tea flavor I've noticed mixing a little bit of orange flavor gives it this extra zing.
Since all the other flavors are very earthy, the citrus sparks it up and you literally feel the burst of summer in every bite.
It also makes for a great picnic or to go salad as everything can be packed individually in small containers or even Ziploc.
Just pour and mix whenever you are ready to eat.
So, I really hope you give this salad a try soon and taste all this wonderful combination of flavors.
Wish you a great weekend and see you'll with a new recipe on Monday 🙂
---
As always, I Looove when you try my recipes and send me pictures & feedback. You can tag my recipes tried by you using #easycookingwithmolly on any of the social media below:
Connect with Me Here:  Facebook / Pinterest / Instagram / Twitter / Subscribe to our Newsletter / Google+
Green Tea Cold Pasta Salad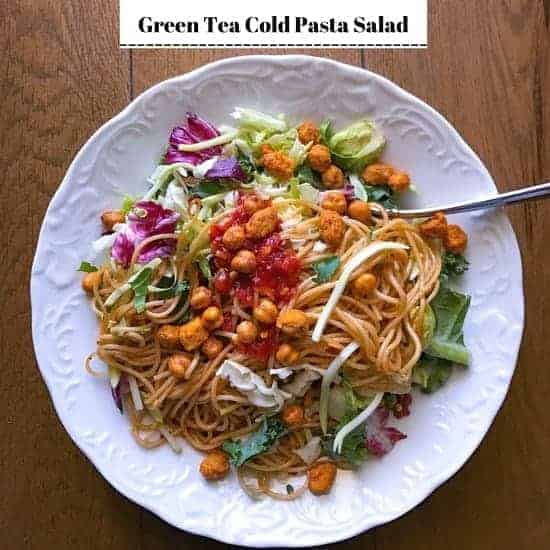 Ingredients
1 Cup Cooked Spaghetti Pasta
1 Cup Water
1 Green Tea Bag
1/8 Inch Stalk of Ginger
2 Tbsp Orange Juice - fresh is better
1/4 Tsp Agave - you may use any sweetener of choice
1/4 Tsp Sesame Oil - skip if not available
Salt as per taste
Pepper as per taste
1 Cup Salad Green Mix
Decoration: (optional)
1/4 Tsp Sambal - skip if not available
1 Tbsp Roasted Chickpea
1 Tbsp Peanuts
Instructions
In a small pot, bring 1 cup of water to a boil and add ginger.
Now add green tea bag and let this mixture simmer for 2 minutes on low heat.
Sieve it immediately and let it cool.
Once, its warm to touch add orange juice, salt, pepper, sesame oil and whisk evenly.
Now, add the cold cooked pasta and let it soak up all the flavors. (you can twist the paste inside to evenly quote it - Soak for max 15 minutes).
Take a serving plate and add salad greens on the bottom.
Top with 2-3 servings of the soaked green tea pasta.
Top with sambal, chickpea and peanuts.(optional)
Serve immediately.