Quick and Healthy Curried Turkey Rice Bowl: a creative twist on a traditional Indian minced meat recipe.
This version is lighter, much easier to make and tastes equally good.
It's served with steamed rice, along with radish, lemon, chilies to make it wholesome and filling.
I have a question for your today – Do you love curry but are always hesitant to make then at home?
If yes, then these Quick and Healthy Curried Turkey Rice Bowl is a dream come true!!
For all your curry lovers or someone who wants to make curry using few ingredients and less time too (15 minutes).
It tastes so good that you won't be able to stop at one bowl (I can guarantee you that) and this totally screams #comfortfood.
As I have mentioned above, these Healthy Curried Turkey Rice Bowl are a twist on a popular Indian minced meat recipe called 'Keema / Qeemah' which means minced.
It's traditionally made using red meat such as goat/lamb and some people even use chicken for it.
It's mostly served as a weekend brunch or holds a place during special dinner as the recipe calls for a lot of spices and above all pure ghee / clarified butter.
Now when you cook with red meat + all this spices and ghee, the recipe tends to get heavy and definitely takes longer to prepare as red meat takes longer to cook.
But when I replaced the meat with turkey and because of its lean, it cooks much faster and needs less oil and spices.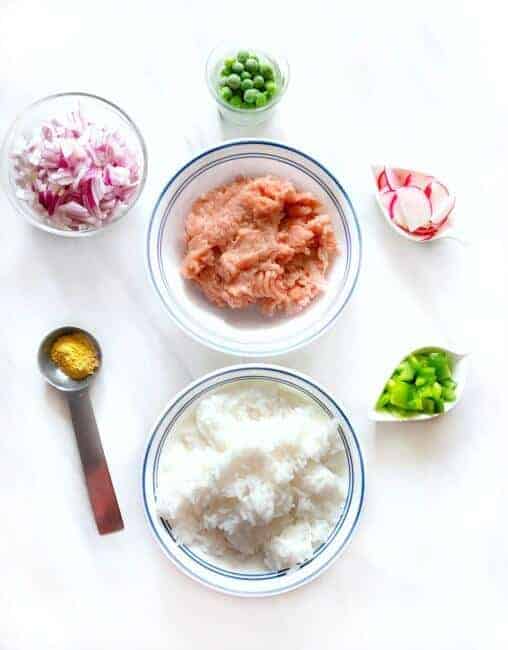 With so many benefits and on my quest to eat healthy yet delicious, I'm swapping turkey in many of my favorite meat recipes.
Did you know that turkey has 22 grams of protein in each serving.
Now, coming back to the cooking part, if this is your first time cooking curry, you cannot find a recipe easier than this, as I'm using very basic spices like turmeric and curry powder.
And I'm also adding my secret ingredient 'ketchup' which replaces 3 other ingredients like ginger+garlic+tomato.
So, chop some onion, get some peas and try making these 'Quick and Healthy Curried Turkey Rice Bowl' for yourself or share with your entire family.
This is one unique way of adding turkey to your everyday recipes and yet keep it absolutely delicious, healthy and easy to cook.
For more inspiration on Turkey recipes or more details, visit Serve Turkey
Until Next Time ~ XoXo
---
Tried Our Recipe – AWESOME!!!
Now Quickly SNAP A PICTURE & TAG :
#easycookingwithmolly +  @easycookingwithmolly on Instagram –>
Connect with Me Here:  Facebook / Pinterest / Instagram / Twitter / Subscribe to our Newsletter / Google+
Yield: 1 Large Bowl
Quick and Healthy Curried Turkey Rice Bowl
Quick and Healthy Curried Turkey Rice Bowl: a creative twist on a traditional Indian minced meat recipe.
Ingredients
1 Cup Ground Turkey
1 Large Onion - chopped
1/2 Cup Peas - frozen or fresh
1 Tbsp Ketchup
3 Tbsp Olive Oil
2 Cups Cooked Rice - use any variety as per choice or replace with any other grain/side
Spices
1/8 Tsp Turmeric
1 Tsp Curry Powder
1 Tsp Garam Masala Powder
1/2 Tsp Red Chili Powder
Salt - as per taste
Instructions
Add 3tbsp oil in a skillet and heat it for a minute.
Add onion and saute for 1/2 minute (till onion turn golden).
Add all the spices and except curry powder and saute cook for a minute.
Add peas and cook for another minute.
Now, add minced turkey and saute everything together.
Cook for 2-3 minutes on medium heat, till turkey is slightly cooked (keep sauteing in-betwen).
Now, add the tomato ketchup, curry powder and mix everything together.
Cover the skillet with a lid and let turkey cook over low flames for 3-4 minutes. (saute every minute).
Remove the lid after 4 minute, give it a give stir and turn off the heat.
Assemble the Curried Turkey Rice Bowl:
Take two bowls and add rice on both.
Top with freshly made curried turkey.
Now, add toppings of choice like radish / chilies / onions or just sprinkle some lemon and enjoy.
(This recipe store for 3 days in fridge).
Nutrition Information
Serving Size
6-7 People
Amount Per Serving
Calories

157
Total Fat

8g
Saturated Fat

1g
Sodium

36mg
Carbohydrates

20g
Sugar

1g
Protein

3g