5 Minutes Honey and Pomegranate Breakfast Parfait: Quick and Delicious breakfast recipe using pomegranate, honey, banana, and pistachio.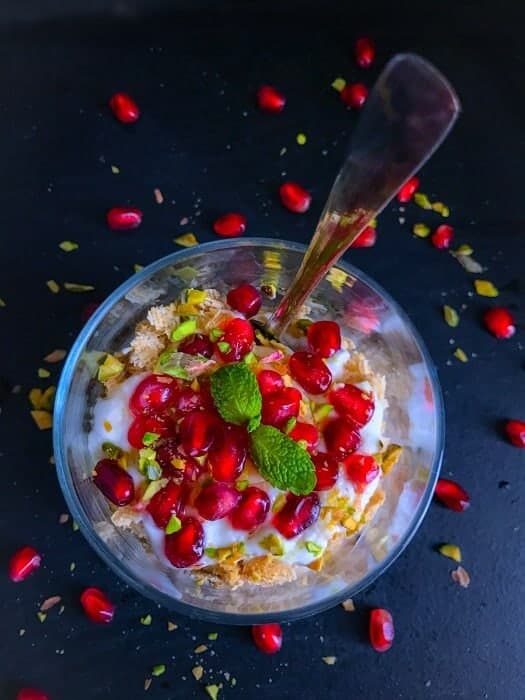 Helloooo and Wish You'll A Happy New Year and I wanted to Welcome you'll with an easy 5 Minutes Honey and Pomegranate Breakfast Parfait or rather a delicious way to start your New Year – New You Resolution (also our FIRST Recipe for 2017 – YaaaaaY).
Have you'll made your new resolutions already and have you started following them? I'm still thinking on my final list of resolutions but this time I've decided to keep them real simple and not more than 5, something that I know I'd achieve.
Now, my first one is where we all might start with – Health and I wanted to keep it something simple and very very manageable. Something that I can stick with no matter what and 'BREAKFAST' is that Golden Word!
So, to jump start that 'Eat Breakfast Every Single Day' resolution, I have actually made a plan of making 2-3 different "5 minutes breakfast recipes" a week and the easiest recipe to start with is this 5 Minutes Honey and Pomegranate Breakfast Parfait using Post 'Shredded Wheat Cereal'.
I mean there's absolutely no-cooking involved, just layer the ingredients one after the other and you have yourself a gorgeous looking breakfast in 5 minutes – Trust me, it tastes Super Yum!
The mixture of pomegranate, honey, yogurt with shredded wheat cereal is not less than any dessert and you can get addicted to this healthy bite for sure.
And, just to help you start that New Year – New You resolution, here's a coupon deal on your favorite Post brand cereal.
So, that's my first recipe for the first resolution and while I continue to finalize my resolution list, I'll be sharing tons of easy recipes to help you with everyday breakfast or a quick snack. Here's a picture of 'What You Need for this 5 Minutes Honey and Pomegranate Breakfast Parfait :

Also, a quick Video on 'How We Make the Breakfast Parfait' – Until Next Time ~ XoXo
---
Tried Our Recipe – AWESOME!!!
Now Quickly SNAP A PICTURE & TAG :
#easycookingwithmolly +  @easycookingwithmolly on Instagram –>
Connect with Me Here:  Facebook / Pinterest / Instagram / Twitter / Subscribe to our Newsletter / Google+
Molly Kumar
Yields 4 Medium Breakfast Parfait
5 Minutes Honey and Pomegranate Breakfast Parfait
5 minPrep Time
5 minTotal Time
Ingredients
2 Cups Post Shredded Wheat Cereal - slightly crushed
1 Cup Pomegranate Seeds
3 Tbsp Honey
2 Cups Yogurt - I'm using plain yogurt but you may use any flavor
3 Tbsp Chopped Pistachio
1 Banana - peeled and thinly chopped - optional
Mint Leaves - for decoration - optional
Instructions
Take a parfait bowl or any glass.
Add 2 tbsp of yogurt on the bottom.
Now, add 304 slices of bananas.
Add 2 tbsp of pomegranate seeds.
Sprinkle 1tsp of honey and few chopped pistachio
Again, add 1 tbsp of yogurt and spread evenly.
Now, add 2 tbsp of crushed shredded wheat cereal.
Layer with 1 tbsp of yogurt.
Place a banana slice on top.
Sprinkle pomegranate seeds, honey and pistachio.
Place a mint leaf on top and serve fresh.
7.8.1.2
184
http://www.easycookingwithmolly.com/2017/01/5-minutes-honey-pomegranate-breakfast-parfait/