Quick Vegetable Puff Recipe (Indian Curry Puff) : crispy, buttery and flakey in every bite and stuffed with a delicious vegetable curry filling.
Vegetable Puff Recipe (Indian Curry Puff)
They are quintessential for your festive or gameday parties. Made using Pepperidge Farm® Puff Pastry, they are ready in 30 minutes.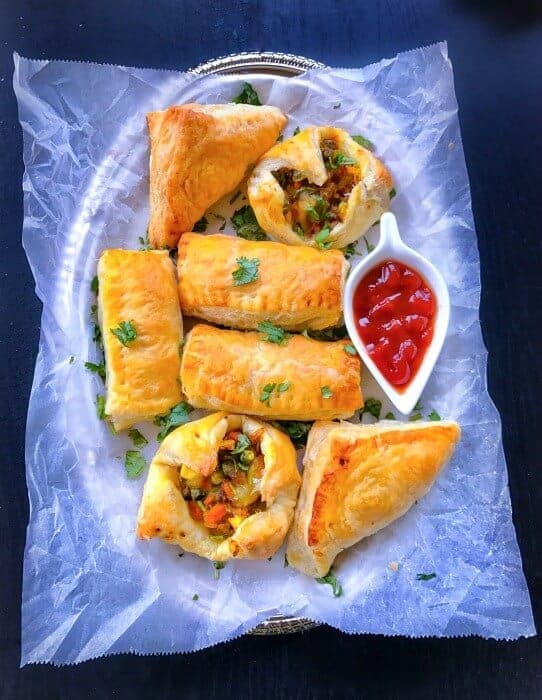 These Quick Vegetable Puff Recipe (Indian Curry Puff) are a MUST at our home especially in festivals or on a game day.
I've been making them for ages with different filling but every time, there is one ingredient that's never changed – "Puff Pastry Sheets".
They are an absolute MUST for this flakey-crispy warm delectable bite and comes out looking perfect every time. 
Infact, these Vegetable Puffs are a popular 'street-snack' in India and an absolute MUST in school/office cafeteria.
In many Indian homes, it's the perfect companion to a hot piping cup of tea/coffee and can easily munch on 2-3 of them at a sitting.
These 'puffs' are also famous for its crispy buttery layers which looks almost impossible to achieve while making them at home.
That's why these 'Puff Pastry Sheets' are a must for these Quick Vegetable Puff Recipe (Indian Curry Puff) .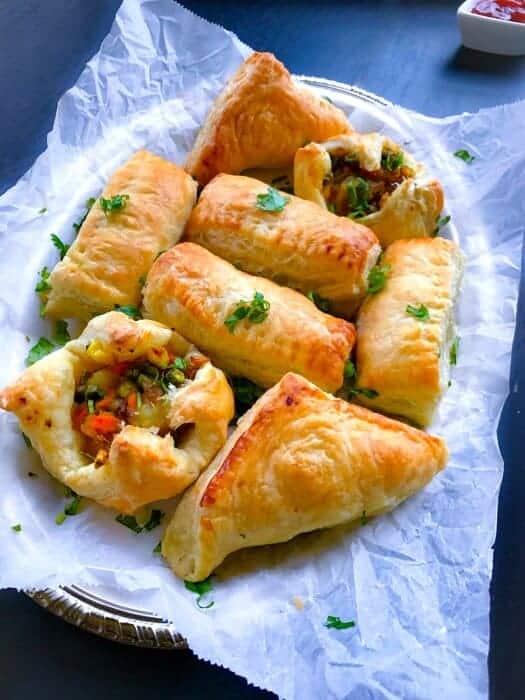 Once, you have the 'Puff Pastry Sheets', then all you need the mixed vegetable filling and you're good to go.
Just thaw and cut the sheets in desired size/shape, add the filling inside, wrap and bake.
Serve them as soon as they are made for that extra crispy feel.
I usually serve them with tomato ketchup or green chutney.
This festive season, surprise your loved ones with these homemade Quick Vegetable Puff Recipe (Indian Curry Puff)
Or make them for a fun gameday appetizer.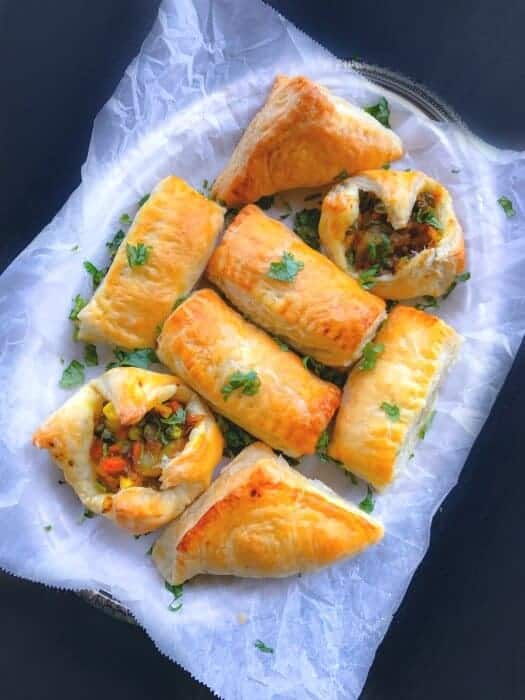 Here's a quick tutorial on How we made these Quick Vegetable Puff Recipe (Indian Curry Puff) :
:: Other Snack Recipes ::
---
As always, I Looove when you try my recipes and send me pictures & feedback.
You can tag my recipes tried by you using #easycookingwithmolly on any of the social media below:
Connect with Me Here:  Facebook / Pinterest / Instagram / Twitter / Subscribe to our Newsletter / Google+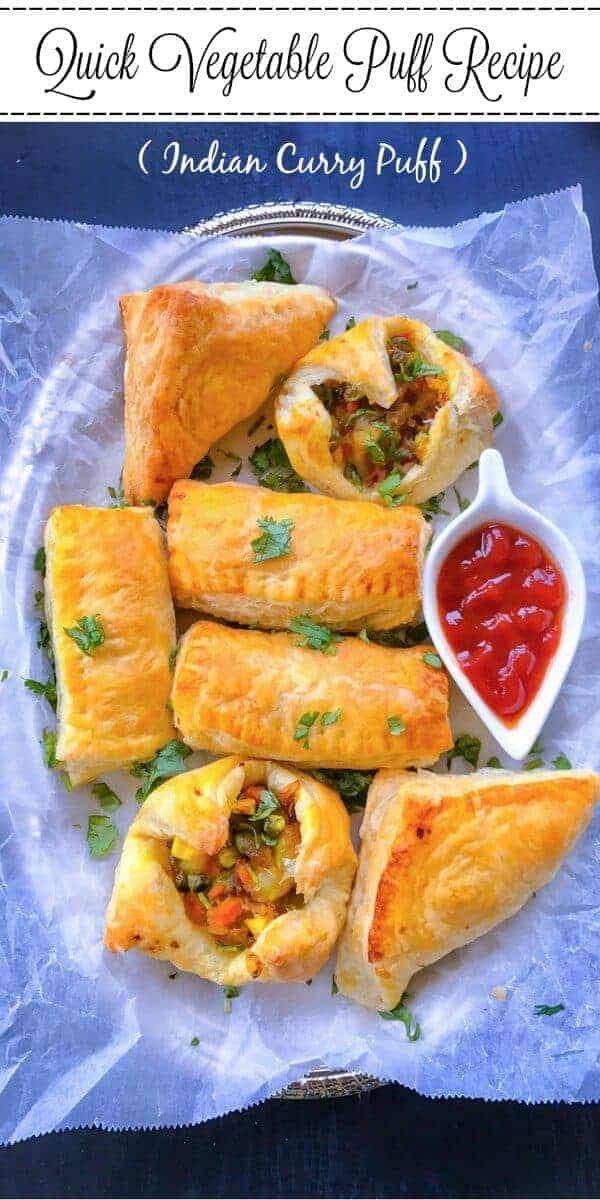 Yield: 12 Puffs
Quick Vegetable Puff Recipe (Indian Curry Puff)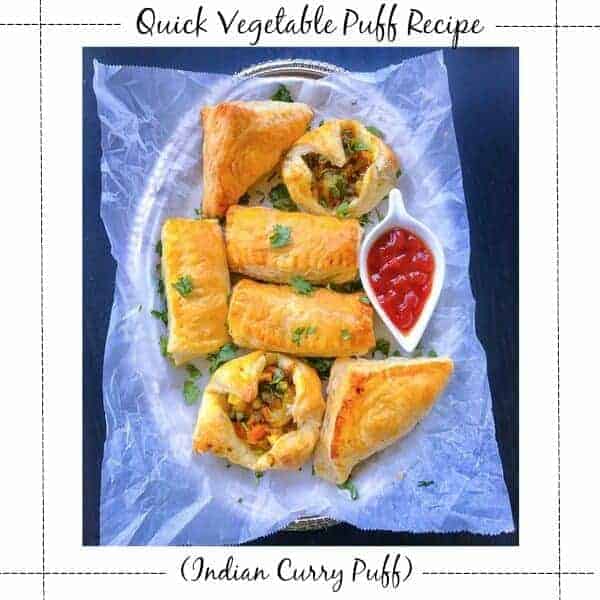 Ingredients
1 Packet Puff Pastry Sheets
4 Tbsp Milk
1 Tsp Butter - melted
1/4 Cup Water - to seal the edges of the puff
1 Tbsp Fresh Cilantro - chopped - for decoration
Vegetable Filling ::
3 Tbsp Olive Oil - any light vegetable oil can be used
1 Medium Onion - thinly chopped
1/2 Cup Peas - frozen or fresh
1/2 Cup Carrots - thinly chopped in square size
1/2 Cup Green Beans - thinly chopped
1/2 Cup Green Capsicum - thinly chopped
3 Medium Boiled Potatoes - thinly chopped
2 Tbsp Fresh Coriander
Spices ::
1 Tsp Cumin
1 Tsp Curry Powder - homemade or store bought
Instructions
In a small bowl, add milk, butter and mix together (keep aside).
Heat a non-stick pan and add oil.
Now add cumin powder, onions and saute till onions turn golden brown (takes 2-3 minutes).
Add all the other vegetables except potatoes and saute for a minute.
Cover the vegetables and let them cook for 7 minutes on low heat. (saute every 2 minutes).
Finally add the boiled potatoes, curry powder, mango powder, saute everything together and cook for another 2 minutes.
Turn off the heat and cool the mixture slightly.
Preheat the oven at 410 Farenheit.
Take the thawed but cold Puff Pastry Sheets and cut them into sqaures (see tutorial pic).
Add 1tbsp of filling in the center and fold the remaining side over it (I've created triangle, rectangle and open face).
Brush each wrapped pastry with milk+butter mixture (you can use eggs too) and crimp the edges with a fork. (seal the pastry).
Bake for 15 minutes (keep an eye as all oven are different).
Server Hot with favorite ketchup or chutney.
Nutrition Information
Serving Size
1
Amount Per Serving
Calories

697
Total Fat

57g
Saturated Fat

8g
Sodium

161mg
Carbohydrates

40g
Sugar

9g
Protein

9g