Bengali Egg Curry in Coconut Milk (Dimer Malai Curry): A succulent egg curry recipe from West Bengal (State in Eastern India). 
This Bengali Egg Curry is slow cooked in a mixture of spices and coconut milk to an aromatic and velvety taste that keeps you wanting more n more. 
My recent curry obsession had me going slightly overboard with Indian style Bengali Egg Curry / Malai Curry / Coconut Curry or .
The richness of coconut milk when cooked with spices, adds so much texture, giving it a sweet-spicy flavor that simply tantalizes your taste buds.
To top it, you add boiled-sauteed eggs along with sauteed potatoes and you are in taste heaven!
I know I've used a mouthful of words to describe the recipe, but it seriously deserves all the praises and it's absolutely easy to make.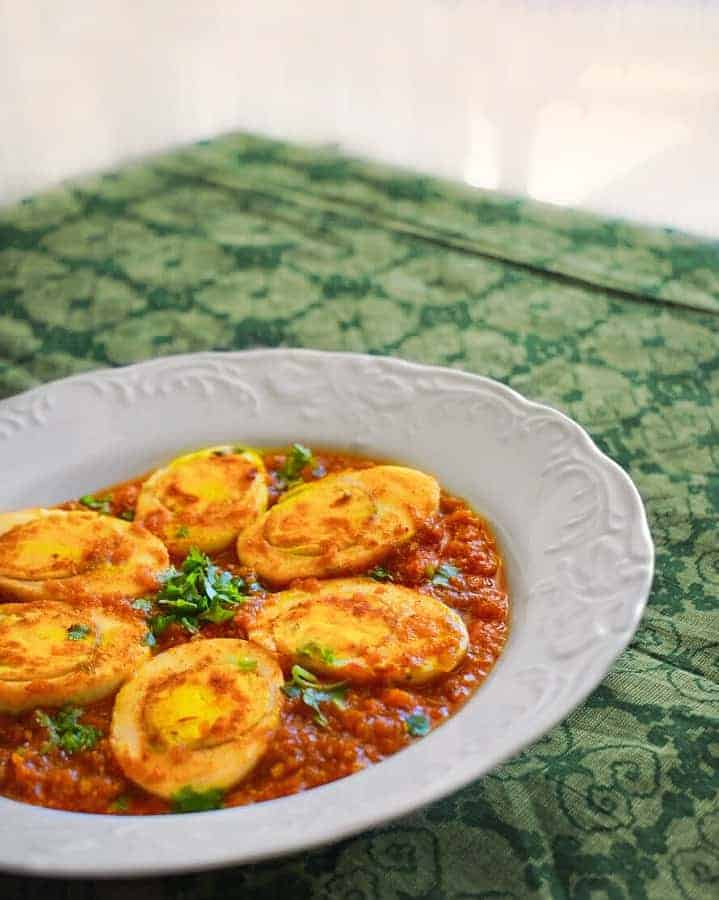 First of all, it gives it this gorgeous orange-yellow color and it tastes even better the next day (which usually works best for workdays/ lunch/dinner).
Now, coming back to the Origin of the recipe, which is often cooked in Bengali Households (people from West Bengal-India).
And is famously called Dimer Malai Curry (Dimer = Egg, Malai = Coconut) or as we call it Bengali Egg Curry .
Just like many Bengali cuisines, this one is also cooked with potatoes, which complements the recipe very nicely.
The eggs+potatoes are boiled and then coated with a mix of turmeric, salt, chilies and then lightly sauteed/fried together (for authentic taste, fry them :).
Then the curry is prepared and finally, everything is mixed and cooked on low heat for a divine taste.
The Bengali Egg Curry is typically served with boiled rice / steamed rice or some form of rice dish but you may try it with any side of choice…
I even nosh on it with a bowl of quinoa/couscous and it tastes equally amazing!
As we are approaching the weekend, give this recipe a try for your weekend brunch.
Or simply make ahead for weekday meal (can be stored in the fridge for 2-3 days).
:: You May Also Like ::
Quick Bengali Sandesh (Milk Fudge)
---
As always, I Looove when you try my recipes and send me pictures & feedback.
You can tag my recipes tried by you using #easycookingwithmolly on any of the social media below:
Connect with Me Here:  Facebook / Pinterest / Instagram / Twitter / Subscribe to our Newsletter / Google+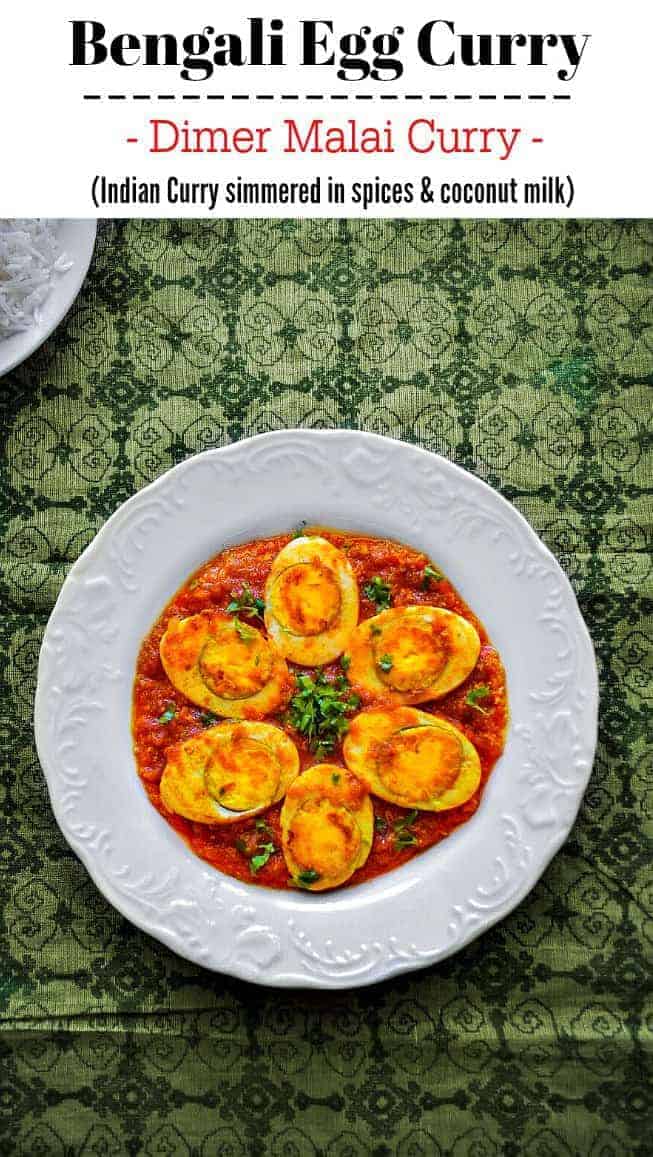 Molly Kumar
Yields 4 People
Bengali Egg Curry in Coconut Milk (Dimer Malai Curry)
This Bengali Egg Curry is slow cooked in a mixture of spices and coconut milk to an aromatic and velvety taste that keeps you wanting more n more. 
2 minPrep Time
20 minCook Time
22 minTotal Time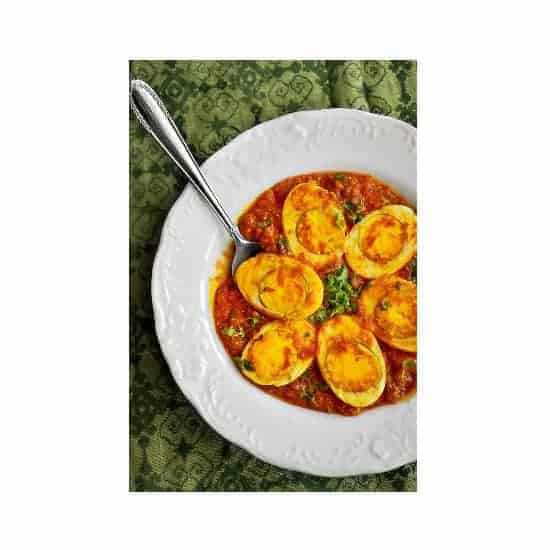 Ingredients
4 Boiled Eggs - shelled - you can use any variety
3 Medium Boiled Potatoes - taste best with yellow potatoes
1 Can Coconut Milk - Don't use the coconut milk in carton, this is made using canned milk
2 Large Onion - thinly chopped
1 Tbsp Ginger+Garlic Paste - i'm using fresh paste
Pinch of Sugar - optional
5 Tbsp Olive Oil
2 Tbsp Fresh Cilantro - chopped - for decoration
1 Tsp Coconut Flakes - for decoration
*** Whole Spices ***
1 Medium Cinnamon Stick
3 Green Cardamom
2 Black Cardamom
3 Cloves
*** Powdered Spices ***
1 Tsp Coriander Powder
2 Tsp Turmeric - 1 tsp is used to coat eggs+potatoes and 1 tsp for curry
1 Tsp Garam Masala
1 Tsp Red Chili Powder
Salt to taste
Instructions
In a medium bowl, add eggs, potatoes, pinch of salt, turmeric and 2-3 drops of water and then lightly mix everything together (coating eggs+potatoes)
Heat 2 tbsp of oil in a large frying pan and lightly saute eggs+potatoes to a golden color.
Remove and keep aside.
In the same pan, add all the whole spices and saute for half a minute on medium heat.
Add chopped onions to the spices, mix and cook covered for a minute.
To this, now add, ginger+garlic paste, all spices and keep sauteing on medium heat till mixture turns pink and the onions are slightly cooked.
Add coconut milk, mix everything together and cook covered on low heat for 5 minutes. (stirring in between).
Now, add the roasted eggs+potatoes, sugar, saute and cook covered for another 5 minutes.
Turn off the heat.
Transfer to a serving bowl.
Decorate with cilantro and coconut flakes.
Serve Hot.
7.8.1.2
81
http://www.easycookingwithmolly.com/2016/02/bengali-egg-curry-in-coconut-milk-dimer-malai-curry/
Here are the Old Pics from 2016