Easy Rosemary Olive Focaccia Bread is a rustic, delicious bread topped with jalapeno, onions, olive, rosemary for a quick filling bite. Serve it for breakfast or brunch.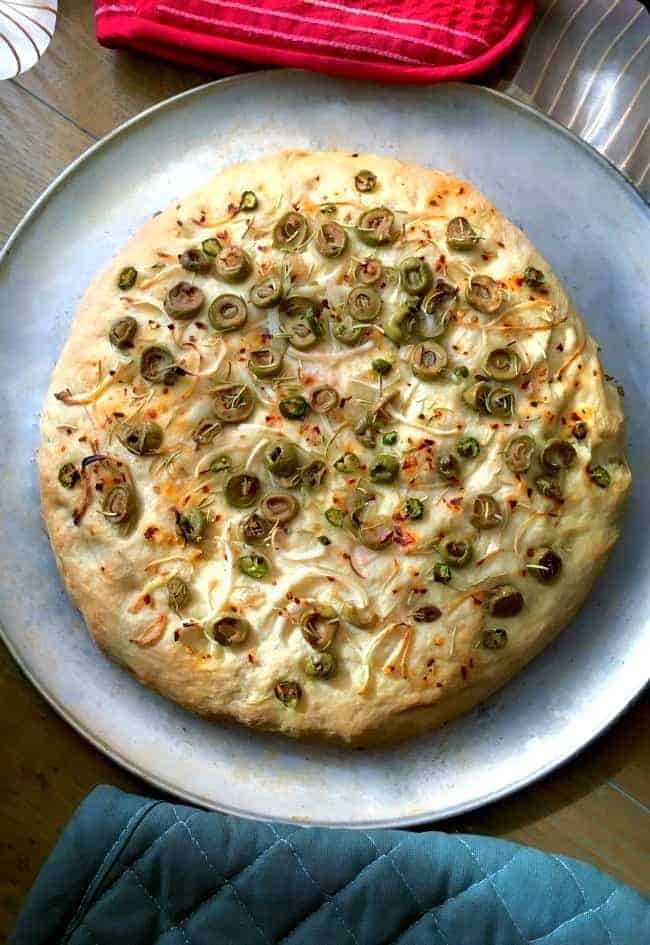 I love a freshly baked Focaccia and it actually brings out the 'bread monster' in me. Oh how can you resist that soft crunch and with these toppings, it's like biting into a pizza, so you may call it a two-in-one bread too.
This Rosemary Olive Focaccia Bread also the first bread that I ever baked and immediately fell in love with the fact that it's actually so simple to make. Baked in just 20 mins and you are good to go.
From my early food adventure days, I've always been very fond of baking but to bake a bread always scared me…I mean look at those bread we get at stores/coffee shop…who would think you can actually make them at home.
So one day, I found a recipe in one of those airports cookbooks that we buy in a random frenzy. Well….that didn't turn out to be as I expected (I wanted something simple yet tasty)….so after lot of permutation combination, this Rosemary Olive Focaccia Bread is the recipe that I can swear by.
I have made it soooo many times and every time, it gives me immense satisfaction. The baked bread is slightly crisp to touch but soft when you bite in and I always keep changing the topping.
The rosemary-olive is my goto combination on this bread and for this particular recipe, I'm adding onion, jalapeno to give it an almost pizza kind of taste.
If you actually make the dough thin and add some cheese ….. voila – you got yourself a freshly home baked pizza from scratch.
One thing, you should always keep in mind when making this bread is to let it completely cool before slicing or serving it.
As if it's not cooled properly, the texture or the slices would be uneven and mushy and I'm sure you definitely don't want that.
I serve it along with some light olive oil and balsamic vinegar but you can serve it as you want…..maybe with some hot tea or chilled wine….added cheese, the combination is endless.
I hope you give this simple recipe a try soon and do let me know how it turned out for you.
Have a Happy Weekend – Hugs, Molly 😉
---
As always, I Looove when you try my recipes and send me pictures & feedback. You can tag my recipes tried by you using #easycookingwithmolly on any of the social media below:
Connect with Me Here:  Facebook / Pinterest / Instagram / Twitter / Subscribe to our Newsletter / Google+
Yield: 1
Easy Rosemary Olive Focaccia Bread
Ingredients
4 Cups All Purpose Flour
1 Cup Whole Wheat Flour (You can swap with all purpose flour if need be)
1 2/3 cups Warm Water
1 packet (Approx. 2tsp) Rapid Rise Yeast
1 Tsp Honey (You can use sugar if need be)
2 Tsp Salt
1/2 Cup Olive Oil (You can use any light oil)
1 Tbsp Rosemary (Fresh or Dried)
Topping: (You can add or reduce any of these toppings as per choice)
1/2 Small Onion - Thinly sliced
1/2 Cup Olives
1/4 Cup Green Chilies - Thinly sliced
1 Tsp Red Chili Flakes
Instructions
Prep Work:
Preheat Oven to 425 F or 218 C
In a bowl, mix warm water, yeast and honey.
Cover and keep for 5-10 mins until foamy. (This step helps in forming a spongy bread).
Add both flours, salt in food processor (dough machine if using one) and pulse to mix.
Now add oil 3 tbsp oil and pulse again.
Finally add the foamy yeast mixture and form a smooth dough.
Transfer the dough to work surface (use extra flour if need be) and knead for a minute or until a smooth ball forms.
Pat the dough ball completely smooth & pinch any edges so that air cannot escape out.
Generously drizzle Olive Oil to coat the bottom of a large bowl/pan.
Place dough ball in bowl/pan and press to form a square or any shape (keeping it an inch thick)
Cover with wet kitchen towel and keep in a warm place for 1 to 11/2  hours to rise.
With your finger, gently make indentations one inch apart all over the dough.
In a small bowl, mix 2-3 Tbsp of Olive Oil with rosemary, onions, olives, red chili flakes and jalapeno.
Now spread this mixture evenly on the top of the risen dough.
Leave the dough for another 20 minutes for a final rise.
Bake Focaccia for 20 mins (Keep an eye on it towards the end – as oven temp varies).
Serve Hot (Can be stored in an airtight container in the fridge for a 2-3 days)