Instant Coconut Ladoo: is a popular Indian sweet recipe made using simple 3 ingredients and doesn't involve much cooking.
Instant Coconut Ladoo recipe makes 15 medium ladoo.
They can be stored in the fridge for 3 days or makes for a Perfect Diwali Sweets to gift/enjoy
I'm making these Instant Coconut Ladoo to celebrate Diwali – The Festival of Lights.
They are also known as 'Desiccated Coconut Ladoo recipe with condensed milk'.
Diwali is celebrated with lots of enthusiasm and various activities throughout the day from decorating the house with lights, streamers, flowers, making colorful Rangoli.
There's also lots of traditional + modern food that are cooked, parties and eventually closing the ceremony by eating dinner with loved ones and bursting crackers.
And off-course, this festival is incomplete without sweets – ranging from intricate Indian sweets/mithai's to real easy ones (Only MUST HAVE – they have to be YUMMYYY)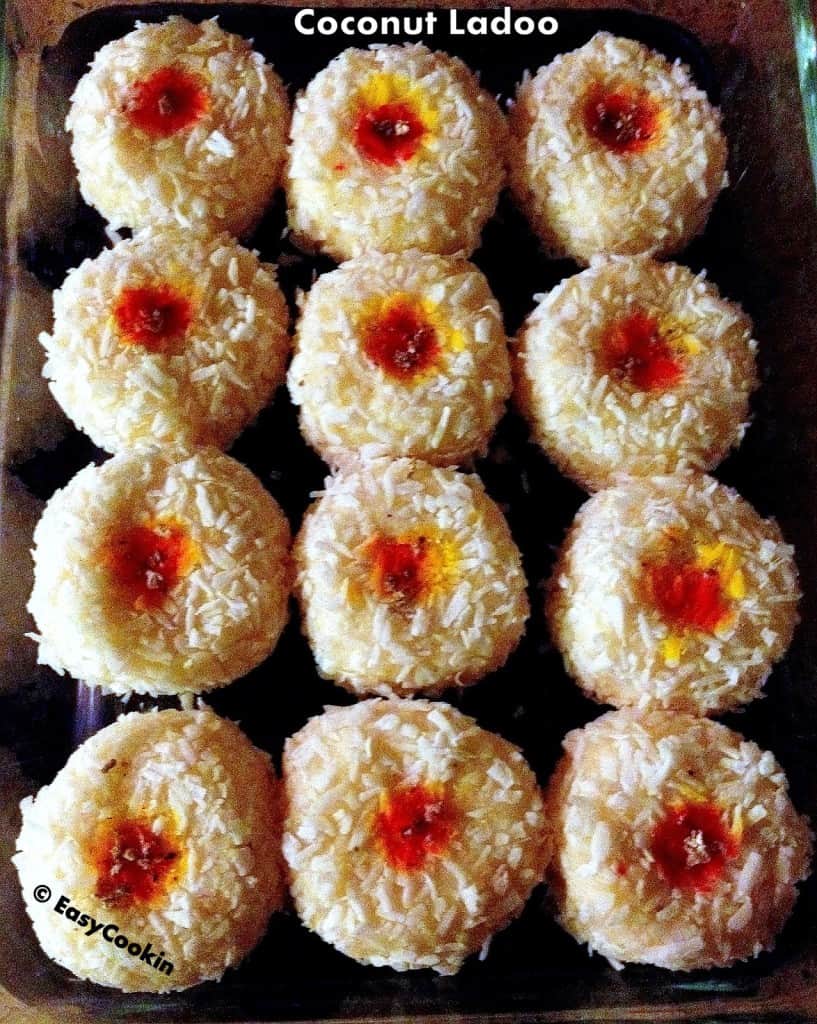 So this Diwali, I'm making these Instant Coconut Ladoo and wanted to share this super quick, simple but absolutely yummy recipe.
You can also call it a 3 IngredientsSweet that's ready in 10 minutes and needs the least cooking.
Also as we are using sweetened condensed milk, hence there's no need to add any extra sugar.
TIP:
Slightly toasting the desiccated coconut brings out an intense flavor. 
Greasing your hands while making Ladoo, will prevent the mixture from sticking to your hands.
Using an Ice-Cream Scoop to measure the size of ladoo, will result in even shaped/sized ladoo.
They also make an excellent sweet to gift in any Indian festival or for parties.
~*~*~*~ Wishing Everyone A Very Happy, Prosperous & Healthy Diwali ~*~*~*~
You May Also Like: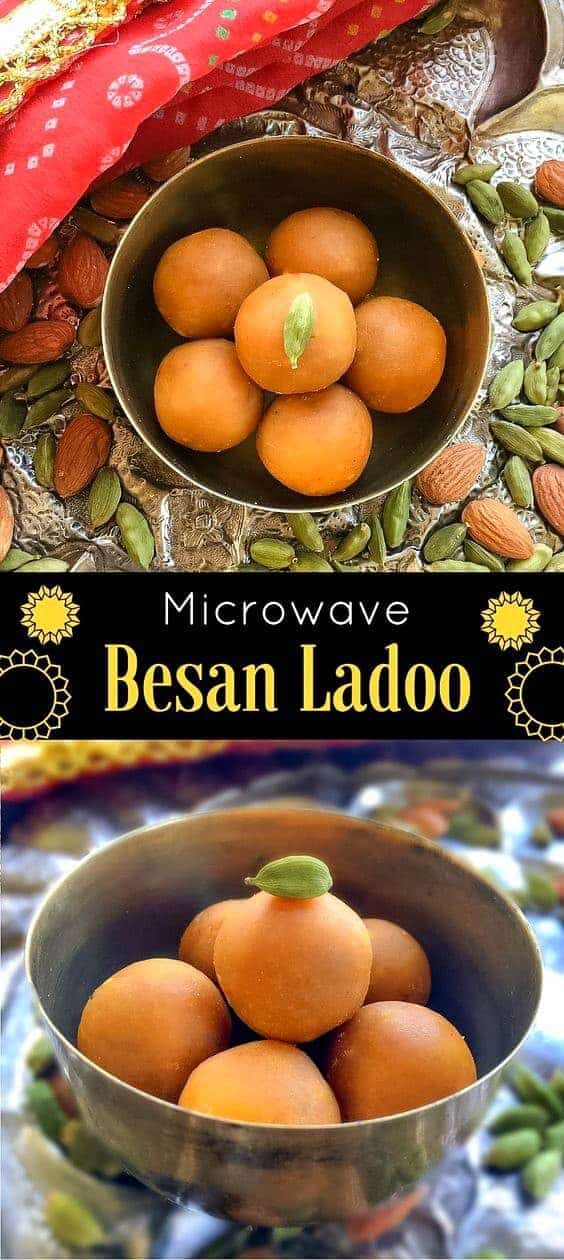 ---
DID YOU TRY MY RECIPE – AWESOME!!!
Now Quickly SNAP A PICTURE & TAG :
#easycookingwithmolly +  @easycookingwithmolly on Instagram –> As I Loooove to see you recreate my recipes.
Connect with Me Here:  Facebook / Pinterest / Instagram / Twitter / Subscribe to our Newsletter / Google+
Yield: 15 medium ladoo
Instant Coconut Ladoo
Instant Coconut Ladoo: is a popular Indian sweet recipe made using simple 3 ingredients and doesn't involve much cooking.
Ingredients
1 Can Condense Milk (14.Oz) – (I'm using the Fat Free condense milk, you may use any)
2 Cups Finely Shredded Coconut (Unsweetened)
1 Tsp Cardamom Powder
1 Tbsp Oil – For greasing your hands to make ladoo
Decoration - optional
1 Pinch of Saffron
3 Tbsp Warm Milk (For mixing saffron)
Instructions
Preparing the Ladoo Mix:
In a non-stick pan, toast the desiccated coconut over medium heat for 2-3 mins (Till the coconut become slightly golden in color). Let it cool completely.
Now add cardamom powder to the toasted coconut.
Empty the content of the condense milk can in a large bowl.
Add the cooled coconut and cardamom powder mixture to this bowl and using a spatula to mix the ingredients thoroughly. (Give it a taste, if you feel it's too sweet, add little more coconut)
In a serving dish, Using an ice-cream scoop, measure each ladoo size and keep aside.
Making the Ladoo Shape:
Now grease both your hands with 2-3 drops of oil and shape the pre-measured ladoo into a round shape. (Do this step till all the ladoo's are formed).
Decorate the Ladoo - optional
If using Saffron - Dip your finger in the saffron milk paste and print on each ladoo for a beautiful n festive color.
Serve fresh or this can be stored in an air-tight container in fridge for upto 3-4 days.
Nutrition Information
Serving Size
6-7 People
Amount Per Serving
Calories

257
Total Fat

20g
Saturated Fat

16g
Sodium

74mg
Carbohydrates

17g
Sugar

10g
Protein

6g