This post is sponsored by The National Frozen & Refrigerated Foods Association (NFRA). All opinions are my own. For more inspiration during #FrozenFoodMonth, be sure to check out delicious ideas from NFRA at EasyHomeMeals.com #MFFM2021
Rao's Made For Home Meatballs and Sauce : "frozen ready to eat", authentic Italian meal made using quality ingredients that's ready in minutes. It's extremely delicious and perfect for a cozy meal for two or a family.
Italian food is a family favorite at our house and I'm always looking at 'frozen/ready to eat' options especially for days when you crave them dearly but cannot cook.
Also, when I'm looking for 'ready to eat' meal options, the first criteria is always quality ingredients and authenticity.
That's exactly what I found in these 'Rao's Made For Home Meatballs and Sauce' which was love at first sight. I picked mine from the frozen aisle of our local grocery store.
One more thing I would like to mention, I have been using 'Rao's product' as they have an incredible range of authentic Italian food products.
Hence, I bought a couple of the 'Rao's Made For Home Family Size Frozen Meatballs and Sauce – 24oz'.
In fact, you should check them out too in the nearest grocery stores (available online too), also:
The taste of our legendary, irresistible Rao's® flavors has been around for more than 120 years.
They recently launched a new line of super-premium, authentically Italian Frozen Entrees.
They have no preservatives, no artificial colors or flavors, hence each of our meals delivers the classic Rao's® quality for you and your family at home.
Making the Rao's Made For Home Meatballs and Sauce:
The other thing I'm extremely conscious of while buying frozen entrees is 'cooking ease and time' and I must say both have been extremely easy peasy here.
The product comes packed in an 'oven safe' container that needs to be taken out of the carton.
Then just place the container in a preheated oven (instructions as per the product you are using)
In this case, it was 50 minutes in 375 F.
Once the time is completed, the meatballs are perfectly cooked.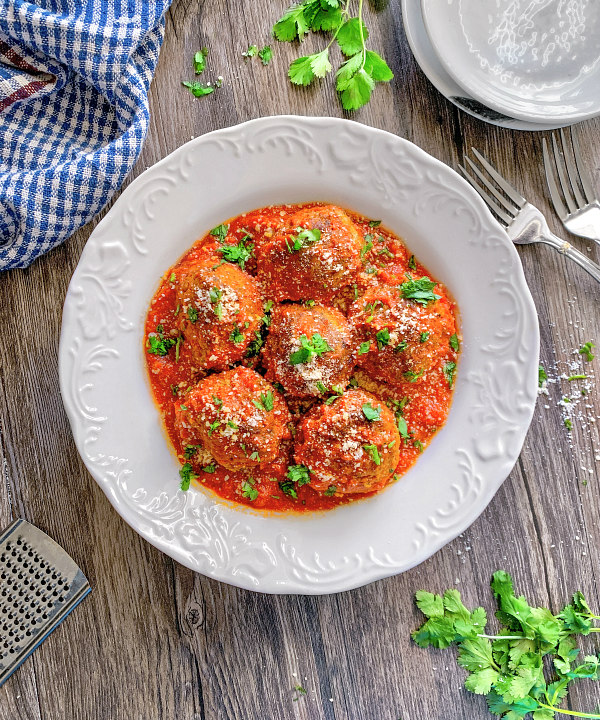 I simply transferred the heated meatballs and sauce to a serving dish and sprinkled some freshly grated cheese and thinly chopped cilantro.
Here are some suggestions that I love to pair Rao's Made For Home Meatballs and Sauce with:
Garlic Bread
Light Chopped Salad
Plain Spaghetti
Light Pasta
Dinner Rolls
Sliced Bread with warm butter
Quinoa Salad
Apart from this Rao's Made For Home Meatballs and Sauce, you can also find these products in the frozen section:
Rao's® frozen entrée options:
Rao's® Made For Home Lasagna with Meat Sauce
Rao's® Made For Home Chicken Parmesan
—
Tried Our Recipe – AWESOME!!!
Now Quickly SNAP A PICTURE & TAG :
#easycookingwithmolly + @easycookingwithmolly on Instagram –>
Connect with Me Here: Facebook / Pinterest / Instagram
Visit Easy Home Meals for great recipe and meal solutions and to enter the March Frozen Food Month Sweepstakes for a chance to win up to $10,000 in prizes!