"This post has been sponsored by Plugrá® Butter. All thoughts and opinions are my own." #bakenotbuy #betterbuttermatters

Pistachio Cranberry Orange Biscotti – buttery, crispy, and filled with flavors, these biscotti's are perfect with coffee/tea, make for a great anytime snack, and are the perfect holiday gift. This recipe is extremely easy and can be used as a base to make any flavored biscotti.
These 'Pistachio Cranberry Orange Biscotti' are what start the much-awaited holiday baking season for us. The smell of freshly baked biscotti, served with coffee, is absolutely heavenly!!
Also, I'm a firm believer in "bake not buy" holiday food gifts, as nothing compares to gifts made with love and care as they truly signify how special the person is for whom we made them 🙂
And to make this biscotti and all the holiday dishes that call for butter, I only trust Plugrá® Butter.
It's been a family favorite for ages and adds so much flavor and depth to all our favorite sweet and savory dishes.
They are also known as: Cranberry Biscotti, Pistachio Cranberry Biscotti, or Orange Biscotti
Ingredients for The Pistachio Cranberry Orange Biscotti:
The ingredients are absolutely simple and can be easily found in most of our kitchens/pantries:
All-Purpose Flour – the fresher the better
Butter
Eggs
Sugar
Baking Powder
Cranberry
Pistachio
Orange
Before we discuss the biscotti process, I would also like to tell you why I choose this recipe to begin my holiday baking.
We all love biscotti at my place, but we always thought that the buttery, crunchy, golden deliciousness that we get from the bakeries must be so hard to make. Hence, for many years, I never tried making it.
But then one day, I tried making a simple biscotti at home with whatever ingredients I had and the result was not that great…but one thing stuck: I HAVE to perfect the recipe!
In that quest, I tried a couple of more biscotti recipes with lots of different combinations—but it always lacked that 'buttery-crunchy' texture that tastes so fresh every time… This kept on going until I discovered Plugrá® Butter.
Using Plugrá® Unsalted Butter not only made the texture crunchy but with every bite, you could taste the real butter flavors. Here are some of the reasons why Plugrá® Butter is my go-to choice:
Extra creamy because it's slow churned
Always fresh; crafted without artificial ingredients or added hormones
Official butter of the New York James Beard House and the French Pastry School
Made in America
Process to Make the Pistachio Cranberry Orange Biscotti
Now that we've got all the ingredients we need, let's discuss the step-by-step biscotti process. As mentioned above, you can use this recipe to make any other flavored biscotti too:
We start by whisking eggs.
Then, we add butter and sugar and whisk everything to a smooth consistency.
Then, we whisk the flour
Add pistachio, cranberry and orange.
Mix everything and form a smooth dough.
Once the dough is made, sprinkle some flour over a kitchen counter and transfer the dough on it.
Then, smooth the dough for 2 minutes. This helps remove any cracks in the dough and makes it more pliable.
Then, I divide the dough into two equal parts and shape them into a log.
Pat the dough with any remaining dry flour, and transfer into a parchment paper-lined/oiled baking tray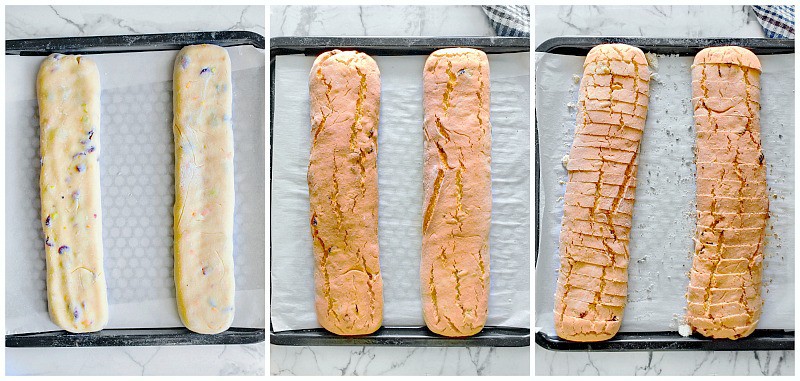 Bake the logs for 30 minutes at 350F.
After 30 minutes, remove the logs from the oven and let them cool to touch (takes about 7-10 minutes).
Using a sharp knife, slice them as thick or thin you like (I keep them slightly bigger than a slice of bread).
Cut both the logs and place the sliced pieces on the same baking tray (as shown below). You might need 2 trays or do this process with as many pieces as 1 tray fits and then do the remaining slices.
Bake for 5 minutes at 275F. Then, turn the slices and bake the other side too.
Once all the slices are baked, cool them completely.
Once cooled, serve as desired or store in containers for later use.
I found all the Biscotti ingredients, including Plugrá® Butter, at my local Safeway.
What's even more convenient is that you can check out Safeway deals/products in the easy Safeway Mobile App.
Be sure to download the app so you can save $1 on Plugrá® Butter during your next trip.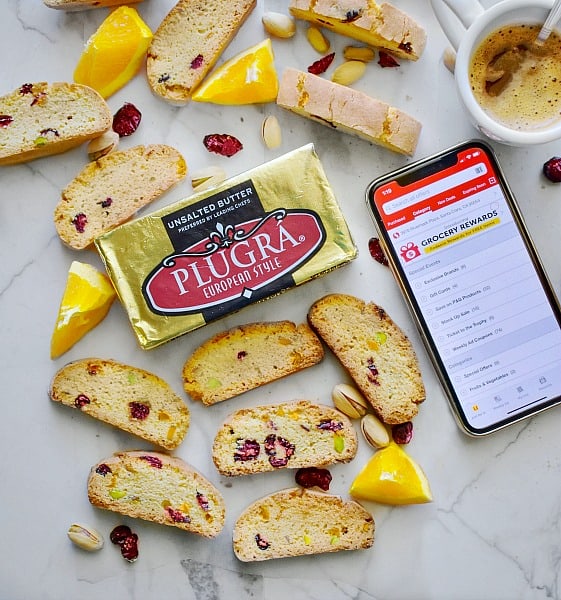 Tips for the Perfect Biscotti Every Time (any flavor)
These are my tried-and-tested tips/tricks for baking goodies:
Fresh Flour: the fresher the flour, the better.
Baking Powder: the fresher, the better. This also helps in better crust formation.
Eggs need to be room temperature (same goes for most baking dessert dishes)
Butter, I like to either use room temperature or melted butter
Form a smooth, pliable dough—making sure there are no lumps or scratches in the dough.
Smooth dough = smooth texture
Slice the biscotti when it's lukewarm to touch and use a sharp knife.
DO NOT cut thin slices as they crumble more and you want a nice chunky bite.
Keep an eye on the twice baking process as the biscotti burn really quick. So, keep the temperature low and stay close to check on them.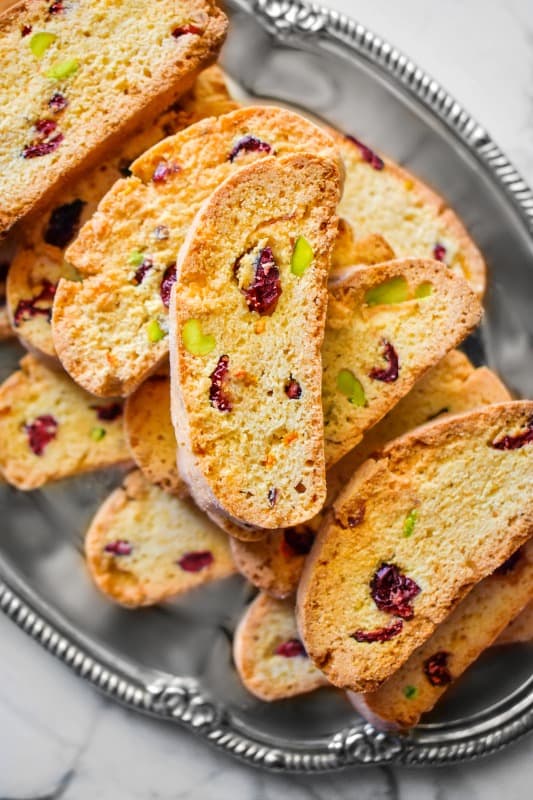 Storing the Pistachio Cranberry Orange Biscotti
Let the biscotti completely cool before serving or storing as this helps them stay crunchy.
Always store biscotti in a clean, air-tight container to prevent them from being soggy or spoilt. If stored properly, they can last for a month or two.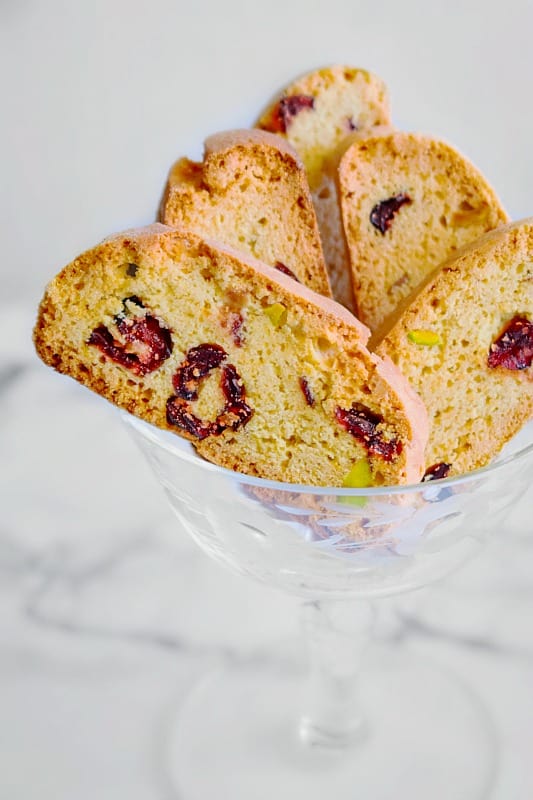 So, this holiday season, get Plugrá® Butter and make these Pistachio Cranberry Orange Biscotti to surprise your loved ones.
If you plan to give them as gifts, just place them in any nice holiday-inspired gift boxes or even cups.
Wrap with cling wrap or colorful sheets and tie a ribbon on top.
They also make a great office or school gifts, too.
—————
Tried our recipe – AWESOME!!!
Now, quickly SNAP A PICTURE & TAG :
#easycookingwithmolly + @easycookingwithmolly on Instagram –>
Connect with Me Here: Facebook / Pinterest / Instagram
:: You May Also Like ::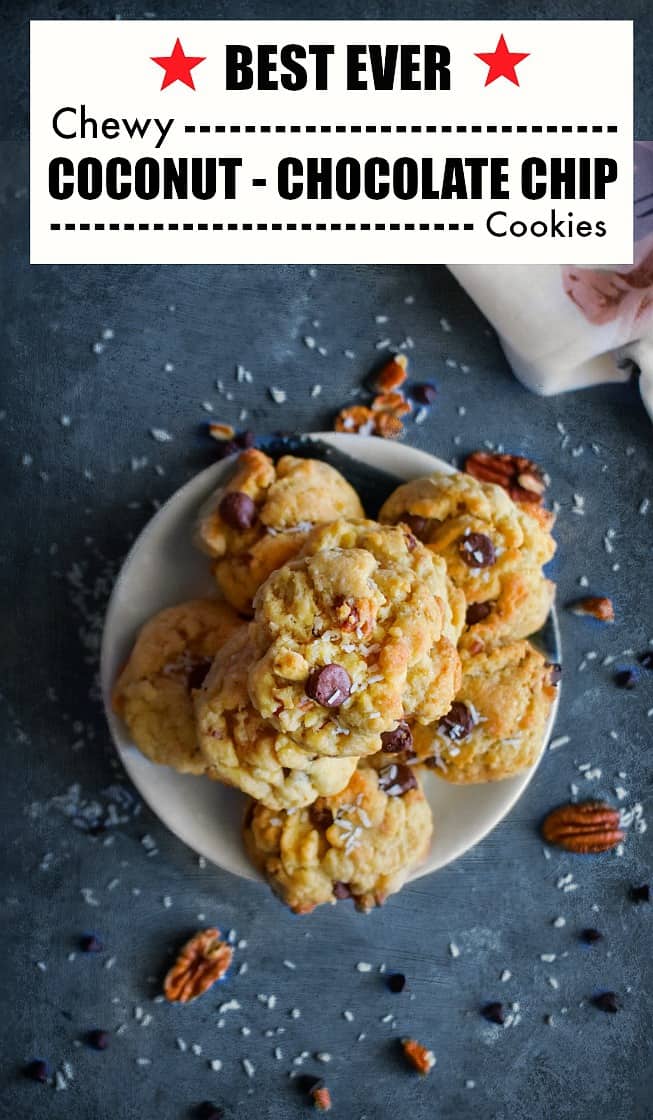 Yield: 24 Medium Biscotti
Pistachio Cranberry Orange Biscotti - Video Recipe #cranberrybiscotti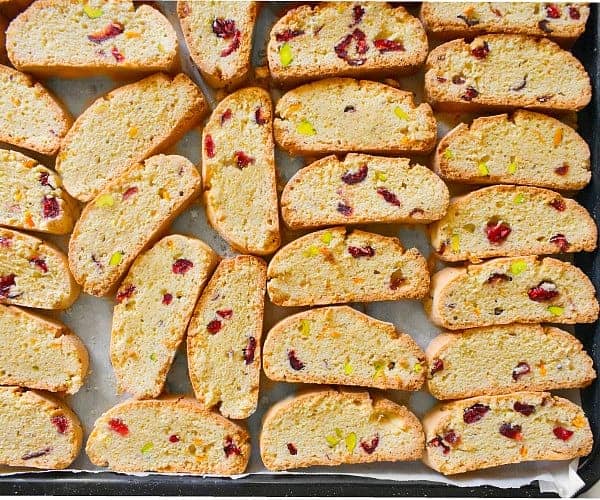 Pistachio Cranberry Orange Biscotti (Video) - buttery, crispy, and filled with flavors, these biscotti's are perfect with coffee/tea, make for a great anytime snack, and are the perfect holiday gift.
Total Time
1 hour
10 minutes
Ingredients
1/3 cup Unsalted Plugrá® Butter, melted
3 cups all-purpose flour
1/2 Cup dried cranberries
1/2 Cup pistachio, roughly chopped
3 tbsp orange zest or thinly sliced orange peel (without the white part)
2 tsp baking powder
1 cup sugar
2 large eggs
1 tsp orange extract
1/2 tsp salt
Instructions
Prep-Work:
Preheat oven to 350 degrees F.
Line a baking sheet with parchment paper or aluminum foil and set aside.
How to Make Pistachio Cranberry Orange Biscotti:
In a large bowl, whisk together the all-purpose flour, baking powder, and salt. Keep aside.
In another large bowl, whisk eggs for a monte (extremely frothy).
Then add the melted unsalted Plugrá® Butter, and sugar.
Whisk together for another minute or until well combined.
Now add 1/2 of the flour mixture and whisk on the lowest setting if using hand blender.
Add 1/2 of the chopped cranberries, pistachio and orange zest. Whisk nicely until well combined.
Add the remaining flour mixture, cranberries, pistachio and orange zest. Whisk everything till nicely incorporated.
On a lightly floured surface divide the biscotti dough in two equal parts and knead it for a minute each (to smoothen any lines or cracks in dough).
Lightly dust your hands with flour and take each divided portion and form it into a log shape (smoothening any lines - this helps prevent cracks in biscotti).
Transfer both the logs to the lined baking sheet.
Bake for 25 minutes or until the logs are a light golden color. They would have a firm crust.
Remove the baking tray after 25 minutes and let the logs cool to touch (7-8 minutes).
Once cooled, slice each log crosswise into 3/4 inch pieces (or as thick/thin you desire).
Place the sliced biscotti upright on the baking sheet and return to the oven for the second bake.
Reduce the oven temperature to 275 degrees F and bake for 10 minutes.
After 10 minutes, flip the biscotti and bake another 5 minutes. (this results in crispier biscotti).
Once double-baked, remove the tray from the oven and let all the biscotti cool completely before storing or serving.
Nutrition Information:
Yield:
7
Serving Size:
1
Amount Per Serving:
Calories:

290
Total Fat:

15g
Saturated Fat:

7g
Trans Fat:

0g
Unsaturated Fat:

7g
Cholesterol:

50mg
Sodium:

215mg
Carbohydrates:

83g
Fiber:

3g
Sugar:

38g
Protein:

9g