Vegan Cauliflower Tikka Masala Recipe: cauliflower cooked in coconut milk and cashew paste along with Indian spices to form an absolutely aromatic and saucy dish. Light version & cooks in 20 minutes.
Finally, it's Friday and with the slight nip in the air, we have been making craving warm curries/stews, so here comes our Vegan Cauliflower Tikka Masala Recipe.
This one is a keeper for days when you are in a hurry or even too lazy to cook….it's not the thick gravy version but a quick sauteed and ready in 20 minutes recipe.
And the BEST part, the taste is absolutely Ahhhhmaaazing !!!!
Ingredients for Vegan Cauliflower Tikka Masala:
Cauliflower (Gobi)
Coconut Milk
Cashews
Onion – chopped
Diced Tomato or Small Tomatoes
Tomato Sauce
Sweetener of Choice
Olive Oil
Cilantro Leaves
Indian Spices: turmeric, garam masala, salt, chili powder
Kasuri Methi (Dry Fenugreek Leaves)
It's what I call Modern meets Traditional food, as the original recipe takes longer to cook and uses tons of butter, cream, and yogurt.
But this Modern or Fusion one uses a combination of Coconut Milk (canned variety) + few Cashews.
Also, before we go further, have you ever thought what makes 'Tikka Masala' that popular or distinctive in taste other than cream?
The answer is 'Kasuri Methi or Dry Fenugreek Leaves'!
They are an extremely aromatic Indian herb who's fresh leaves are hand-plucked and then dried carefully (restoring the amazing aroma).
You need to open the packet to smell that aromatic herb whiff that escapes everytime you might peek into the packet/box 🙂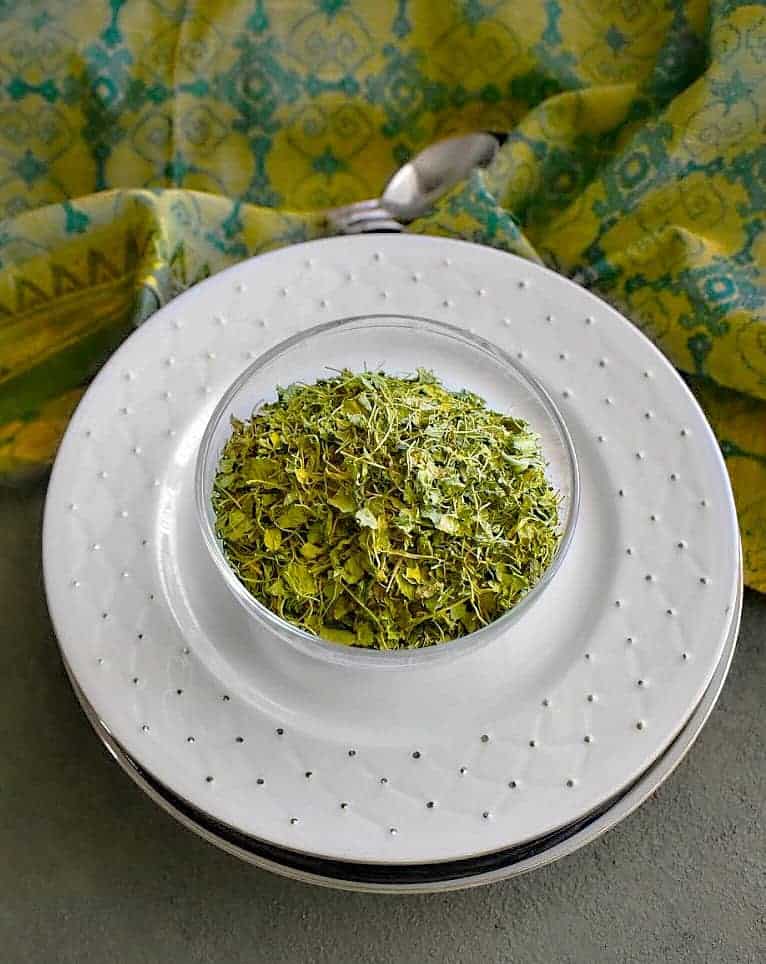 Given above is a picture of a store-bought 'Kasuri Methi'.
Always check the packaged date as the nearest ones would give you much aromatic and greener dried leaves.
A tablespoon of this aromatic herbs changes the whole taste.
It not only makes the dish aromatic but gives it this smokey taste.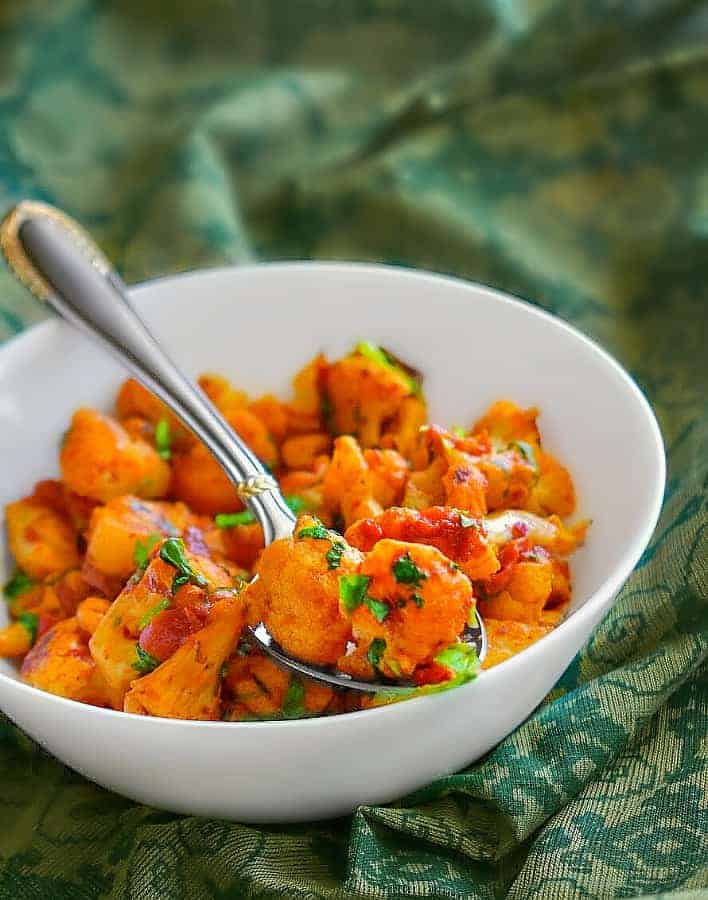 I've been cooking this version of Vegan Cauliflower Tikka Masala Recipe for ages now.
It's not only a simple and easy recipe to make but is loved by everyone at home from adults to even kids.
Infact, my friend's daughter loves eating this with a bowl of steamed rice. So you can also call it a perfect weeknight family dinner recipe too.
Also, the colors are simply gorgeous and as we inch closer to fall, the demand for this Vegan Cauliflower Tikka Masala goes even more 😉
It's a PURE comfortfood bliss and you can even #mealprep with it.
Simply divide boxes with half of this and some steamed rice or other grains and you got yourself an easy-delicious meal any time of the day.
Tried Our Recipe – AWESOME!!!
Now Quickly SNAP A PICTURE & TAG :
#easycookingwithmolly + @easycookingwithmolly on Instagram –>
Connect with Me Here: Facebook / Pinterest / Instagram / Twitter
:: You May Also Like ::
Yield: 4 People
Vegan Cauliflower Tikka Masala Recipe
Vegan Cauliflower Tikka Masala Recipe: cauliflower cooked in creamy coconut milk and cashew paste along with Indian spices. #cauliflowertikkamasala
Ingredients
1 Cauliflower head - cut into bite-size florets
1 Cup Coconut Milk
8-9 Roasted Cashews or 1 Tbsp Cashew Butter
1 Tsp Ginger+Garlic Paste
1 Medium Onion - chopped
1 Small Can Diced Tomato or use 2 small tomatoes
1 Tbsp Tomato Sauce
1/2 Tbsp Sweetener of Choice
4 Tbsp Olive Oil - or any light flavorless oil
Cilantro Leaves - chopped for decoration
Spices:
1 Bay Leaf
3 Green Cardamoms - crushed into a fine powder
2 Cloves - crushed into fine powder
1/2 Tsp Turmeric Powder
1/2 Tsp Chili Powder
1 Tbsp Kasuri Methi - Dry Fenugreek Leaves available in any Indian store.
1/2 Tsp Garam Masala
Salt to taste
Instructions
Make the Curry/Gravy Paste:
Add onion, tomato, ginger+garlic, cashews and make a smooth paste.
Cook the Cauliflower:
Heat 1 tbsp olive oil in a non-stick pan.
Add cauliflower florets in the pan and saute for 2-3 minutes or till lightly golden & cooked.
Remove from pan and keep aside.
Making the Vegan Cauliflower Tikka Masala :
In the same pan, heat 3 tbsp of oil for a minute.
Add bay leaf, curry paste, tomato sauce and saute for another minute (medium flame).
Now add the turmeric, salt, chili powder, cardamom powder, clove powder and saute.
Lower the flame, cover the pan and let this cook for 3-4 minutes (saute every minute) (This ensures the onions along with other ingredients are properly cooked).
Once the curry paste is cooked, add coconut milk and saute.
Let this simmer for 2-3 minutes over lower heat. (You'd see the gravy thickening up and imparting a pretty orange color).
Now, add kasuri methi, garam masala, 1/4 cup water and saute.
Finally, add cooked cauliflower florets and mix everything.
Let this simmer on medium heat for 2-3 minutes and then turn off the heat.
Transfer to a serving bowl and sprinkle chopped cilantro leaves on top.
Serve hot with choice of side
Notes
Cauliflower head - you may buy the store-bought chopped variety too
Tomato Sauce - vegan or regular incase not vegan
Coconut Milk - I'm using coconut can and not carton
Sweetener - use any as per choice like sugar, honey, maple syrup, etc
Nutrition Information:
Yield:
4
Serving Size:
2
Amount Per Serving:
Calories:

200
Total Fat:

39g
Saturated Fat:

19g
Trans Fat:

0g
Unsaturated Fat:

18g
Cholesterol:

0mg
Sodium:

287mg
Carbohydrates:

31g
Fiber:

8g
Sugar:

17g
Protein:

7g