Puffed Crostata filled with a delicious buttery center filled with the Honey-Apple-Oats mix. This recipe is made using storebought Biscuit Dough. Breakfast Apple Crostata Recipe Perfect Family Breakfast!
There's nothing better than sharing time with loved ones and this weekend we did just that along with these Breakfast Apple Crostata Recipe !
My family love desserts for breakfast and every once in a while, we all literally make it a point to be in the kitchen together and make something.
More than the helping hands, I love the energy we all bring to my tiny kitchen…. lots of laughter, a little bit of scattered stuff and tons of chatter.
That's exactly what I envision a fun family weekend.
And with this Breakfast Apple Crostata Recipe, that's exactly what happens. Not everyone at home loves to cook/bake or even chop but we love being around each other.
If that's not enough, We ALL Love Good Food and with the start of apple season, I decided to make this individual crostata for breakfast.
Since everyone wanted to do their part, I also thought why not keep it Semi-Homemade.
I could have made the dough but seriously the frozen store-bought biscuit doughs are so EASY & Perfect for a Rustic Crust.
So, you can see all the recipe ingredients above, it's extremely simple and one thing we did was added honey instead of sugar (but you can use sugar or any other sweetener).
Before we go ahead, for anyone who wants to know – Crostata is an Italian baked pie/tart or also popularly known for it's rustic, free-form, fruit-filled tart.
It can be both savory or sweet but we looooooove it sweet, so why not start with these Breakfast Apple Crostata Recipe 🙂
I'm calling it a 'Breakfast Apple Costata' because apart from fresh juicy apple, I'm also using an oats crumble filling.
The filling is not like the usual heavy or buttery crumbles but extremely light.
You don't have to marinate or wait for anything. Just mix, toss and bake.

My favorite part was folding the crostata dough and slathering it with a coating of egg for that extra golden + crisp finish (once baked).
Within 5-6 minutes of baking, your kitchen will be filled with this sweet mild scent of apples+cinnamon.
That smell literally makes us so hungry that we are ready to pounce on the Breakfast Apple Crostata as soon as they come out of the oven (15 minutes total baking time).
Oh and I baked ALL 4 Crostata at the same time cause who wants to be second 😉 everyone wanted that first batch.
Once the Crostata is on the table, I simply add some fresh whipped cream and some honey on top.
That is exactly how much we could wait. But you can add any other topping too.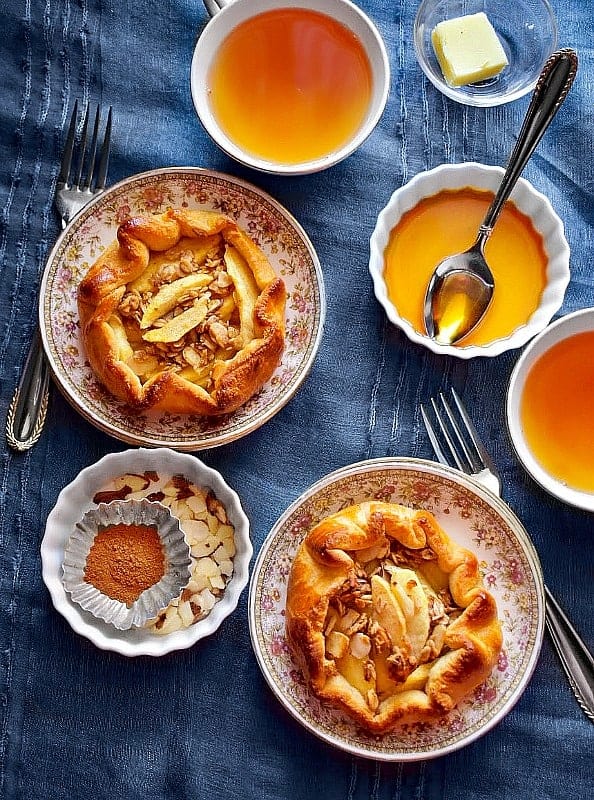 Infact, these also make a great Breakfast or Dessert when you have friends or even for a large gathering.
So go ahead and give them a try ASAP and let me know How you Felt ?
:: You May Also Like ::
---
Tried Our Recipe – AWESOME!!!
Now Quickly SNAP A PICTURE & TAG :
#easycookingwithmolly + @easycookingwithmolly
Connect with Me Here: Facebook / Pinterest / Instagram
Yield: 4 Crostata
Breakfast Apple Crostata Recipe
Breakfast Apple Crostata Recipe: Puffed Crostata filled with a delicious buttery center filled with Honey-Apple-Oats mix. Made using Biscuit Dough
Ingredients
4 Biscuit Dough
2 Tsp Honey
2 Medium Apples - peeled, cored & sliced
1/4 Cup Oats
1 Tbsp Butter
1/2 Tsp Cinnamon Powder
2 Tbsp Flour 
1 Egg - whipped for brushing crostata
Whipped Cream - for topping
Instructions
Preheat the oven at 375 C
In a bowl add sliced apples, cinnamon powder, 2 Tbsp honey and mix using spoon.
In another bowl, add oats, butter, flour and mix.
Take each dough and roll them into a disc.
Add sliced apple mix on the dough leaving the edges.
Add 2 Tbsp Oats Mix.
Fold the dough from the edges towards the center.
Place on baking tray and brush the crostata with egg wash.
Place in oven and bake for 10-12 Minutes (until golden brown)
Remove from oven and place on serving plates.
Add whipped cream and drizzle some honey on top.
Serve immediately and enjoy.
Nutrition Information:
Yield:
4
Serving Size:
1
Amount Per Serving:
Calories:

291
Total Fat:

7g
Saturated Fat:

3g
Trans Fat:

1g
Unsaturated Fat:

2g
Cholesterol:

55mg
Sodium:

354mg
Carbohydrates:

53g
Fiber:

4g
Sugar:

15g
Protein:

7g