Sauteed Asparagus in White Wine Sauce: 10 minutes recipe of asparagus in a spicy, lemony, garlicky and buttery white wine sauce. It's a perfect side dish for any of your parties.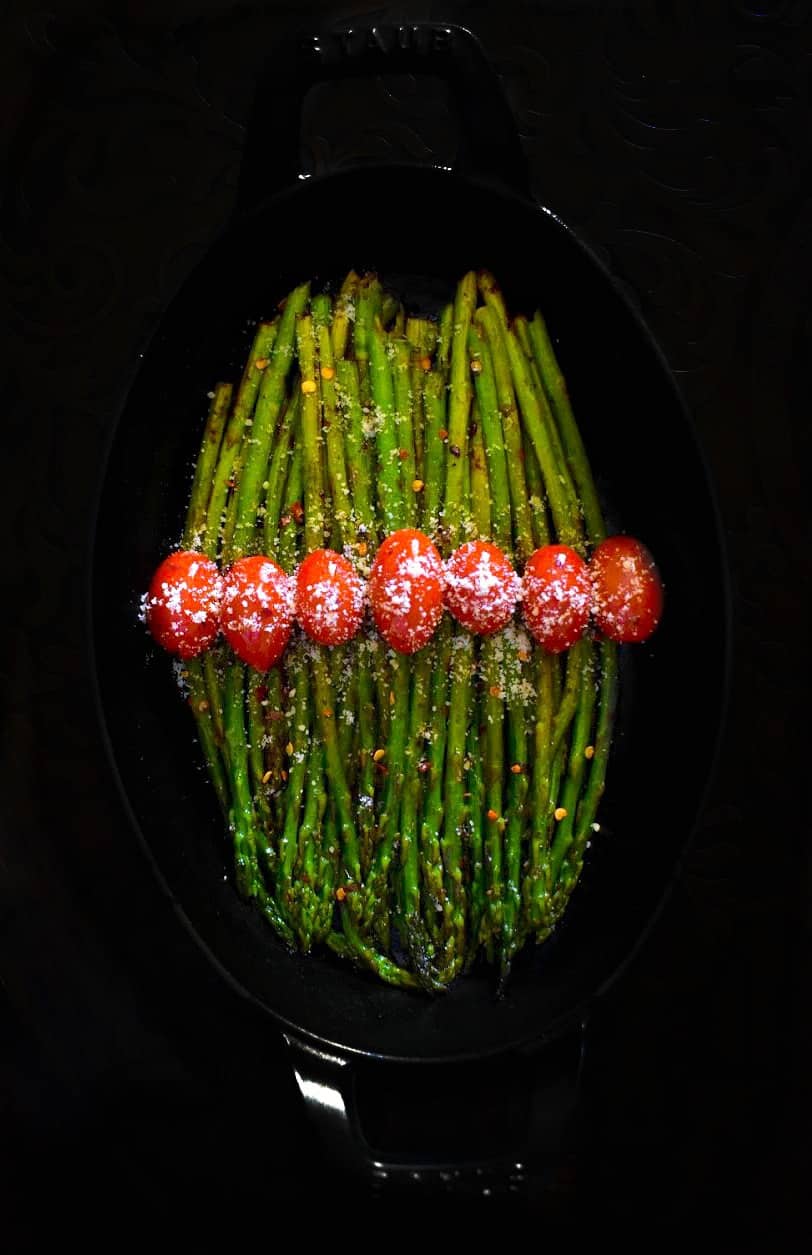 Sauteed Asparagus in White Wine Sauce is my favorite Springtime recipe and once you try it, you'd be a fan too!
Spring has finally arrived in California after an extremely rainy, cloudy and moody last month, that also means frequent trips to the farmers market for the spring bounty.
Now as much as we love getting fresh fruits-vegetables, we also hate wasting them or the money.
But many times due to less consumption or not proper storage, we end up wasting some of it!
Do you know that an average household wastes 1300 pounds of food per year – up to $1500 in waste – Surprised (Me too) But that's the sad and scary fact !!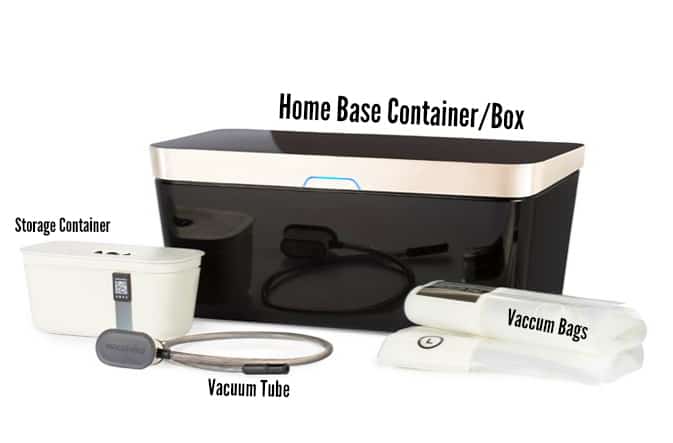 So, this year, we decided to hold on to buy any fresh produce unless we literally finish the last ones at home.
We were also looking at other ways to save on food+money waste and thankfully we found 'Vacuvita® – One Touch Storage System'.
The first of its kind vacuum and food storage system or you can call it a modern day, high tech, connected bread box.
It stores food in an eye-catching container, the Home Base, and vacuum seal bags to keep it fresher longer (Picture above).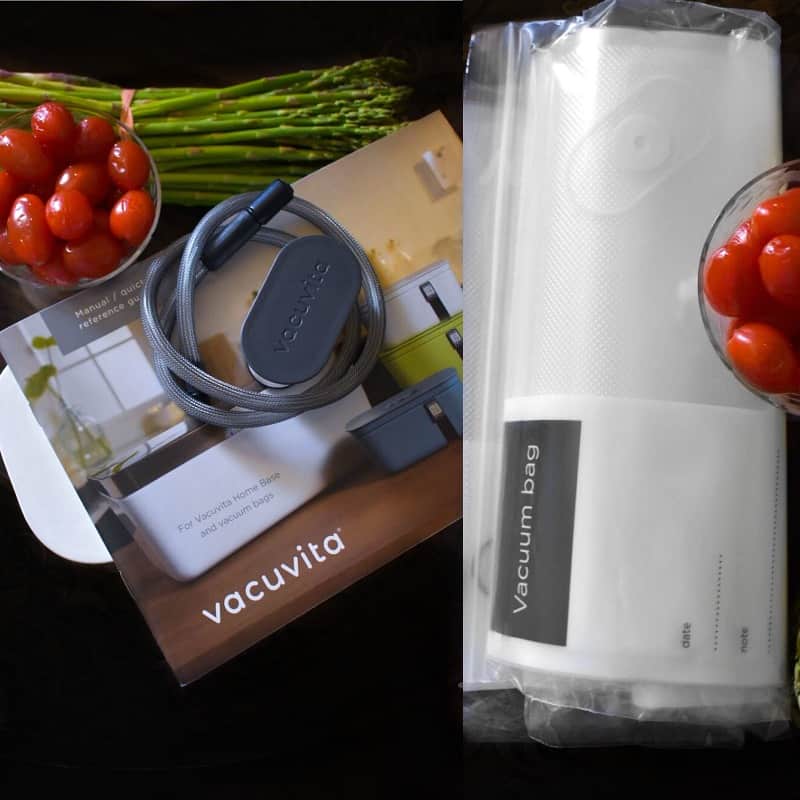 So I could finally visit our farmers market and we bought tons of fresh produce and almost 3 pounds of thin stemmed asparagus, which we absolutely love!
Once home, I quickly cleaned them, snapped the hard ones from the bottom and waited for it to dry.
Once dried, I placed them in one of the large vacuum seal bag and sealed it completely using the vacuum tube connected to the home-base box.
So, the asparagus is completely sealed (no-air at all) and I placed it in the freezer for later use during the month.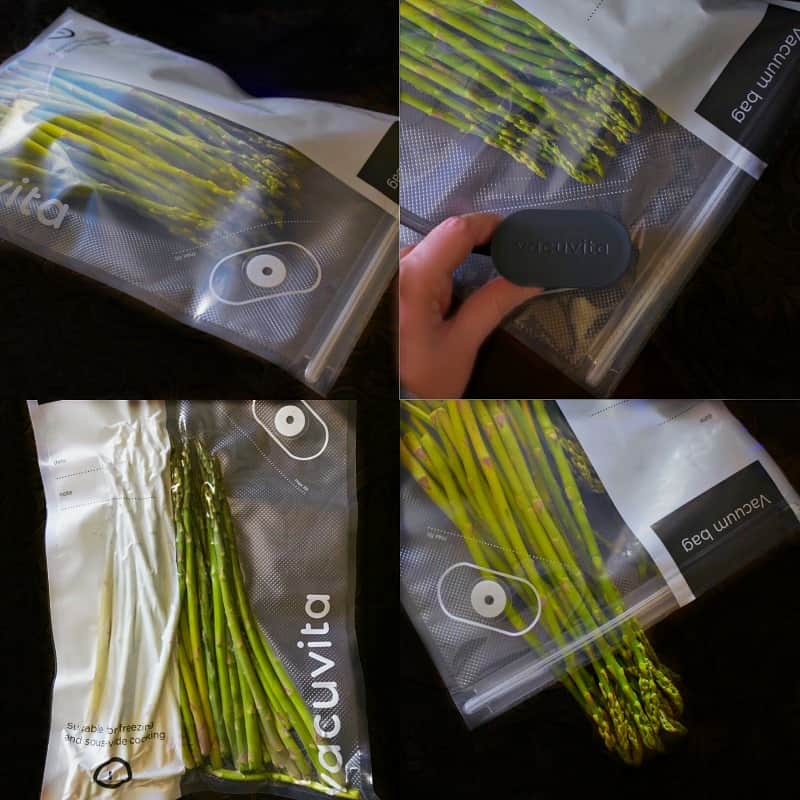 Also, you don't have to worry about the quality or color of the produce once sealed.
The moment you open the vacuum sealed bags, the products come out as fresh as the day you packed.
Basically, the system sucks out all the air and stops any further deterioration.
Vacuvita® just doesn't stop there but they also developed an app tailored to its system to keep track of everything you have stored and then send reminders of when it will expire.
You can use the pre-set reminders or set your own – This for me was the Game-Changer in saving food and stretching our dollar further.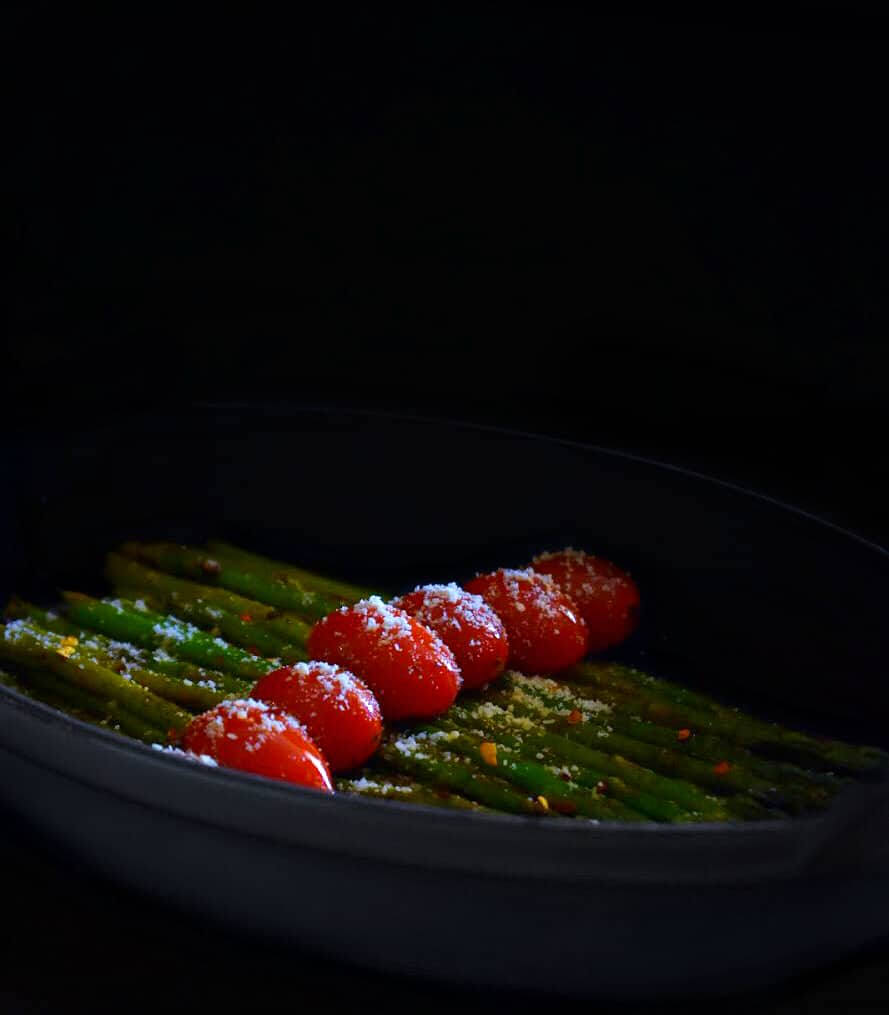 Now, coming back to our glorious Sauteed Asparagus in White Wine Sauce.
I decided to make this delicious side dish to accompany this Quick and Skinny Broccoli Kale Pasta Bake.
This combination of creamy pasta with a lemony-buttery-spicy sauteed asparagus is absolute perfection.
Seriously, Weeknight Dinner cannot get easier and tastier than this.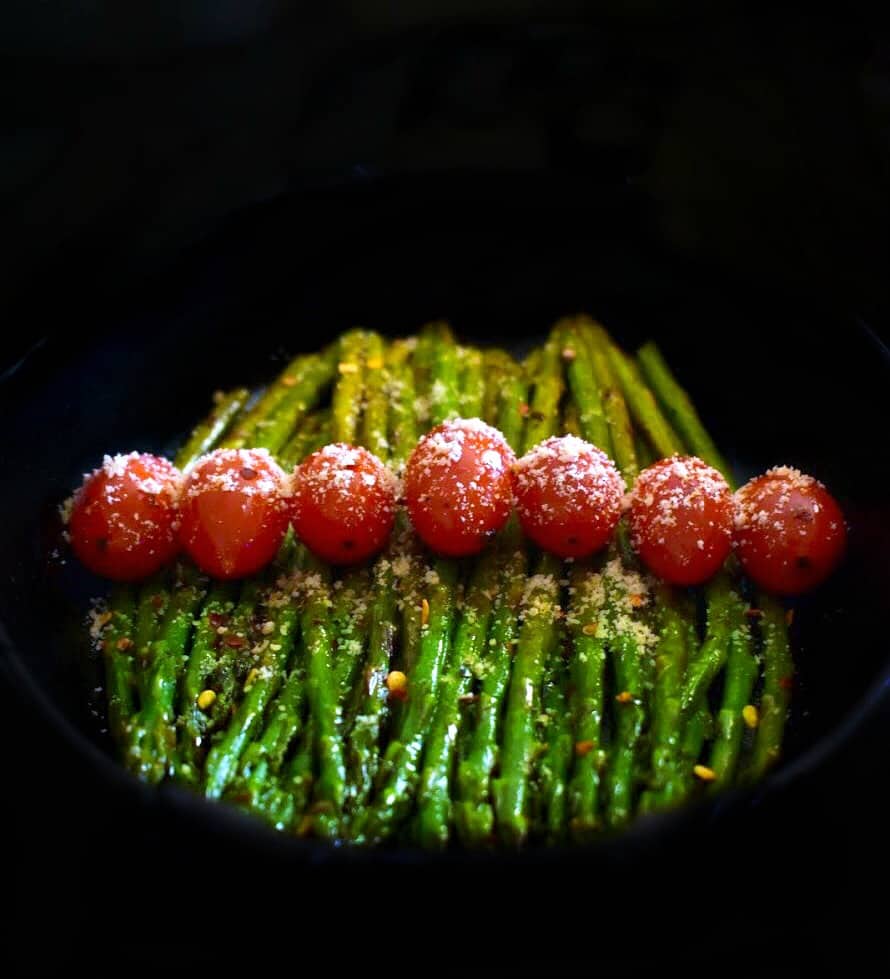 For our Sauteed Asparagus in White Wine Sauce, you don't need many ingredients but few basic ones along with a good dry white wine.
What you can also do, is make this wine sauce and keep it in the fridge for later use.
Just unseal the vacuum-packed asparagus and make this dish in less than 10 minutes.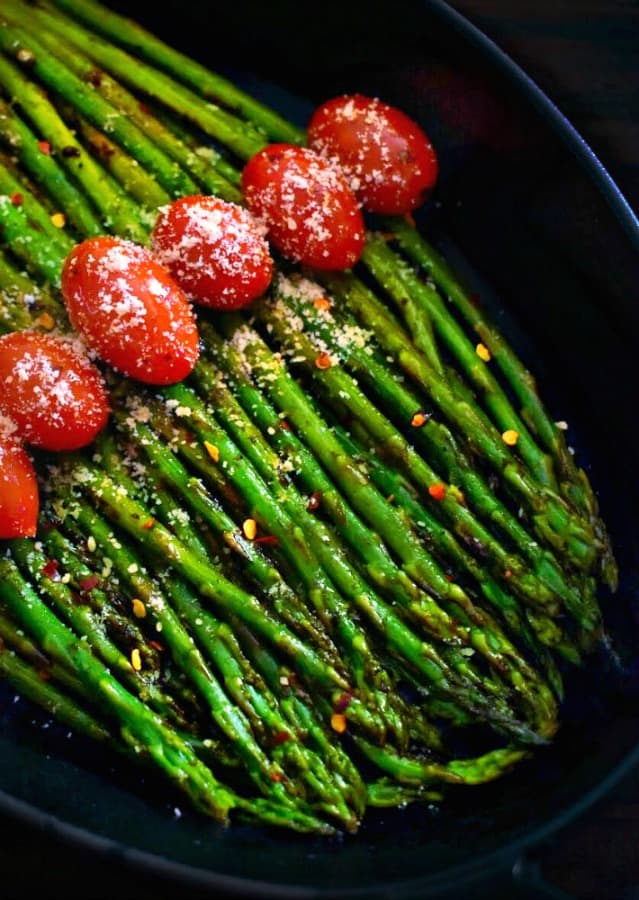 Now, you can definitely make this recipe without adding the spice or red pepper flakes.
But trust me that surprise kick of heat from the peppers in this lemony-buttery sauce adds such a delicious flavor that you'd want more n more of it.
Infact, many of our friends who had been having butter sauteed asparagus, have turned die-hard fans of this spicy white wine sauce with asparagus.
They literally feel offended if I give them plain butter sauce now – talk about spoiling friends/family 😉 !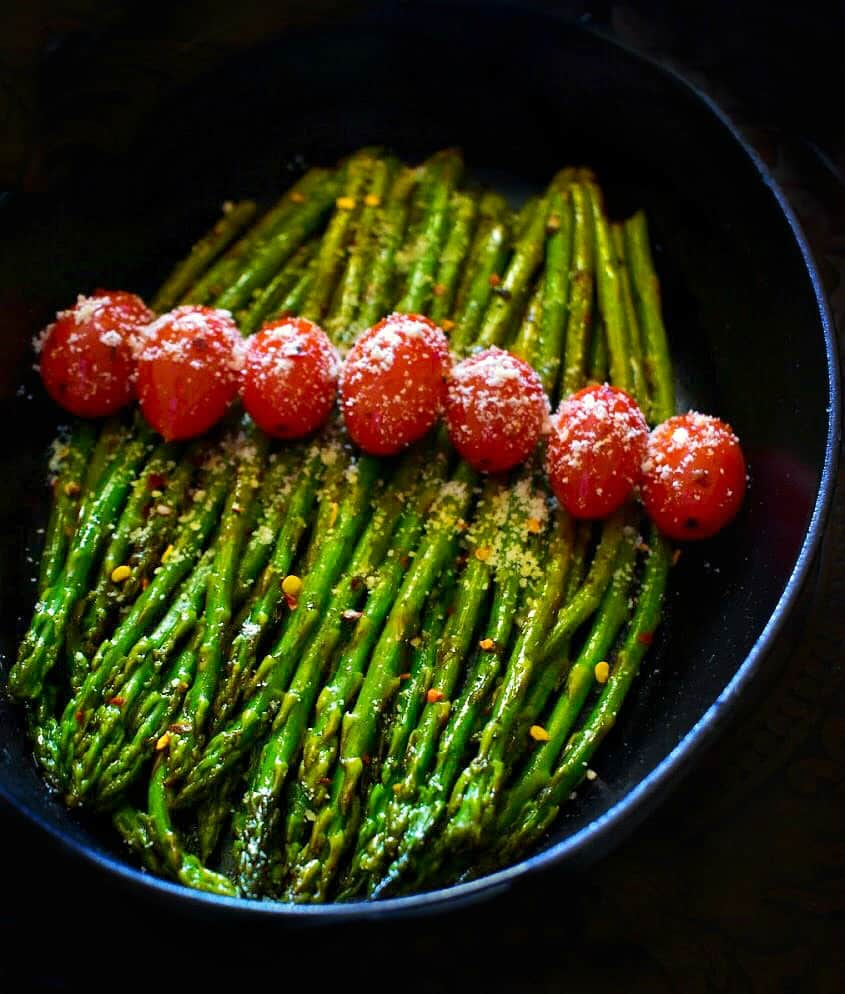 So to stop food waste, save money and get that piece of mind by having your food/list details on your phone,
I highly recommend you to get Vacuvita. Here are some details on it:
-The Vacuvita app keeps track of your stored food effortlessly (and sends you reminders of when your food is getting ready to expire).
-In addition to storage, you can use your Vacuvita products to marinate, sous vide and more.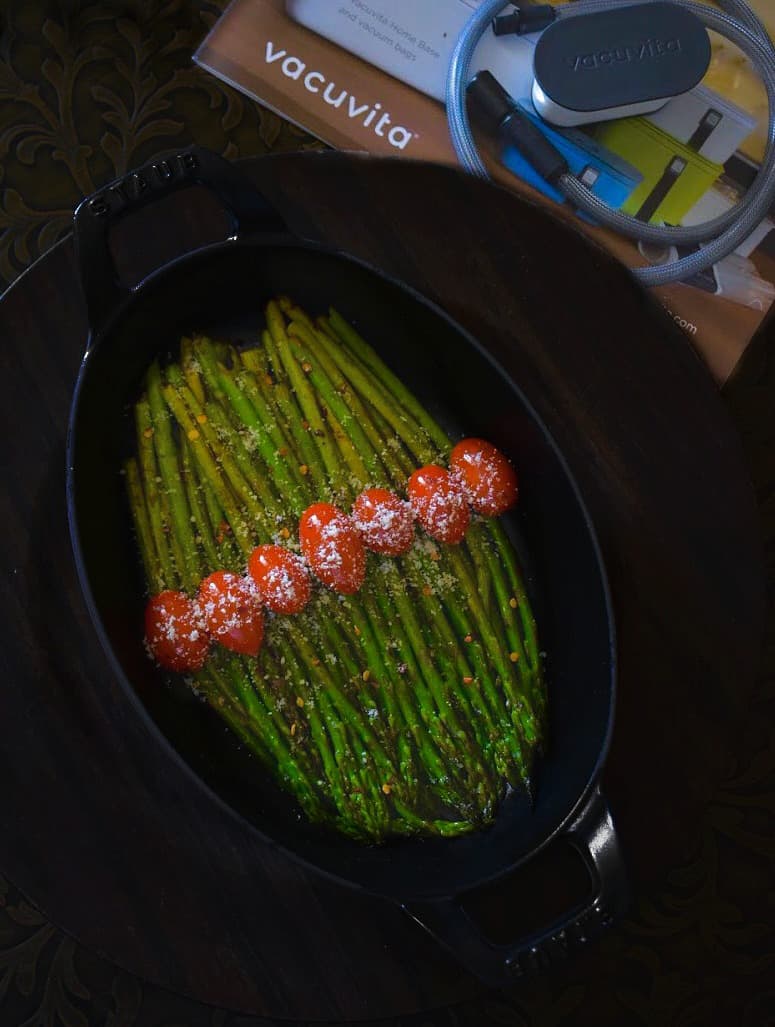 Here's a glimpse of some other things that I sealed in those vacuum bags and container.
Just look at those sealed bags and they are definitely going to stay fresh longer and take up less space storing too.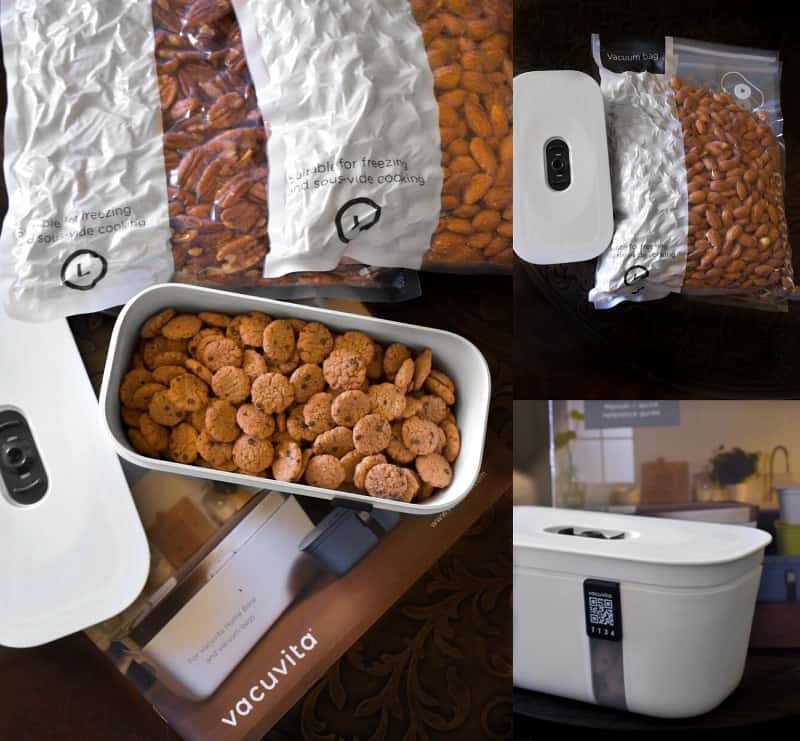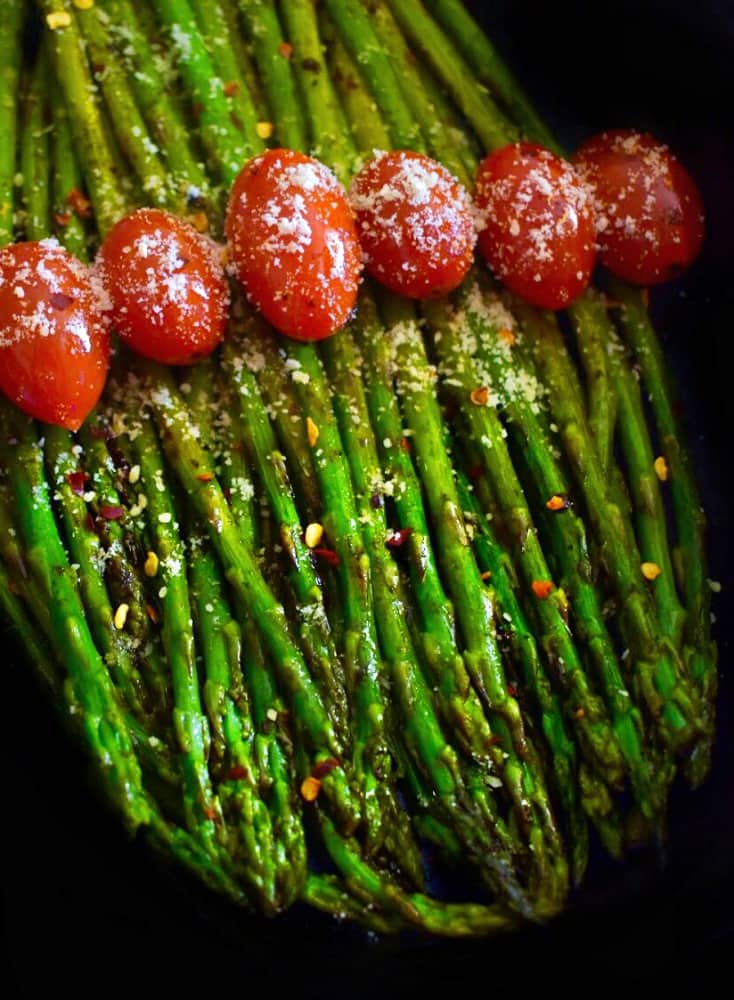 Tried Our Recipe – AWESOME!!!
Now Quickly SNAP A PICTURE & TAG :
#easycookingwithmolly + @easycookingwithmolly on Instagram –>
Connect with Me Here: Facebook / Pinterest / Instagram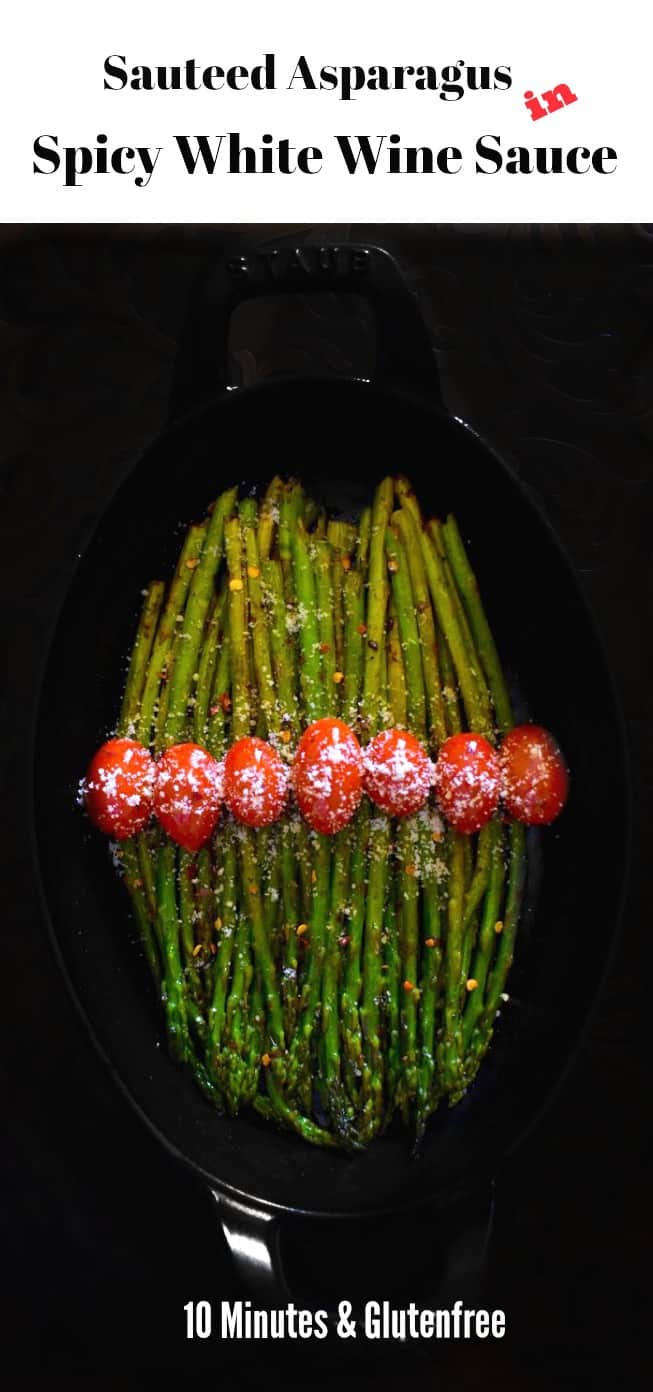 :: You May Also Like ::
Yield: 2 People
Sauteed Asparagus in White Wine Sauce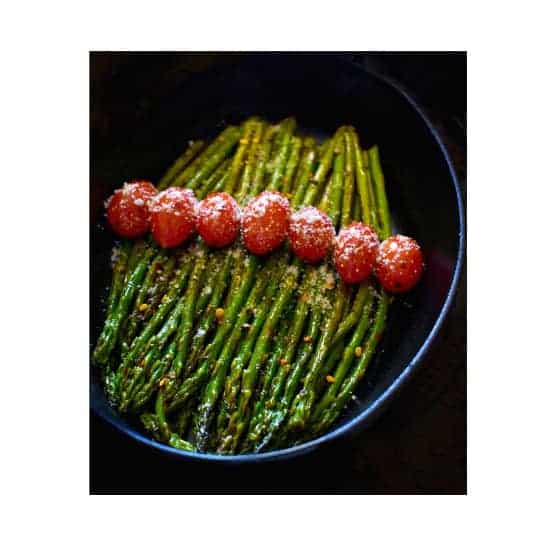 Sauteed Asparagus in White Wine Sauce: 10 minutes recipe of asparagus in a spicy, lemony, garlicky and buttery white wine sauce. It's a perfect side dish for any of your parties. 
Ingredients
½ Lb. Thin Asparagus - snap of any hard ends and washed.
1/8 Cup Water
1 Tbsp Butter
1 Tsp Oil
Salt and Pepper
7 Cherry Tomatoes - for decoration
Spicy Wine Sauce Ingredients:
1/2 Cup Dry White Wine - or use any white wine
3 Tbsp Butter - use any kind but avoid flavored butter
1 Large Garlic Clove - smashed
2 tablespoons lemon juice
1/2 Tsp Red Chili Flakes
 Salt and Pepper
Instructions
Cooking the Asparagus:
Heat 1tbsp butter + 1tsp oil in a skillet.
Add cleaned asparagus, salt, pepper and add water.
Now saute the asparagus lightly and let it cook for 3 minutes (you want Al-dante texture - a bite to it).
Remove the asparagus from pan.


Making the Spicy White Wine Sauce:
In the same pan, add butter and smashed garlic.
Saute the garlic for 30 seconds and remove it (you may leave it if you like to bite into garlic bits).
Add white wine and rest of the spices.
Saute this mixture on a low heat for 3 minutes.
As the mixture thicken a little, add the cooked asparagus.
Lightly mix the asparagus with buttery sauce using a spoon or simply toss the skillet gently.
Turn off the heat.
Transfer the asparagus in a serving dish, sprinkle with some cheese and chili flakes on top and serve.


If you're using cherry tomatoes for decoration:
Lightly saute them in the same pan for a minute.
Arrange the saucy cherry tomatoes on top of the asparagus, sprinkle with some cheese and chili flakes on top and serve.
Nutrition Information:
Yield:
2
Serving Size:
1
Amount Per Serving:
Calories:

126
Total Fat:

32g
Saturated Fat:

18g
Trans Fat:

1g
Unsaturated Fat:

11g
Cholesterol:

40mg
Sodium:

200mg
Carbohydrates:

12g
Fiber:

3g
Sugar:

5g
Protein:

4g
*** I was given a free Vacuvita to use and the opinion stated is true and accurate.