Easy Watermelon Ginger Beer Granita: a quick dessert recipe that absolutely delicious, light and filled with refreshing watermelon-ginger flavor. It can be made in advance and kept in the freezer for upto 10-15 days in an air-tight container.
Watermelon Ginger Beer Granita (4 Ingredients)
Okay, Everyone, 'Father's Day' is just around the corner (June 18, 2017) and I'm so ready with this Watermelon Ginger Beer Granita.
And 3 more drink recipes to help you bring a smile on your Dad's face 🙂
I dedicate today's post to all the wonderful Dads or 'Super-Man' as many of us know them as – We Love You Dad !!!
I'm 'Daddy's Girl' and I say it very proudly as my dad has always me the freedom and believed in me + my dreams.
He's always there guiding, encouraging, helping everyone in our family – friends.
Even strangers who ask for help and at the same time always there for his family too.
From my childhood, I always wanted to be like my dad and I do see that smile time to time when he sees me thinking or doing things like him.
And, also my Dad is my BIGGEST Culinary Critic!!!
He tells it on my face whether it's good or bad …. he's traveled all over the world, tasted the finest food/drinks, so when he says it's 'good' – nothing makes me happier.
So every Father's Day, I try to create a recipe around his likes and he loves his drinks and is very serious about them.
Hence, I'm combining two of his favorite things (out of many) and creating this Watermelon Ginger Beer Granita.
Which has that added zing to it from the ginger beer and it tastes awesome with spicy food.
Have you ever tried making 'Granita' at home?
It's an Italian recipe and very similar to 'shaved ice' (barf ka gola) that we get in India or sorbet if you've tried that before.
Granita's are usually coarser or have a more crystalize texture because they are scrapped using a fork every now and then to attain that perfectly separated crystal form.
It's really really easy to make and a lot of fun too !!
" Seriously, there is something very relaxing in scrapping a bowl of ice than the whole backyard "
Quick Tip When Adding any kind of Beer or Alcohol to Granita Recipes –
"ALWAYS add the drink after the juice is made especially if it's a beer as you don't want to dissolve all those carbonated bubbles while making the juice.
For a refreshing taste with a zing, you want to add the beer just before you freeze the granita".
That's it, there is no other special thing needed, all you do is juice, mix and then scrape the ice from time to time till it resembles crystals.
Then serve when you're ready or keep in an air-tight container in the freezer for upto 1-15 days (Just scrape once before serving)
Give this Watermelon Ginger Beer Granita a try on this Father's Day or just about any other day or night.
As mentioned above, here are 3 more drink recipes (Click Recipe Pics for Link) which are absolutely popular on my blog and make's for a great drink option for any celebrations: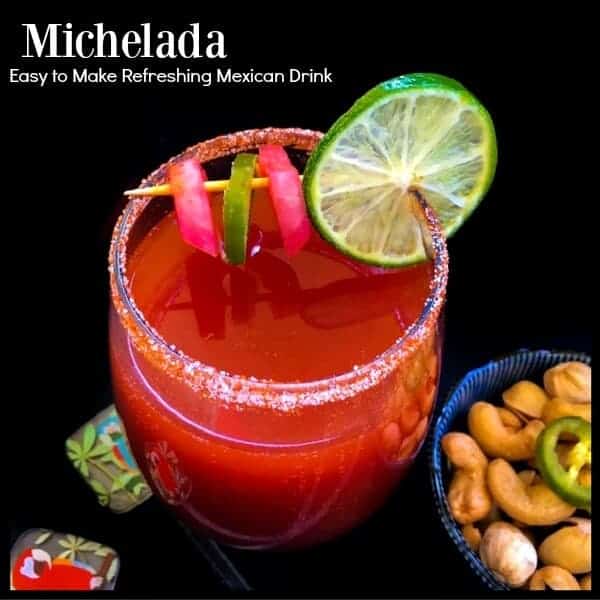 ————————————————————————————————————————-
~ Here's Wishing All the Wonderful Dad's A Very Happy Father's Day ~
————————————————————————————————————————-
---
Tried Our Recipe – AWESOME!!!
Now Quickly SNAP A PICTURE & TAG :
#easycookingwithmolly + @easycookingwithmolly on Instagram –>
Connect with Me Here: Facebook / Pinterest / Instagram
Yield: 5 Medium Bowl
Watermelon Ginger Beer Granita (4 Ingredients)
Watermelon Ginger Beer Granita: a quick recipe that works both as drink or dessert and filled with refreshing watermelon-ginger flavor. #watermelongranita
Total Time
2 hours
5 minutes
Ingredients
2 Cups Chopped Watermelon
1 Ginger Beer - use any variety you like
1 Tbsp Lemon Juice
1 Tbsp Sweetener - add as per choice
Instructions
Place watermelon, lemon juice, sweetener in a mixer and pulse to form a smooth juice like consistency.
Transfer to a large freezer safe bowl/box and add ginger beer.
Stir everything together and keep in freezer for an hour.
Scrape the top and corners nicely using fork and put it back in freezer for an hour.
Remove from freezer and no scrape the entire bowl using a fork (making sure you break all chunky crystals).
Scrape and mix everything and place it back in freezer for 3 hours till its properly crystalize.
When ready to serve, remove from freezer and transfer to 4-5 glasses or bowl.
Add a fresh mint leave on top and serve immediately.
Nutrition Information:
Yield:
5
Serving Size:
2
Amount Per Serving:
Calories:

57
Total Fat:

0g
Saturated Fat:

0g
Trans Fat:

0g
Unsaturated Fat:

0g
Cholesterol:

0mg
Sodium:

6mg
Carbohydrates:

15g
Fiber:

0g
Sugar:

14g
Protein:

0g