Quick Baileys Chocolate Mint Brownies (using Box Mix): insanely delicious brownies filled with baileys and mint in every bite. Easy to make and the perfect recipe to celebrate St. Patrick's Day / Mardi Gras.
Baileys Chocolate Mint Brownies using Box Mix

What do you get when you add a Foodie + Baileys + A Brownie Mix ??
The answer is this absolute ooey-gooey mind-boggling Quick Baileys Chocolate Mint Brownies!!
It's so yum, that you'd wonder WHY and seriously WHY, you haven't tried ever before.
And before, we could even begin to talk, you should probably take out the brownie mix that might be lying in some corner of your pantry or kitchen.
These brownies are jazzed up and ready for any of your parties or a cozy meal for two and they are gone the moment you serve them.
So either make double the batch or hide some for yourself as once they're served…you won't even get crumbs.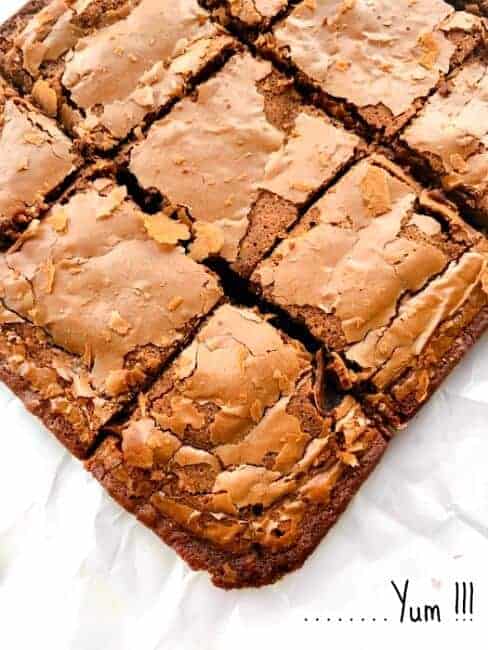 Now, I truly believe, that there are Two kinds of people:
" One who loves brownies and Other, who don't care "
I for sure come in the first category but I can't believe this is only the 2nd brownie recipe on the blog.
I made these 5 Ingredients Fudgy Nutella Brownies with Raspberries for Valentines.
But if you're making brownies for the first time, it's a good article to read as I did explain a different kind of brownies and you might choose your kind from theirs.
Coming back to these Baileys Chocolate Mint Brownies, you really need 4-5 ingredients:
Baileys (of course, what were you thinking 😉 )
Mint Chocolate
Eggs
Oil and Brownie mix.
Once, you have the basic ingredients, it's totally up to your taste to add more of Baileys or chocolate-mint.
When I'm making them just for me and my friends, we add more of baileys 😉
So, you get the idea, it's totally customizable.
It's also one of the recipes where you can use those leftover mint candies that you have which no-one is eating 😉
Also, I forgot to mention in the top, this is probably the first brownie recipe that I ever made.
Kind of 5-6 years back and I'vent changed anything about it.
It's as simple as it was to make and the outcome are these super delicious brownies which you'll have to make to understand How GOOD they are !!
Time for me to sign off now and I hope you try the Baileys Chocolate Mint Brownies recipe soon or make it for your Mardi Gras party.
Until Next Time ~ XoXo
Tried Our Recipe – AWESOME!!!
TAG : #easycookingwithmolly + @easycookingwithmolly on Instagram –>
Connect with Me Here: Facebook / Pinterest / Instagram
:: You May Also Like ::
Yield: 6 People
Baileys Chocolate Mint Brownies (using Box Mix)
They are insanely delicious brownies filled with baileys and mint in every bite.
Ingredients
1 Pack Brownie Mix - use any brand you like
1/2 Cup Baileys - more or less as per taste
1/2 Cup Mint Chocolate
2 Eggs - or use as per brownie packet instruction
Oil - use as per brownie packet instruction
Water - use as per brownie packet instruction
Brownie Pan - 9x9 - oiled or buttered
Instructions
Preheat Oven to 350F or as per your brownie packet instructions
In a large bowl, whisk the eggs for 1 minute or till they are frothy.
Add oil, water, baileys and whisk again to mix everything evenly.
Add the chopped chocolate mint chocolate and whisk for 10 seconds.
Add 2-3 Tbsp of brownie mix and fold it lightly into the batter.
Similarly, add the entire brownie mix and fold the mixture evenly.
Pour the batter into 9x9 pan and bake for 12-15 minutes.
Insert a toothpick in the center of the brownie and check for doneness (the toothpick should come out clean).
Remove from pan and let cool completely.
Cut them in squares and serve immediately.
These can be stored in fridge for a week.
Notes
Brownie Mix: you can use any plain or nuts brownie mix of choice. I sometimes like to use 'fudgy brownie mix'.
Nutrition Information:
Yield:
12
Serving Size:
2
Amount Per Serving:
Calories:

196
Total Fat:

10g
Saturated Fat:

3g
Trans Fat:

0g
Unsaturated Fat:

6g
Cholesterol:

45mg
Sodium:

86mg
Carbohydrates:

19g
Fiber:

0g
Sugar:

9g
Protein:

3g