Healthy Garden Lites Muffins ( Glutenfree – Nutfree – Dairyfree ) take 'eat your veggies' to a whole new Delicious level. The muffins are veggie-rich, made using clean simple ingredients that make them light and healthy.
On my quest to eat healthy and smart, I'm not only cooking lighter meals but I'm always looking for a healthier snack (packaged goods).
that is made using clean ingredients and that's when I came across Healthy Garden Lites Muffins.
They are made using veggies or I can say the first ingredients in all their products are vegetables and going by the variety they offer in both sweet and savory products, I was completely impressed.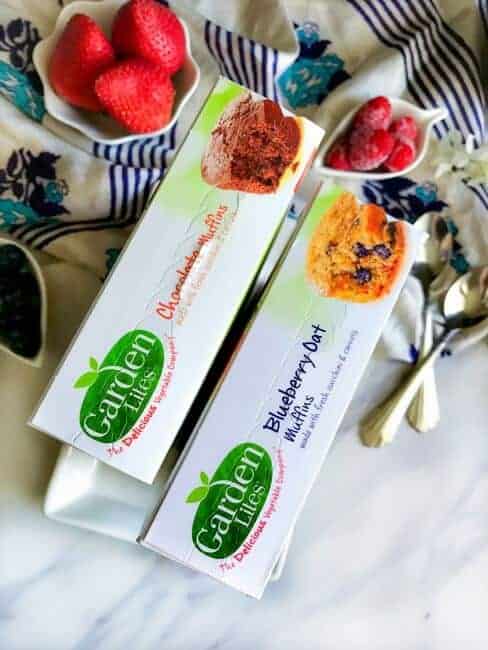 Okay, I literally have to share this one as after a long time I had such a good laugh with all my mommy friends.
One of my friends was visiting us from out of town and I called a few other mommy friends to our place to meet our common friend (an all-girls gathering along with 7 kiddos).
The food was mostly light snack, drinks and I made this whole kid's snack bar where they had popcorns, fruity drinks, fresh-cut fruits+veggie platter and of course these Garden-Lites muffins.
While our chitter-chatter was going on, I could see the discussion between the mommies and the kids about making sure they helped themselves to some vegetables.
while they ate other stuff but we literally saw the muffins being polished off while no-one touched the veggie platter.
So, when I asked the kids why they didn't eat the veggies – bam came the reply 'we are too full' and the best was 'I'm allergic to them' ….haha haha!!!
But when they were told that the muffins had not one but two kinds of veggies, you could see the looks of disbelief on their faces and a smart one came up and said
– So, we don't need to eat more veggies for the day … lol …. yeh right!
So these Healthy Garden Lites Muffins ere a BIG HIT with both moms n kids at my party.
They were also a great option to serve as 2 of my friend's kid have nuts and gluten allergy and this made a great choice for them. I even have this exclusive $1 off coupon to stock up on their new favorite snack.
You can find Garden Lites products at your nearest Publix, Stop & Shop, Giant, Shop-Rite, HEB, Kroger or Costco
I highly recommend you give these muffins a try especially if you're a parent looking to feed more veggies to your kids or someone like me who's looking to add lighter yet healthy snacks to your diet or like my friend says
' These are great for adults too who needs their veggie hidden 😉 '.
Until Next Time ~ XoXo
---
DID YOU TRY MY RECIPE – AWESOME!!!
Now Quickly SNAP A PICTURE & TAG :
#easycookingwithmolly + @easycookingwithmolly
Connect with Me Here: Facebook / Pinterest / Instagram