Baked Spaghetti Cups with Chicken Meatballs is super easy to make and completely family favorite recipe.
Baked Spaghetti Cup with Chicken Meatballs is a Perfect Homestyle Recipe
It's made using NEW Ragu Homestyle pasta sauces that hug the pasta in each and every layer.
'Spaghetti and Meatballs' is truly a match made for each other.
It's also one such popular recipe that's enjoyed by all age group and that's exactly what I'm going to share with you'll this weekend – How I make it!
The 'Baked Spaghetti Cup with Chicken Meatballs' is my quick goto recipe for a weekend or a perfect weeknight dinner.
It's filling and super quick to make especially if you already have cooked spaghetti + meatballs, your meal is done in 10 minutes!
Now that my friends is "How We Roll"(Not every day but yes some days we get lucky !
It may look really complicated and laborious but is absolutely easy and cooked homestyle.
For that authentic Italian flavors, I used to cook the pasta sauce from scratch and that is one process that takes a lot of time as you want to evenly cook the sauce on low flames for that perfect homestyle feel.
But the NEW Ragu Homestyle pasta sauces has made my work much easier as now.
I only need 4 Main Ingredients for this recipe :
Spaghetti
Meatballs
Ragu Homestyle Thick and Hearty Traditional Sauce
Cheese
10 minutes to bake this delicious looking spaghetti cups that are so easy to serve.
I'm choosing the Ragu Homestyle Pasta Sauce as it is their boldest flavor yet!!
They peel, chop and simmer the ingredients and use a special blend of herbs (basil, fennel, oregano and black pepper) to layer and build the flavor.
Also, they don't use artificial flavors, artificial colors or high fructose corn syrup. So you get the same thick home cooked kind of sauce and flavors.
The recipe is so easy – peasy that you could even enjoy making it with kids and I'm sure they would totally love arranging that spaghetti in muffin/cupcakes pan.
For this particular recipe, I'm using homemade Chicken Meatballs and the recipe can be found here or you could even use any store bought meatballs too.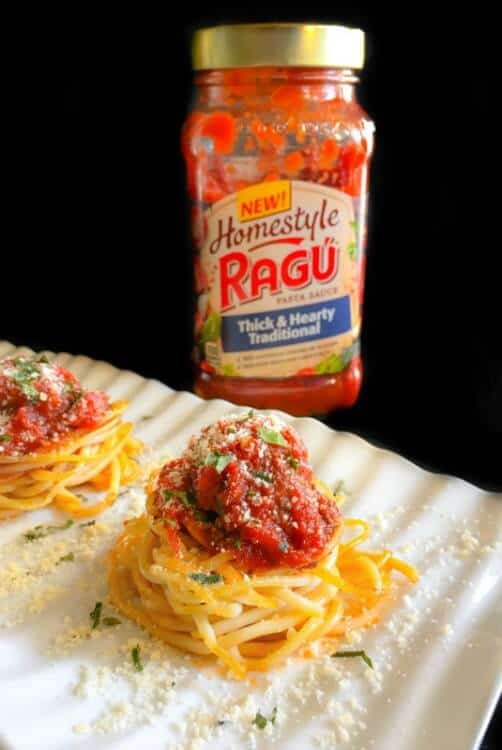 Visit Ragu Home Page to learn more about the new line of Ragu Homestyle sauces and find a taste of the home Recipe.
Have a Great Weekend & Until Next Time ~ XoXo
---
Tried Our Recipe – AWESOME!!!
Now Quickly SNAP A PICTURE & TAG :
#easycookingwithmolly +  @easycookingwithmolly on Instagram –>
Connect with Me Here:  Facebook / Pinterest / Instagram / Twitter / Subscribe to our Newsletter / Google+
Yield: 10 Spaghetti Cups
Baked Spaghetti Cup with Chicken Meatballs
Ingredients
2 Cups Spaghetti Pasta - cooked as per package instructions.
1 Cup Ragu Homestyle Thick and Hearty Traditional Sauce
10 Chicken Meatballs
2 Tbsp Shredded Cheese
3 Tbsp Olive Oil
1 Tsp Oregano - chopped (for decoration) - optional
Instructions
Preheat oven at 190 F.
Spray the muffin/cupcake pan with cooking spray or you can use oil/butter.
In a big bowl, add cooked spaghetti, olive oil and evenly coat it.
Place 2 tbsp of spaghetti in each muffin/cupcake pan and push them in.
Add 2 Tbsp of New Ragu Homestyle Pasta Sauce in each pan.
Place the pan in oven and cook for 15 minutes.
Remove the tray from oven and let it cool till the tray is warm to touch.
Top each spaghetti cup with cooked meatball, add 1 tbsp of pasta sauce over it.
Sprinkle with cheese and chopped oregano.
Serve Fresh.
Nutrition Information
Serving Size
1
Amount Per Serving
Calories

2772
Total Fat

124g
Saturated Fat

27g
Cholesterol

828mg
Sodium

1811mg
Carbohydrates

95g
Sugar

17g
Protein

311g