Quick Smoky Eggplant Dip: extremely creamy and delicious dip made using eggplant, mint and herbs. It's protein-packed and can be served with choice of roasted veggies, crackers, chips, etc.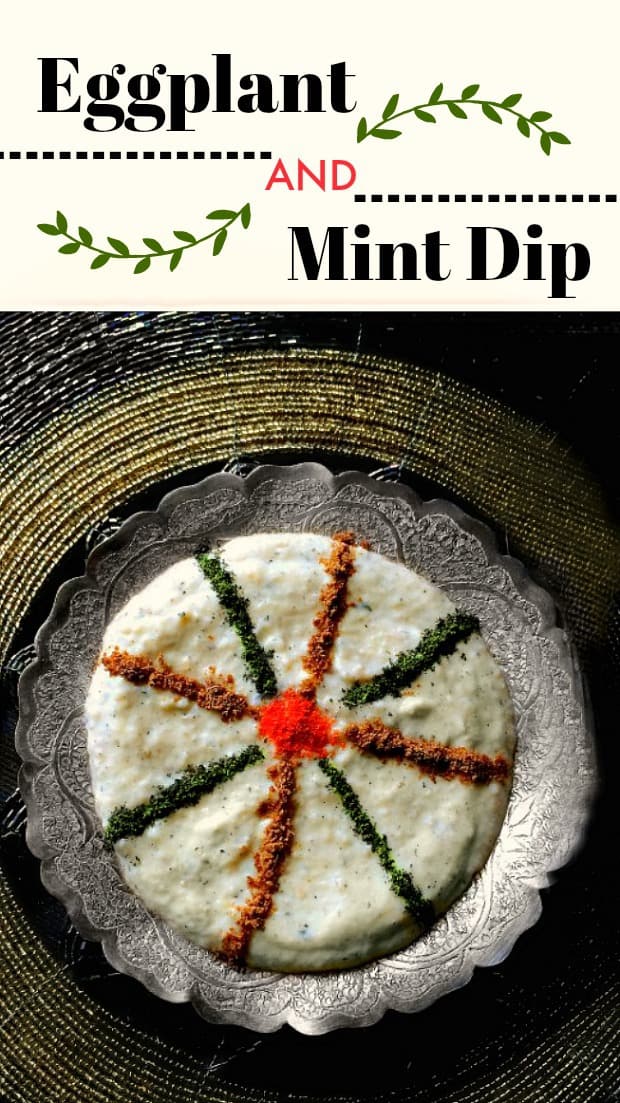 If I say 'I love eating eggplants', many of you would look at me with concerned eyes. I know but I cannot get enough of this Quick Smoky Eggplant Dip.
It's a creamy dip with a smoky-minty flavor that just melts in your mouth.
I've been having it for gosh…..so many years and I never realized that I had not shared this simple recipe.
It's one of that easy and healthy dish that's pretty multifaceted.
It can be served as a dip with a fresh cut vegetable tray or baked chips/bread or it can be served as a side with any brunch or meal.
This dish can be made by roasting the eggplant in the oven but that lacks the smoky flavor that takes this dish a notch higher.
It's the slow roasting of the eggplant over direct heat that does the trick.
I'm posting the pictures of roasting the eggplant over direct heat and peeling it.
Hope it makes the process easy.
I've used some cumin powder, chilies and extra mint powder to decorate it, which is totally optional.
Important Tips On Roasting an Eggplant:
1> Always roast the eggplant in medium to low heat. Roasting on high heat would char the skin outside soon and the eggplant will not cook through.
The Picture Collage above displays an easy way of roasting eggplants over flames.
2> Always be very careful, roasting eggplant over direct flames as it may trigger smoke alarms at times. Switch on the vent and open windows.

3> Once the eggplant is roasted well, keep it on an ice bowl or bowl filled with chilled water.
This helps the charred skin loosen a little and it becomes easier to peel.
4> Once you are done roasting an eggplant, it may sometimes result in a bitter water or liquid coming out from it. Wash the eggplant after peeling the charred skin (This step is EXTREMELY Important and will result in a smooth nice tasting eggplant rather than bitter ones.)
5> Press the peeled eggplant with a heavy bottom pan to ooze out any excessive fluid/juice (this juice is sour, hence discard immediately). (Picture Collage above)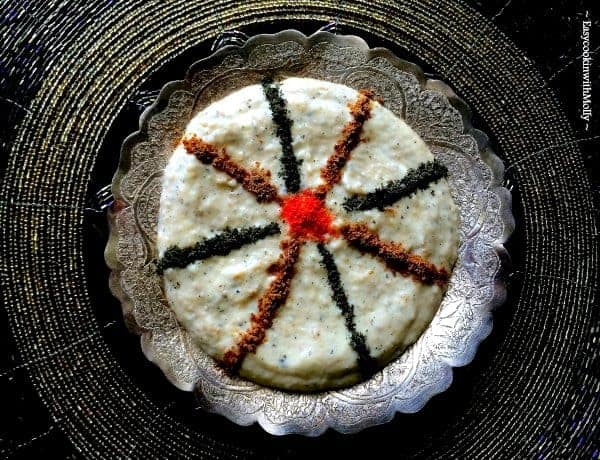 Once the eggplant is peeled and cleaned, just follow the steps in the recipe below and continue making the dip 🙂
I usually serve this Quick Smoky Eggplant Dip with fresh homemade tortilla chips or even roasted veggies however the possibilities are endless.
:: You May Also Like ::
---
Tried Our Recipe – AWESOME!!!
Now Quickly SNAP A PICTURE & TAG :
#easycookingwithmolly + @easycookingwithmolly on Instagram –>
Connect with Me Here: Facebook / Pinterest / Instagram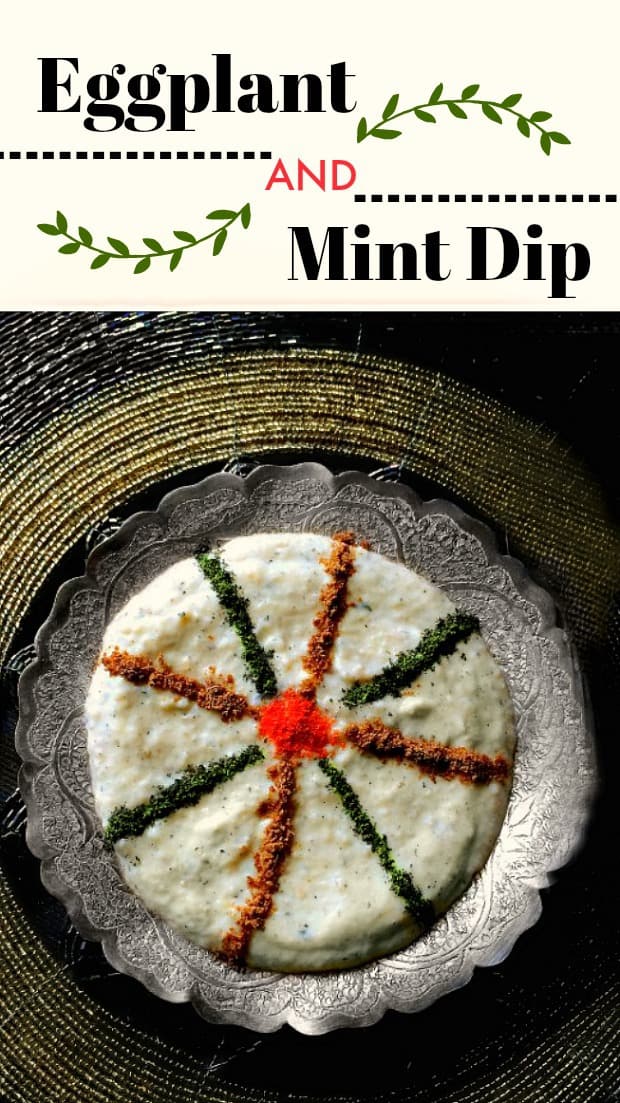 Yield: 4 People
Quick Smoky Eggplant Dip
Quick Smoky Eggplant Dip: extremely creamy and delicious dip made using eggplant, mint and herbs. It's protein-packed and can be served with choice of roasted veggies, crackers, chips, etc.
Ingredients
1 Large Eggplant – Washed, cleaned and patted dry
1 Cup Plain Greek Yogurt
2 Tbsp Fresh Lemon Juice – Optional
1 Tbsp Olive Oil – It gives a rich taste and gloss to the dip
Seasoning
½ Tbsp Dry Mint Powder
½ Tsp Mint Powder – Extra for Decoration
1 Tbsp Cumin Powder – Optional
½ Tsp Red Chili Powder - Optional
1 Tsp Salt – As per taste
Instructions
Roasting the Eggplant:
! Note: Please be careful roasting eggplant over flames.
Switch on the gas to high flame.
Using the tongs, place the eggplant over the flame and keep turning it on all sides for 2-3 minutes.
Now, reduce the flames to medium and keep roasting the eggplant using the tongs. (Keep roasting for 4-5 minutes or till the eggplant becomes tender and mushy. At this time, it will ooze out some liquid as well)
Switch off the heat and transfer the roasted eggplant over a medium bowl filled with ice.
Let it stay there for a minute and then peel off the charred eggplant skin using a knife or fork. (Please peel the skin carefully not pulling out the flesh)
After peeling the charred skin off the eggplant, slit the eggplant into two and remove seeds from it.

Making the Quick Smoky Eggplant Dip
Now, place the seedless eggplant flesh into a food processor along with yogurt, lemon juice, oil, mint, salt and churn to form a smooth consistency. (Please don't add water as this is a thick dip)
Transfer into a serving plate, decorate with cumin powder, extra mint powder and chili.
Serve Fresh with chips/fresh veggies or bread.
Nutrition Information:
Yield:
4
Serving Size:
1
Amount Per Serving:
Calories:

190
Total Fat:

8g
Saturated Fat:

2g
Trans Fat:

0g
Unsaturated Fat:

5g
Cholesterol:

7mg
Sodium:

752mg
Carbohydrates:

25g
Fiber:

5g
Sugar:

13g
Protein:

7g
~ Here's the recipe to enjoy and I would wait for your comments ~