Chicken Cream Cheese Puffs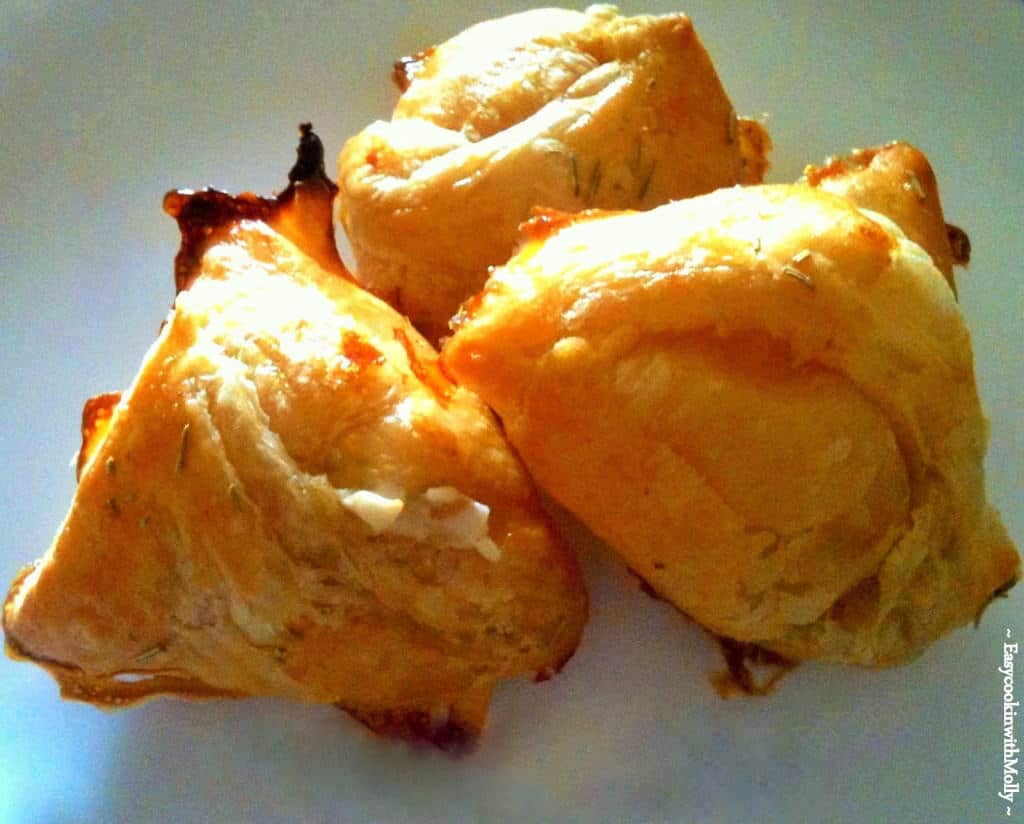 Serves: 6 People
Serving Suggestion: Can be served as an appetizer/snack with some fresh mint chutney
Tools:
2 Medium Pot – for mixing all the Ingredients
1 Large Baking Tray – Lined with Aluminum Foil (Oiled) or Parchment Paper
1 Medium Baking Tray – Lined with Aluminum Foil (Oiled) or Parchment Paper
1 Fork
Ingredients:
2 Pastry Sheets – (I'm using Store bought, you may use handmade)
¼ Cup Cream Cheese – Room Temperature – You may use any other light spreadable cheese
2 Tbsp Dry Rosemary – (Dry Flavoring Spice, you can use Mint/Oregano/Chives/ Any Other)
1 Cup Raw Boneless Chicken – Chopped
4 Tbsp Lemon Juice
2 Tsp Black Pepper Powder
2 Tsp Red Chili Powder
Salt – As Per Taste
1 Egg – Whisked for brushing the puffs.
Method:
Prep Work: Pre-heat oven to 392F (200C)
In a medium bowl, mix raw chicken, lemon juice, black pepper,  red chili powder and 1 tsp salt.
Now take a medium baking tray, pour the chicken mixture on it and roast for 10 min. Mix well and roast for another 10min. After the chicken is cooked, cool this completely.
In a Medium Bowl mix, cooked chicken, rosemary, cream cheese and mix to form a lumpy filling.
Now roll each pastry sheet into a 7-8inch long rectangle and cut 8 equal pieces.
Now take each cut piece and make a cone in your end (triangle) & spoon equal parts filling (2 Tsp)
on each of the above 8 pieces and then seal the puffs.
Now take a fork and pinch the top sealed area.
Repeat the step 4, 5 & 6 for the second pastry sheet and You'll have 16 puffs (Medium) with you at the end.
On a Large baking tray, place 8 raw puffs within 2 inches of each other, brush them with whisked egg and bake for 10-12min (Golden Brown).
Bake Puffs At:  350F (200C)
Keep an eye as these burns very quickly.
Serve Hot.