Caramel Apple Pie Smoothie Recipe: Super Yummmm, Creamy & Filled with the flavors of fall.
This Caramel Apple Pie Smoothie Recipe can be made 2 Ways.
It's also Vegan & Glutenfree.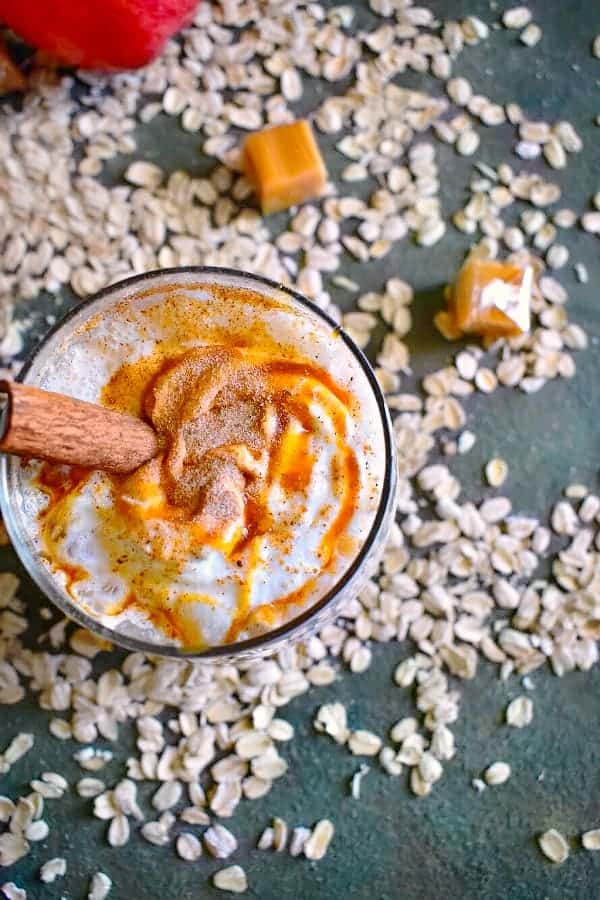 This creamy smoothie is literally Heaven!
It's been such a long time since we did a new smoothie recipe and this Caramel Apple Pie Smoothie Recipe is a MUST Try!
First, sip and you'd instantly say 'Fall has finally arrived'. Apart from being filled with the taste of apples, it has that perfect hint of spice and caramel.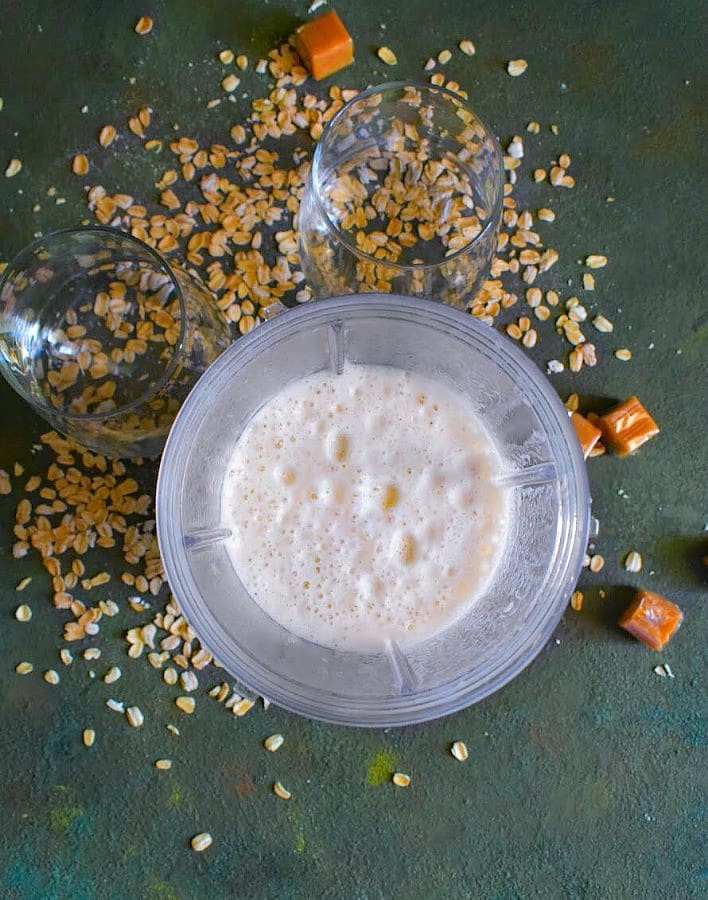 It's neither too sweet nor bland, it has just the right amount of sweetness and creaminess.
Also, my main motive to make this Caramel Apple Pie Smoothie Recipe is 'Apple Pies' …lol – what else were you thinking 😉
We love apple pies, infact as soon as we see the first glimpse of apples in this season, all we can think of is that delicious apple pie.
But can we have it Everyday or that often, of course not! But we can definitely have this smoothie everyday and be happy.
The recipe of Caramel Apple Pie Smoothie Recipe is extremely simple and I love the homemade Spice Mix as I customize it as per everyone's need.
Someone likes it more with cinnamon and some more of ginger or absolutely no nutmeg…phew!!
TIP: I have listed 2 Ways to make this Caramel Apple Pie Smoothie Recipe:
Method 1: using fresh apples (I use the red ones).
Method 2: using applesauce (yep, you read it right). you can even use the unsweetened version if need be.
Now, if you simply make this using apples with milk and ice, you end up feeling hungry soon. So I added glutenfree oats.
That not only makes it even more creamier (you Don't MISS the Apple Pie Crust – Trust Me).
Once the smoothie is ready, I like to top mine with some freshly whipped coconut cream (you may use regular cream if not vegan).
Also, sprinkle some more of that fall seasoning and some caramel sauce.
That's it, your Caramel Apple Pie Smoothie Recipe is ready literally in 3 minutes and you can enjoy the flavors with your loved ones.
It's perfect for any time of the day be, it breakfast/snack or even dessert.
:: You May Also Like ::
---
Tried Our Recipe – AWESOME!!!
Now Quickly SNAP A PICTURE & TAG :
#easycookingwithmolly +  @easycookingwithmolly on Instagram –>
Connect with Me Here:  Facebook / Pinterest / Instagram / Twitter / Subscribe to our Newsletter / Google+
Yield: 3 People
Caramel Apple Pie Smoothie Recipe
Ingredients
Method 1:
1 Mini Red Apple - peeled, cored and cubed.
1 Tsp Vegan Caramel - normal caramel if you're not vegan
2 Cups Almond Milk
1/4 Cup Quick Oats
1/2 Cup Ice - you can add more if you like
1/8 Tsp Cinnamon
2 Pinches Ginger Powder
1 Pinch Nutmeg Powder - optional
Method 2
1 Apple Sauce Cup - (3.9 ounce cup)
2 Tsp Vegan Caramel - normal caramel if you're not vegan
2 Cups Almond Milk
1/4 Cup Quick Oats
1/2 Cup Ice - you can add more if you like
1/8 Tsp Cinnamon
2 Pinches Ginger Powder
1 Pinch Nutmeg Powder - optional
Instructions
The process for both method is the same:
Add apples/apple sauce (depending on method you choose) in a blender.
Add milk, 1 tsp caramel, spices, ice and pulse to form a smooth mix.
Transfer to serving glasses and top with leftover caramel and sprinkle of spices.
(I'm topping mine with some coconut cream).
Serve Immediately